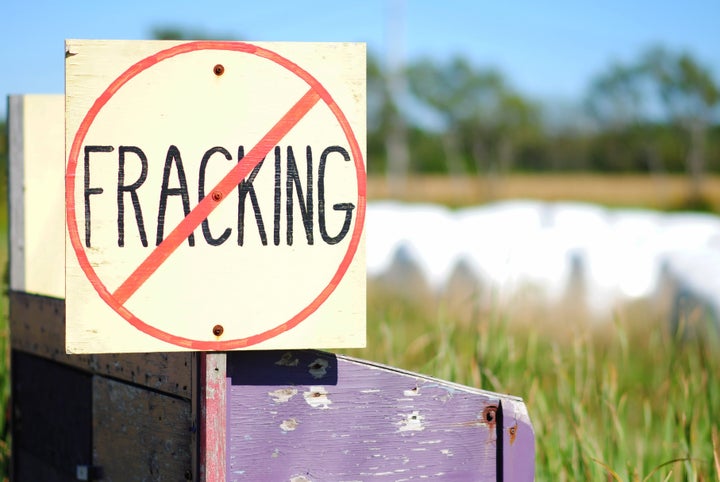 Four years ago today, the Pennsylvania Democratic Party's state committee members voted 115-81 in favor of a resolution calling for a statewide moratorium on fracking. Within a week, Ed Rendell, the former governor who opened the state to fracking, publicly criticized the vote, calling it "ill-advised." Some gubernatorial candidates were quick to fall in line. The frontrunner at the time, Allyson Schwartz, called the vote "misguided." Katie McGinty and John Hanger, both former Department of Environmental Protection (DEP) chiefs, also criticized the call for a statewide halt.
Tom Wolf, who went on to win the race in 2014, didn't address the vote specifically, but said, "We must be vigilant about public health and safety in the process of tapping our natural resources. If done right, this is an opportunity for us to have good-paying energy jobs; a safe and secure environment; and the ability to make critical investments in education, health care, and infrastructure through a tax on oil and natural gas extraction."
Was Wolf right? Let's review the short list of what has happened since his party's vote.
Since June 15, 2013, 8,906 permits for unconventional wells have been approved by the Pennsylvania DEP. Of those, 3,688 have been drilled. Drillers have racked up 2,037 permit violations, 1,631 of them on matters related to environment and health. The DEP has issued 91 positive letters of determination confirming that fracking activities have contaminated private water supplies.
The Federal Energy Regulatory Commission has approved 33 natural gas pipelines that run through the state. Seven pipeline incidents have occurred in the state, including the explosion on the Texas Eastern pipeline in Westmoreland County on April 29, 2016 that nearly killed 26-year old James Baker. In Susquehanna County, armed U.S. Marshals accompanied tree cutters onto the Holleran's property so the maple trees the family relies on for its maple syrup business could be felled to create a right of way for Williams Partners' Constitution pipeline, a project that was halted when the Cuomo administration denied the company the requisite water permits on the New York side of the project. Pennsylvania's regulators had issued the same permits prematurely, as is frequently the case.
Meanwhile, an 80-year old pipeline operated by Sunoco Logistics, now Energy Transfer Partners, was modified to carry ethane and other natural gas liquids. The first shipments of ethane transported in the line have been shipped from Marcus Hook to Scotland. The company followed up with its Mariner East II proposal for two more pipelines to follow roughly the same route. The Pennsylvania Public Utilities Commission (PUC) allowed the company to take land by eminent domain even though it is a private corporation that is not providing a public benefit with its projects and even though the project had not yet been approved when the company used it to clear trees. The DEP spent years working with Sunoco Logistics on its application for water permits. Even after the long back and forth, the company's resubmitted application was so flawed that the DEP issued 17 letters of deficiency, collectively containing hundreds of outstanding problems, last September. The company responded to the letters in December, but still hadn't addressed all of the remaining issues when the DEP granted the permits.
By 2013, an avalanche of peer-reviewed research on fracking was just getting underway. For a time, new studies were being published at the rate of one every two days. The roughly 900 studies published since 2013 provide overwhelming evidence of risks to water quality, air quality, and human and animal health. Much of the research includes or focuses on data from Pennsylvania. The studies have linked fracking to low birth weight, high risk pregnancy, higher rates of hospitalization for cardiac and neurological conditions, worsening of asthmatic conditions, migraines, respiratory conditions, childhood leukemia and other cancers, and much more.
The Environmental Protection Agency (EPA) was still missing the boat on methane leaks occurring at every phase of natural gas production, processing, transmission, and distribution in 2013. It was still using outdated figures on methane's global warming potential and was only referencing those for the 100 year time scale, even though it was becoming painfully clear that the only relevant time scale was the 20 year time scale wherein methane is 86 times better than carbon dioxide is at trapping heat.
We have learned since 2013 that any possible climate benefit natural gas offers by emitting less carbon dioxide than coal or oil when burned is cancelled when methane leakage rates exceed about 3% and that leakage rates were typically between 6% and 12%.
According to the DEP's 2016 annual report that cites data from 2014, 110,000 tons of methane leaked from oil and gas operations in Pennsylvania, the same amount of methane that leaked during the Aliso Canyon disaster in California. The 2014 figure in Pennsylvania represented a one percent increase over 2013's total.
Not measured in those totals were the leaks emanating from the hundreds of thousands of orphaned and abandoned wells in Pennsylvania, some that date back to the 19th century, all that require maintenance every 25 years to prevent methane from leaking from them unchecked. One of two studies of orphaned and abandoned wells in Pennsylvania called some of the wells "super-emitters" of methane. That study also put the high estimate of old wells at 900,000. Since 2013, the DEP has plugged 93 of them, or 23.25 wells per year. Using a more conservative estimate of 500,000 wells in Pennsylvania, that means that it will take 21,505 years to cap all of the wells once.
The DEP's track record on plugging orphaned and abandoned wells calls into question regulations for curbing methane leaks the agency is promoting. Since 2013, DEP's track record has come into question more than once.
Less than a month before the Pennsylvania Democrats' vote in 2013, Laura Legere published the results of her investigative report on fracking-related water contamination in the Scranton Times-Tribune. After a protracted legal battle, the Commonwealth Court had ruled that the DEP had to turn over all of the letters of determination it had sent out. We learned for the first time that the agency had determined that 161 private water supplies had been damaged between 2008 and the fall of 2012.
An audit of the DEP prompted by her report and others was completed in 2014. Auditor General Eugene DePasquale summed up the results of the scathing report by describing the agency as being "woefully unprepared" to handle the shale gas boom.
Later that summer, we learned that much more fracking waste was going into landfills in southwestern Pennsylvania than the DEP's records indicated. An investigative team from the Pittsburgh Post-Gazette compared the agency's records with those maintained by six area landfills. In every instance, the DEP's numbers were low. The biggest discrepancy was found in the records for the driller EQT. According to the DEP, a total of 21 tons of waste was dumped into the six landfills, but the tally of the landfills' own records indicated that the total was actually 95,000 tons.
A couple of months later, court testimony revealed that the agency had been making heavy use of three flawed air quality studies. Suffice it to say, it wasn't a good summer for the DEP.
It wasn't a great summer for the Department of Health (DOH) either. Two retired DOH whistleblowers told StateImpact that staffers were given a buzzwords list with verbal instructions that they should not return calls to anyone using the words and phrases on the list when filing fracking-related health complaints.
Since 2013, the EPA has published the results of its study of fracking-related impacts on drinking water and, after a review by the agency's Science Advisory Board (SAB), has had to remove a claim made in the executive summary and press release, but made nowhere in the body of the study, that there are "no widespread, systemic impacts" to drinking water. The SAB also recommended that the final report include three cases that were not included in the study, one in Pavillion, Wyoming, one in Dimock, Pennsylvania, and one in Parker County, Texas that Ed Rendell had a hand in ending prematurely on behalf of driller Range Resources.
Since 2013, the DEP has dropped the largest fine it has ever imposed, $8.9 million against the same driller, Range Resources, and it has issued the largest tax break, $1.65 billion, to Royal Dutch Shell to build an ethane cracker plant in Beaver County. The plant will 'crack' ethane molecules to extract ethylene that will be used to produce single-use plastics, like plastic shopping bags. Oh, and the PA legislature has been blocking attempts by cities and towns to ban the use of plastic shopping bags.
Since 2013, Ed Rendell has admitted he made a mistake on fracking.
Since 2013, New York and Maryland have banned fracking.
Since 2013, fracking has not produced anything close to the number of jobs promised.
Since 2013, Tom Wolf has never gotten his severance tax.
That's a blessing. Four years later and it's clearer than ever that it's time to ban fracking in PA, not institutionalize it.
REAL LIFE. REAL NEWS. REAL VOICES.
Help us tell more of the stories that matter from voices that too often remain unheard.