Recently, I self-published a book. Before you turn the page or double-click the next button, allow me to explain why.
What I actually did was self-publish a reprint of a long unavailable and little-known work. It has what some might call "cult appeal." The book has been out of print in the United States for more than 100 years. I wrote a long introduction and added illustrations and other material to my new edition.
Why did I do it? Simply put, because I believe in this book. It's a little gem, and a more than worthwhile work of literature. And what's more, there is a remarkable story behind it. I felt it needed a helping hand out of the obscurity into which it had fallen.
The book is called The Diary of a Lost Girl. It's by a turn of the last century German writer few today have heard of. Her name is Margarete Böhme.
What originally drew me to the book was the fact that it was the basis for the 1929 German film of the same name. That silent film stars Louise Brooks. She's an obsession of mine, as anyone who knows me is all too well aware. I'm always going on about her ... And I'm always looking into some facet of her life and career. I was curious about what seemed to me an otherwise obscure book. Why did the great German director G.W. Pabst make it into a film? What would he have seen in it?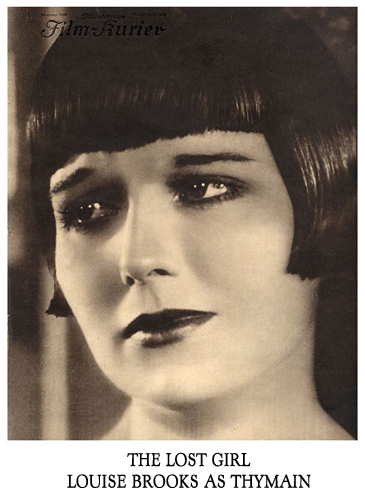 Originally published in German as Tagebuch einer Verlorenen, the book was issued in England and then the United States as The Diary of a Lost One. A few years ago I tracked down an American first edition from 1908. There weren't many around, and I had to pay about $80.00 for a vintage copy.
The first time I read it, I thought it was just OK -- an interesting period piece. However, there was something about it that stuck with me. I read it again. Its story, the story of a "lost girl" named Thymian, grew on me. I came to care about her character, and to feel drawn into her world. I was also curious about the author and the history of this, her best remembered work. What did others think about it, especially back then?
The more I searched, the less I found. Which is strange, because as I would discover, Böhme was, arguably, one of the more widely read German writers of the early 20th century -- that's according to her near sole champion, Arno Bammé. (Without his pioneering efforts in Germany in the early 1990s, my reprint could not have been possible. Thank you fellow lover of little known literature.)
Böhme authored 40 novels, and in her day her work was compared to that of another prolific and bestselling author, Emile Zola. By the end of the Twenties, The Diary of a Lost Girl had sold more than 1,200,000 copies. It's ranked by literary scholars as among the bestselling books of its time.
The Diary of a Lost Girl was more than a bestseller -- it was a literary phenomenon. The book was translated into 14 languages, and was widely reviewed and discussed across Europe. There were even pirated versions in some countries. The book inspired a popular sequel (by Böhme, in response to a flood of letters from people of all walks of life), a controversial stage play banned in some German cities, a parody, lawsuits (Böhme herself was accused of being a prostitute -- how else could a woman have written such a book?), two silent films, and sui generis -- a score of imitators. Because of it all -- and in spite of it all, the book remained in circulation for more than 25 years. It was finally driven out-of-print at the beginning of the Nazi era by groups seeking to suppress it.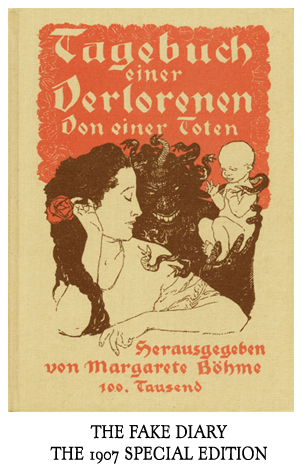 That's pretty good for what some critics considered a mere "potboiler" or "tearjerker" -- but had it been just that, it wouldn't have had the impact that it had. In 1907, for instance, the New York Times reported that Dracula author Bram Stoker would have wanted to ban it. In 1909, a newspaper in New Zealand called it "the saddest of modern books." In the 1920's, the philosopher and literary critic Walter Benjamin wrote about it; he described it as something like "a complete inventory of the sexual trade" -- but it's not really that. And in 1956 -- despite its decades long obscurity in the United States, the American novelist Henry Miller included it on his list of the books which influenced him the most.
The Diary of a Lost Girl was a book of its time, and ahead of its time. In some ways, it anticipates the work and themes of contemporary authors like Margaret Atwood and Mary Gaitskill and even J.T. LeRoy.
When first published in 1905, The Diary of a Lost Girl purported to be a genuine diary. It supposedly told the true-life story of Thymian, a young woman forced by circumstance and society into a life of prostitution. It was her means of survival. Her story goes something like this: raped by her Father's business associate, she conceives a child, is cast out of her home, is scorned by society, is forced to give up the child, and ends up in a reform school - from which she escapes and by twists of fate hesitantly turns to life as a high-class call girl. In 1907, the once popular English writer Hall Caine described the book as the "poignant story of a great-hearted girl who kept her soul alive amidst all the mire that surrounded her poor body." It's all very dramatic - and heady stuff for the time. There is even a delightfully morbid scene where Thymian hangs out at her own pre-purchased cemetery plot because she likes the view. (She traded for the plot after turning a trick.) There, she strikes up a friendship with an older, grieving widow. They enjoy talking.
However, this is more than a hooker with a heart of gold story. It's more sophisticated than that. The book subtly confronts its readers with the story of a likable young women forced from her home and happy life into one of tragic degradation. The complicity of her family -- and by extension, society -- is provocative. At the time, the book helped open a dialogue on issues around prostitution and the treatment of women. Thymian -- a truly endearing character and a heroine till the end, refuses to be coarsened by her experiences or to be defined by the men in her life. She defines herself. I won't say how it ends.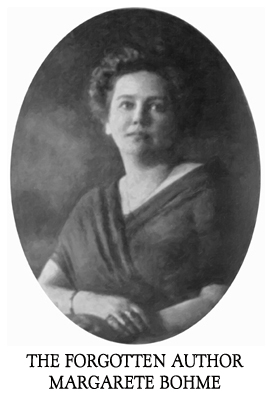 Soon after publication, speculation arose as to its actual authorship, with the press and the public divided. Böhme claimed only to be the editor of the manuscript. And to help put it over, some early editions depicted diary pages said to be in Thymian's hand. A close reading of the text, however, suggests this wasn't the work of a doomed teenager but rather the work of a gifted and empathetic writer. Böhme and her publisher, it should be noted, always maintained their account as to the book's origins. One wonders why? Had there been a real Thymain? Some of those who wrote to Böhme asked after the character as if she were real.
Because of its subject matter and contested nature, the book was a sensation. It sold more than 30,000 copies within the first few months of publication. (That was a lot of books back then. That's a lot of books now.) Within two years, more than 100,000 copies were in circulation - there was even a special edition of the book issued to mark the milestone. The Diary of a Lost Girl continued to sell and sell and sell. Editions appeared in Poland and Russia and Sweden and Spain and elsewhere. A movie was made from its sequel, and there was even a French novelization (by another author) of the 1929 Louise Brooks film. Böhme's story resonated for decades.
Today, however, few have heard of The Diary of a Lost Girl, the now forgotten Margarete Böhme, or the controversy which once swirled around the book's authorship. Aside from my hope of selling a modest number of copies, I felt its story needed be told once again. I wrote a 30 page introduction detailing what I think is the rather remarkable history of the book, as best I could figure it from across a century, a continent, and another language. I also added three dozen vintage images to put things in context. Louise Brooks as Thymian is pictured on the cover.
Last year, according to Bowker (a company that tracks publishing industry statistics), titles published outside of "traditional publishing and classification definitions" numbered 764,448. That's a lot of books. Chances are pretty good this self-published reprint of a century old work will get lost in the tide. But that's ok. I had to do it. I believe in this book.
Sample pages and more from the new edition of The Diary of a Lost Girl can be found here or at Lulu.com (the publisher). The 1929 film based on Böhme's book is available on DVD through KINO.
Thomas Gladysz is an arts journalist and author. Gladysz is also a longtime admirer of Louise Brooks, so much so that in 1995 he founded the Louise Brooks Society, an internet-based archive and fan club devoted to the silent film star. Gladysz has contributed to various books on the actress, organized exhibits, appeared on television, and introduced her films around the United States. He is currently at work on another book about Brooks. More at www.thomasgladysz.com.
Related
Popular in the Community