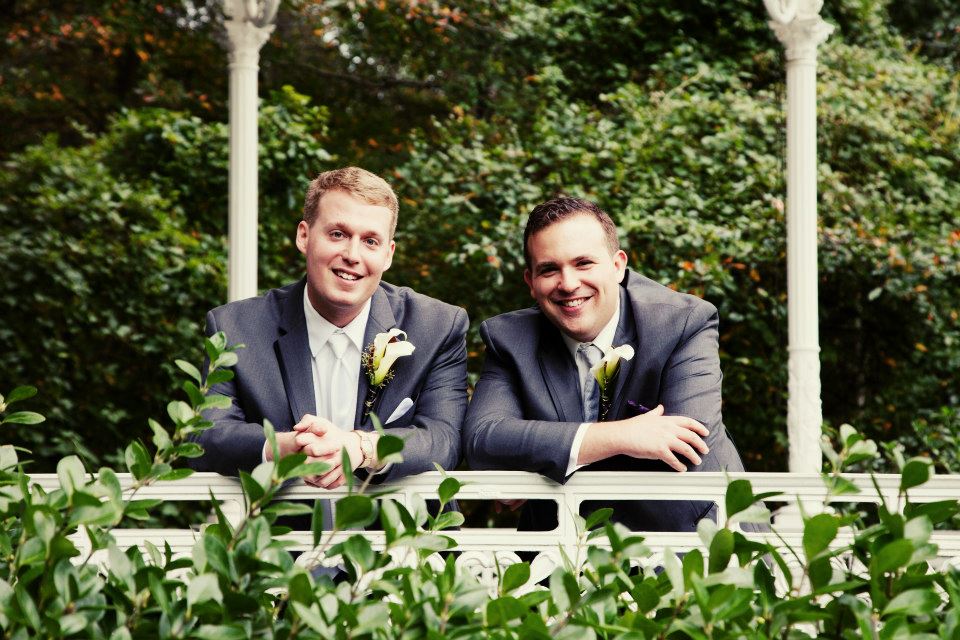 I guess it's a busy time of year for you. With your proclamation that the Jersey Shore is "open for business," you've been making the rounds all across our beautiful Garden State, helping bring more money into a state that desperately needs it. I imagine your work schedule is the reason that you haven't returned my calls or emails. Or maybe -- oh, gosh -- are you just not that into me?
Well listen, I know this is going to sound crazy. I know you're married, and I'm married, but -- oh, jeez -- why am I so nervous? OK, Anthony. Take a deep breath. Steel yourself for possible rejection.
Gov. Christie, will you be my date on Saturday?
You see, I'm going to be in Erie Park in Montclair on Saturday at 4 p.m., walking with Garden State Equality. We're going to be walking to raise money to override your veto, and I just thought that maybe you should be there. You know, without you, none of this would be happening. We're going to have a really wonderful afternoon, with New Jerseyans from all across the state joining together.
Really, we kind of owe this to you. If we had one of those governors who just believe in equality for all, I'd probably be home on my couch watching Game of Thrones this weekend. Thank goodness you had the courage to stand up and veto our civil rights!
Now, there's this term called "accountability." That's that thing where you recognize when you've done something untoward and you step forward to take responsibility for it. "Responsibility" is that thing you did with Hurricane Sandy, then abandoned again. And I'd like to take accountability (see above if you've forgotten the term) for the things I've said about you in the past.
I've used words like "coward" and "bully" and "selfish" and "hypocritical." And I recognize now that those words came from an angry place inside me. This is a time when we should be coming together as New Jerseyans, not tearing each other down.
So allow me to apologize, Gov. Christie. Though it's particularly challenging in this instance, I need to be the bigger man here. I am sorry for calling you names. I am sorry if my words or actions caused you or your family any pain. I'm an Italian New Jerseyan, so these apologies don't come easily. Am I right, Chris?
To make up for it, I'd like to invite you on a date. Now, I want to be very clear here: This is a platonic date. No funny business, sir! In fact, I would love for you to be a member of my team. Not that team, Governor. My Equality Walk team!
Our team is titled "On the Right Side of History." My team captain is Nicole Signorelli, and she's great. I think you'll really like her. She's funny, like you, and she likes really great music. We'll be walking with her boyfriend Steve, her sister Tina, and Tina's husband Russ. My brother Brian, a recent New York college graduate, has just moved to New Jersey to start his post-college career, and he'll be walking with us as well.
OK, the next walker on our team is going to take some explaining. Bear with me; shout out suggestions if you can. He's my husband. Well, OK, he's not technically my husband in New Jersey. He's my... civil union spouse? No, wait. He's my civil partner? Jeez, what is the term? My civil union roommate? My in-house man-friend? That doesn't seem appropriate.
You know, I've called you "shortsighted" in the past, but I know that you're a really smart man. Maybe you can help me figure out a term this weekend. Give me something that I can use to explain to everyone else in New Jersey something that's just as easily understood as the word "marriage." I've tried really hard to find a word that carries with it the full weight, history, and respect as the word "marriage" and just can't seem to come up with anything.
Your beautiful wife of almost 30 years, Mary Pat, is lucky to have lots of titles. But if you didn't have the legal right to call her your wife, what would you call her? Your lady? Your baby mama? See, it's difficult, and I'll only have had my [insert "husband" replacement title here] for 257 days come Saturday. I can't imagine what you'd do!
OK, I guess I digressed there for a moment. It's like that time when you were elected governor and promised to move the state forward, and then you had that series of years when you didn't, but now you're focused again. We'll look past that $12-million Lautenberg special election for the sake of the conversation.
I want to truly commend you on your leadership during Hurricane Sandy. I can look back and remember those days when I was proud to call you my governor, when I knew that our leader had the best interests of all New Jerseyans in his heart and mind. It was a time when you set aside what might be politically expedient and advantageous for you down the road and simply focused on doing what was right. That's the man I appeal to now.
The Garden State Equality Walk is on Saturday, June 22, in Montclair's Erie Park at 4 p.m. It's a great opportunity to get some exercise and connect with amazing people (ahem, voters) from all over the state.
Look, I know you're a big man. You can admit when you got it wrong. I don't need to harp on this thing. Just come out and talk to me, meet my team, and meet the people whose lives were impacted by your choice to veto marriage equality. Don't be the suit; be the man in the suit.
I think my team will be getting there around 3 p.m., if that helps with your planning. You can email me at 30.anthonyromeo@gmail.com or reach me on Twitter. I'm @AnthonyRomeo1 on there. Whatever works best for you.
I can save you a spot at the start line, Governor.
Anthony Romeo
Married husband and New Jersey Devils fan
Old Bridge, N.J.
P.S. For more information on my participation in the Garden State Equality Walk, click here.
Calling all HuffPost superfans!
Sign up for membership to become a founding member and help shape HuffPost's next chapter