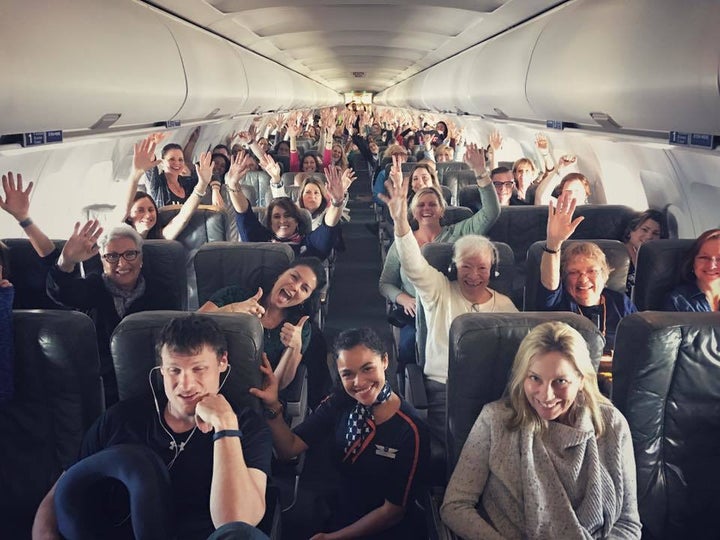 Dear Passengers of JetBlue Flight 724,
I woke up this morning with a feeling of dread. You could argue this had something to do with the fact that as a flight attendant I was getting up at 3 a.m., and you wouldn't be wrong, but today it was much more than that.
Today is Inauguration Day.
I've been dreading this day since Nov. 9 of last year, same as many Americans. Same as much of the world. I dragged myself out of bed, and as I made my way into the airport I scrolled through my typical social media feeds, focusing on the prompts for action from all the women in media that I admire.
"I'm done mourning the Obama administration, I'm done crying, I'm done feeling helpless and hopeless," Amy Odell, editor of Cosmopolitan.com wrote on Instagram. She's right, I thought, and promptly reblogged.
But it's not that simple. Now's the time for optimism, for hope, but the truth is it's so hard to feel it. It's so hard not to be discouraged. Fake it 'til you make it, I told myself, trying to focus on the day. I smiled as I greeted passengers, but my heart wasn't in it.
I could tell almost immediately that the energy on the plane was different. As people boarded everyone seemed to be talking to each other as though they were life-long friends. Is it possible that all of these people know each other? I wondered, watching from the back of the cabin. That's when another flight attendant told me that more than half the plane was headed to Washington, D.C. to participate in the Women's March on Washington tomorrow. Most of them boarded the plane as strangers, but that changed right in front of me. That's when things started to make sense.
Friendly chatter filled the cabin throughout boarding. There were enthusiastic smiles, handshakes and hand squeezes. Everyone was excited. Everyone was in a good mood. When we asked who was traveling to attend the march the cabin erupted in cheers, and that's when I started to feel it.
The optimism. The hope. The unity.
Feminists are often categorized as angry, and I'll be the first to admit that we can be. We have a right to be. Today, on inauguration day, no one on our flight was angry. There were no words of divisiveness or hate. There were only women and men of all ages, ready to stand up and do something. Ready to march. Ready to be heard. Ready to facilitate change.
Working that flight today was a gift, and from the bottom of my heart I thank every person on that plane. It was a privilege to play a part in your journey to Washington. I feel it now. Now I feel ready to move forward.