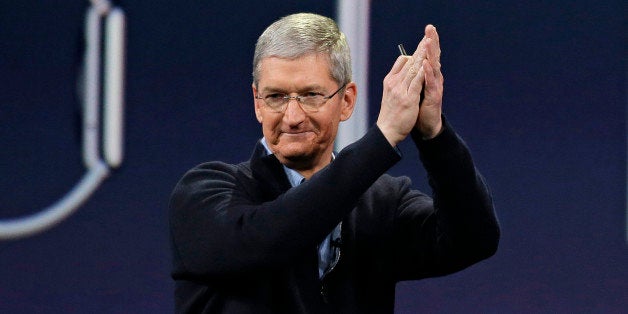 My husband and I are relentless positrons, but, as change agents, we do spend a fair amount of time complaining about how slow progress can be. For instance, when we were recently in Washington, D.C. rallying for full federal marriage equality, I exhaustedly proclaimed:\, "I can't believe we're still having this conversation."
But I'm glad we were there. I'm glad that we try to do our part in lending a voice to the fight for full equality. One day, people will really appreciate it. Just as we are grateful for the work of those who paved the way for us.
For example, I doubt the people who took a stand on a hot summer evening at the Stonewall Inn knew their acts of defiance would usher in a new era of LGBT rights. Oh how I wish we could go back to that day in 1969 to tell all those people what was ahead.
As the police pour into the Stonewall Inn -- one of the few establishments in the country catering to the marginalized LGBT community in 1969 -- we would tell the group that in exactly one year the events of this night will be celebrated with a massive parade. We would tell them that in 2000 President Bill Clinton will name June Gay and Lesbian Pride Month.
As the group refuses to act when told to show their IDs, we would say that in 1977, a man named Harvey Milk will become the first openly gay person to be elected to public office. And in 2013, he will appear on a U.S. postage stamp.
As a drag queen refuses to prove her gender, we would say that in a few decades, a drag queen named RuPaul will have a series of hit singles and go on to host a wildly popular reality TV show about drag queens.
As tensions mount, we would tell the increasingly unruly crowd that in the years to come, a lesbian comedian will come out on a prime time TV show, that an openly gay man will seem to host practically every awards show and play a comically straight character on an extremely popular sitcom.
As a handcuffed woman screams to the crowd, "Why don't you guys do something?" we would say that in 1983 tennis star Billie Jean King will become the first prominent professional athlete to come out.
As the police -- likely as scared as the protesters -- barricade themselves inside the Stonewall Inn while they wait for back up, we would let them know that in 2007 Theresa Sparks will become the first openly transgender police commissioner in the U.S. and that, in 2003, she will be the first openly transgender woman to be named "Woman of the Year" by the California State Assembly.
As a kick line forms to taunt the riot police marching forward with batons, we would say that an openly gay man will become one of the most powerful business figures in the world when he is named CEO of Apple Computers.
As hundreds of protesters stand firm, we would tell them that in 2004, same sex marriage will become legal in Massachusetts. We would tell them that in 2013, our home state, Washington, will extend marriage rights to same-sex couples and, just a few months later, the federal government will recognize those rights.
Finally, as the crowds begin to disburse, we would simply say thank you for raising hell, because in 2015 things will have come a long way.
We've got a lot of work to do. Today, as we head into Pride month, we raise a glass to progress.
Calling all HuffPost superfans!
Sign up for membership to become a founding member and help shape HuffPost's next chapter