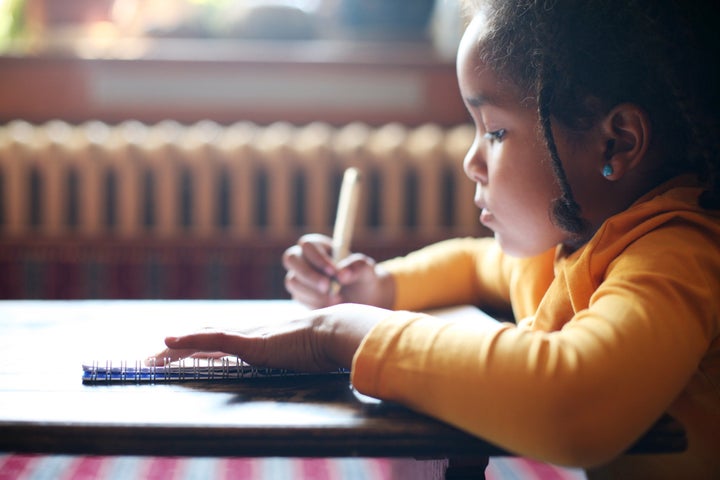 It is difficult to imagine that my life has led me to this point because, honestly, I was not supposed to make it this far. And unfortunately, darling, neither are you.
By the time we meet, I will have earned my law degree from Georgetown University Law Center and joined the ranks of the most educated group in the country, black women. At the same time, I will have invited you into the same world where black girls are criminalized, unprotected and overlooked in schools.
Thoughts of what can happen to you during school hours when I am not there to physically, emotionally and psychologically protect you keep me up at night. Black girls represent sixteen percent of the female student population, but nearly one-third of all girls referred to law enforcement and more than one-third of all school-based arrests.
Like Salecia Johnson, at six years old, you may throw a tantrum during story time and be physically restrained in handcuffs to "calm you down" because your teacher is trained to call the police instead of de-escalating situations in the classroom. At ten years old, you may overhear me and your dad arguing and are unable to focus in class the next day, which agitates your teacher who gives you detention for being withdrawn. Or like Kiera Wilmot, at sixteen years old your interest in science may lead you to conduct a science experiment that results in a small explosion and, even though no one is hurt, felony charges.
What frightens me most is that your teachers may not take an interest in your educational aspirations, passions and general being. Research[1] has shown that black girls' attachment and sense of belonging in school can be undermined if our achievements are undervalued. Unfortunately, as a black girl you may get less attention than your male counterparts early in your educational career because you are perceived as more socially mature or self-reliant.
I solemnly swear to encourage, support and assist you in realizing each and every one of your dreams from being a fairy princess to one of the few black women to argue before the Supreme Court of the United States. However, there is no doubt in my mind that your teacher's support of your dreams and aspirations are as equally, if not more, important as the support you receive from me and your dad.
There is no doubt in my mind that my life would have turned out differently had Mr. Gillenwater and Mr. Post not shown interest in me as a student and a person. What is unfortunate is that it took eleven years of schooling in the New York City Public School system to finally be exposed to teachers who had a passion for teaching and genuinely cared about their students.
I pray that I have the wisdom and insight necessary to weed out all the potential issues with teacher-to-student engagement through all the research I complete, interviews I conduct, and schools I visit when your dad and I choose a school for you.
I want to be perfectly clear. I am not saying any of this to scare you. I am telling you this out of love. Your grandmother came to this country from Jamaica, West Indies with nothing other than a middle school education and all the hope in the world that your aunts and I would have better educational opportunities. However, the research I presented to you here suggests that educational opportunities are not equally accessible to black girls.
Therefore, I urge everyone reading this letter to call out injustices in the educational system whenever and wherever they are present so my daughter has just as much access to an education as every other American child.
And as for you, sweetheart, I request that you help me show the world how beautiful and magical you truly are. Because only then will the world be able to see you for all that you are and can be.