Where to begin? Not a day goes by without me thinking about this beautiful, life-changing place. It has taken me an inordinately long time to write my post-trip reflection. Instagram tells me that I have been back in the States for at least nine weeks, which sounds about right.
Rwanda. Wow. As I sit here tapping away on my MacBook Pro, aimlessly listening to my playlist entitled 'Rwanda' that entails a whole slew of songs that I downloaded for the flight over, my mind spins with images of lush green trees upon a background of a thousand rolling hills, my lovely friends from Cohort 5 dancing around to music that will never sound as good on this continent; this and a million more memories filled with both happiness and heartbreak that overwhelm my overworked and under-slept brain. I can still taste the red dirt from the stone pathways that we walked everyday and can't help but reminisce about the beautiful African sun on my shoulders.
Perhaps it's just the way the seasons work, but ever since coming home I have been cold to the bone. There is nothing more wonderful than living under such a resplendent sun that is as warm and welcoming as the people who live under it. I would give anything to relish under that beautiful sun for another moment, with the incredible people who have irrevocably shaped me to be who I am today. While certainly I have grown accustomed to the luxuries of Western infrastructure, coming home has been difficult; paved roads, mood lighting, warm showers, privacy and silence all so rare in some places and all so persistently invasive here.
In coming home, I can't help but feel that in some ways I left a large piece of myself 7,000 miles away on a grassy hill overlooking a gorgeous, hippo infested lake. I have grown, I have gained perspective, and I have found meaning in my actions. I am not the same girl who left for Africa three months ago, nor did I expect to be. I also didn't expect to fear that I unconsciously would dilute the precious memories and small moments that I acquired while finding myself. When you're in the moment you sometimes forget to take it all in, and appreciate its fullness. But you really ought to, so on windy, stormy days, like tonight, when your body is faraway from where you once were you can reminisce.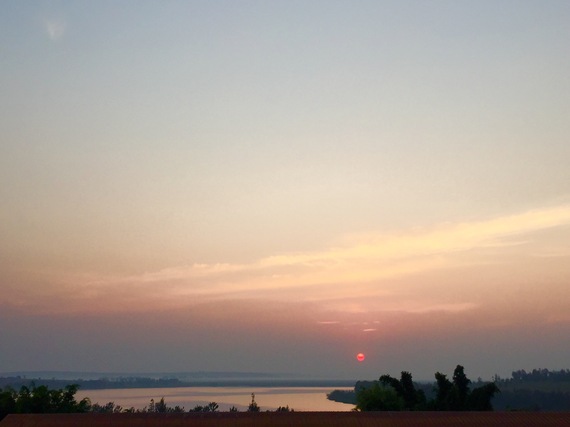 The sunrise as captured by my iPhone
On our second to last day, Nell, Sydney and I decided to wake up at the ungodly hour of 5:30 a.m. to catch the sunrise and have moment of peace before our tearful goodbyes. Sydney and I stumbled out of our bunks together, wrapped ourselves in one of the gorgeously printed quilts they had gifted us, and walked to the upper soccer field. The guards who patrolled us day and night looked at us with questioning eyes but surely nodded it off as Americans being Americans. By some sort of serendipity they had set out these wooden steps that were perfect for sitting on that we perched upon for our sunrise viewing. Since it was still quite early, and the sun had yet to rise, we sat shivering on those benches for what felt like eternity. Finally the rosy arms of sunrise emerged and the tangerine ball of fire poked its head up from what seemed to be the depths of Lake Miravi. As the sun sent sparkles of light across the glassy reflection of the lake, and I sat shivering in between two of my closest friends, I closed my eyes and told myself, remember this, remember all of it.
Related
Popular in the Community