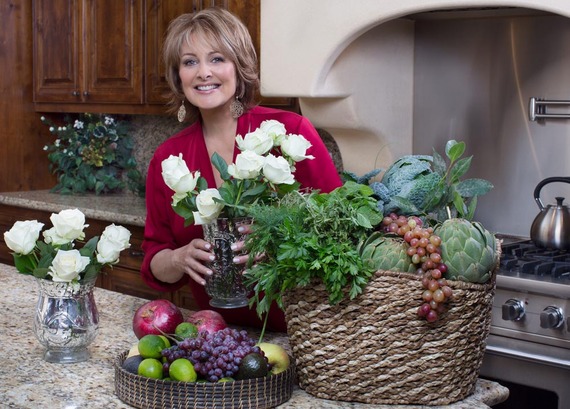 If you know Cristina Ferrare, you likely love her. If you haven't been acquainted with this talented impresario, then you will be sure to love her after you try one of her recipes. Counting Oprah as a fan of her cooking, and having the endorsements of publishers and big television networks, it's presumable she can cook up a great meal. That's exactly what Cristina does -- bring inviting cuisine and conversation to the table. I spoke with Cristina about her cooking philosophy, and she offered up some amusing and useful anecdotes. She also shared a delicious recipe for Crusted Rack of Lamb with White Bean Puree and Mint Syrup and a chocolate heart-shaped cake, a perfectly indulgent meal to share with your sweetheart this Valentine's Day!
Crusted Rack of Lamb with White Bean Puree and Mint Syrup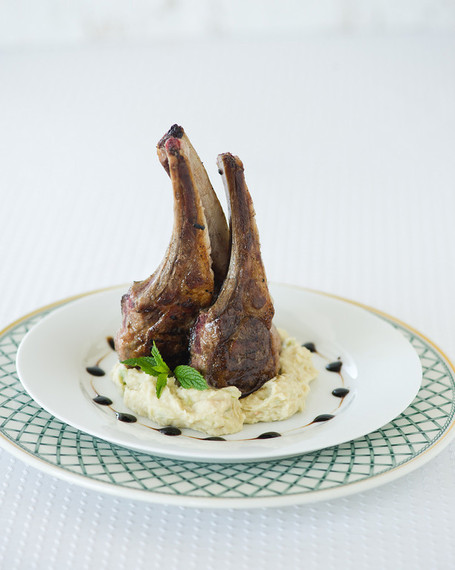 I use to be intimidated by the photographs in cookbooks and magazines of lamb prepared this way. It looked like it was difficult -- a lot of work. Well, it is so not! It takes around 30 minutes to make this most impressive dish. It's perfectly seasoned, and the cook time is quick. The meat slices beautifully, is tender and moist, and has a wonderful savory flavor. You can serve the lamb with a variety of your favorites -- garden greens, mashed or smashed potatoes, creamy or grilled polenta, or grilled vegetables.
Mint syrup
1 cup white wine vinegar
6 tablespoons sugar
½ cup fresh mint leaves
Lamb
2 racks of lamb, 1 ½ to 1 ¾ pounds (7 to 8 chops)
4 tablespoons Dijon mustard
1 teaspoon garlic powder
2 tablespoons low-sodium soy sauce
1 tablespoon chopped fresh thyme
2 tablespoons extra-virgin olive oil
Lots of cracked pepper
6 small mint sprigs, for garnish
Make the syrup ahead of time, or even the day before. In a saucepan over medium heat, bring the vinegar and sugar to a simmer, cooking until the mixture has the consistency of syrup, 8 to 10 minutes. Continue to cook, reducing by half. Remove the pan from the heat, and let cool for 10 minutes. Add the mint and mix. Cover with plastic wrap and cool for about 1 hour. Store in an airtight container in the pantry, and serve at room temperature.
Preheat the oven to 450°F.
Place the ribs bone side down in a roasting pan. Place 2 tablespoons of the Dijon mustard on each rack of lamb, and rub all over the top with the back of a spoon. Over each rack, sprinkle ½ teaspoon of the garlic powder and drizzle 1 tablespoon of the soy sauce. Divide the thyme over the two racks. Drizzle 1 tablespoon of the olive oil over each rack, and crack plenty of pepper over both.
Bake the lamb for 18 to 25 minutes.
Turn on the broiler. Place the lamb in the broiler 4 inches from the heat source, and broil for 2 to 3 minutes, until the top is golden and bubbly. Keep and eye out so it doesn't burn. Transfer the lamb to a cutting board. Cover lightly with foil, and let rest for 5 to 6 minutes.
Slice the racks into chops by cutting between the bones. Place on a platter, or serve 2 to 3 chops per plate, with the mint syrup on the side. Garnish with a sprig of mint.
White Bean Puree
2 cups fresh white beans, or 2 (15-ounce) cans of white beans, drained and rinsed
¾ teaspoon kosher salt plus more for sprinkling
Cracked pepper
1 scallion, chopped
3 tablespoons fresh lemon juice
¼ cup plus 1 tablespoon extra-virgin olive oil
2 sprigs fresh thyme, leaves pulled off fresh 5 basil leaves
Soak the fresh beans over night, or for a quick soak bring the beans to a boil, covering the beans by 4 inches. Turn off the heat and let sit for an hour. Drain and rinse under cool water. Pour the beans back into a stockpot.
Fill a large stockpot with cool water, covering the beans by 4 inches. Do not add salt to the water as this will make the beans tough. Bring to boil. Turn the heat down to a gentle boil, cover, and cook until the beans are tender, usually 90 minutes for soaked beans (2 hours of more for beans that haven't been soaked). Taste test to see if the beans are tender. If they're not yet tender, cook until they are, checking every 15 minutes. Be careful to not overcook, or the beans will fall apart. If the beans have soaked up so much water while cooking that they're no longer covered by at least 4 inches of water, add more water.
Place the beans, ¾ teaspoon salt (1/2 teaspoon salt if using canned beans), pepper to taste, scallion, and lemon juice in a food processor. Start to slowly add the oil, and process until smooth. Adjust the seasoning adding more salt if necessary.
To serve the lamb, slice in between the ribs to separate the chops. Place 1/4 cup of the bean puree on the middle of a dinner plate and spread into a circle. Place three lamb chops thick side down in the puree to help them stand together.
How would you describe your food philosophy?
I look at food as art -- my plate is the canvas and the food my color pallet. I use the texture, color and flavor of food to bring to life the story of the dish. Those three components are what I try to encompass in each bite. I believe that if you can hit all of the senses: sight, smell, taste, touch and even sound, it's what makes recipes work.
How did you become so passionate about cooking? What are your influences?
My love for food came from my mother and my Nona! I come from a big, passionate, food-loving family. Still to this day, when I smell the start of a fresh tomato sauce cooking, the garlic browning and the onions sweating, I am brought right back to my mother's kitchen where there was always laughter, lively conversation, music and of course cooking. I was always in the kitchen and if I wasn't, I was in the sandbox in the backyard pretending I was in the kitchen making a huge bowl of pasta for my friends. Still to this day the anticipation of the meal and the people who are going to sit down and eat brings me great joy and fills my heart.
What is the best meal you've ever had?
The best meal I ever had was with my husband, Tony. We were at the La Colombe D'or in Saint Paul Devence, France. I had a mosh salad with truffles followed by truffle risotto.
What's the craziest thing you've ever done to obtain an ingredient?
I wanted to make pasta sauce like they do in Rome with fresh tomatoes for some guests of mine that were visiting from there. We were living in a high rise and I had no access to fresh, vine-ripened tomatoes. I pretended I was interested in a house that was for sale and made an appointment to see it. It had a huge garden with rows and rows of the most beautiful vine-ripened tomatoes. When I went outside to the garden, the aroma alone made me crazy; I am ashamed to admit that when no one was looking, I picked several and gently put them in my purse. The sauce was to die!
What's your process when planning a meal?
I first make notes of who is vegetarian, vegan, or gluten-free and make sure I have something to offer them that will be satisfying and delicious. I go to the market with an idea of what I would like to serve, but I don't really know what I will purchase until I get there. What's available determines what I will make. I buy everything fresh and organic. I go to a fish store if I am serving fish because freshness is important for me and I go to the grocery market and speak directly to the butcher if I am serving meat.
What's a great meal for a romantic dinner?
Appetizer: Heirloom Tomato Tower with Burrata, Crispy Bacon Shallot Vinaigrette Dressing, Basil and Balsamic glaze
1st: Ravioli with homemade Ricotta Cheese and herbs with fresh Roma Tomato Sauce
2nd: Crusted Rack of Lamb with White Bean Puree and Mint Syrup Sauteed Spinach
Dessert: Homemade grapefruit sorbet with fresh raspberries and raspberry coulis, chocolate drizzle
More about Cristina
Actress, television personality and the former spokesmodel of Max Factor, Cristina Farrare is not just another pretty face. She is also a New York Times Best-Selling author, designer of interior decorations and has her own cooking segment on The Oprah Winfrey Show. Cristina also had her own show on Oprah's network OWN called "Big Bowl of Love," which aired in 2011. The show ran for almost thirty episodes, featuring her cooking with family, friends and even Iron Chefs. Today she has a great website where she shares her favorite recipes, products and even creative crafts. On top of all of this she is the current host of the Hallmark Channel's Emmy-nominated "Home and Family" show.
Follow Cristina on Twitter and Instagram