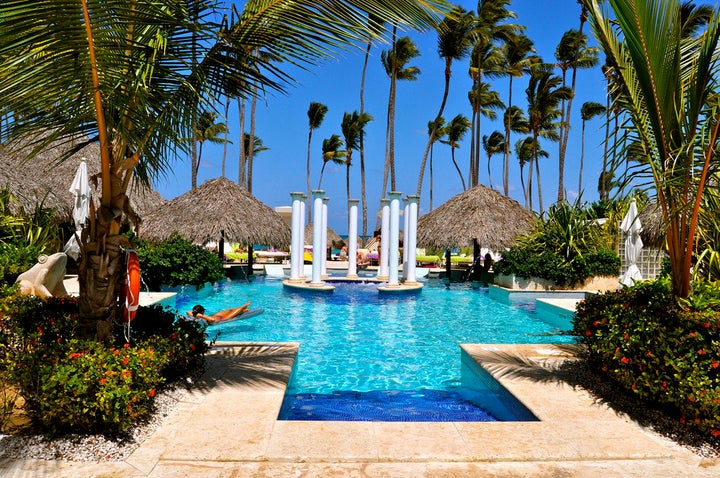 Private plunge pools, personal butlers, thatched roofed palapas, exotic architecture, extraordinary cuisine, luscious spa treatments... are these the amenities you crave for your next lovers' getaway? You'll find these indulgences and more at a new breed of ultra-luxury resorts in the Dominican Republic.
The Dominican Republic is famed for toe tickling silky white sand beaches and vibrant turquoise waters. But for many years vacationing in the DR meant sharing your romantic interlude with hundreds if not thousands of other vacationers at gigantic mass market all-inclusive resorts. Thankfully that has changed recently, with the introduction of a number of premier resorts who cater to discerning travelers dreaming of indulgent, pampered vacations. Take a walk with me through three fabulous resorts that will set the stage for your next dreamy romantic escape.
Secrets Sanctuary, Cap Cana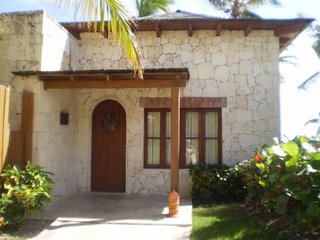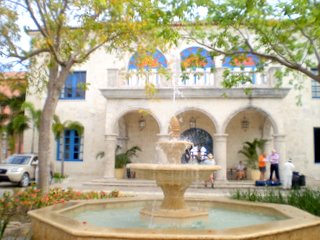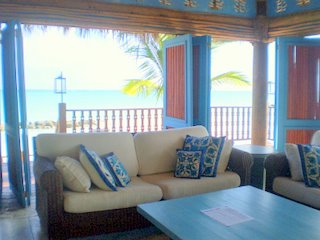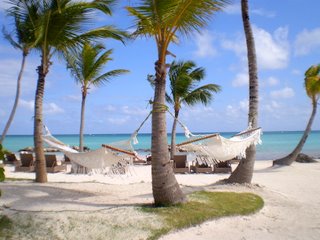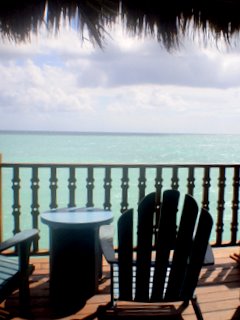 Stepping through the stone archway at Secrets Sanctuary immerses you in a world of Spanish colonial serenity with muted sandstone hues punctuated by intricate tile work. The resort is a collection of cool courtyards, lofty community rooms, and a magnificent stone fortress. An inviting infinity pool coaxes you to float your cares away or lounge beside the intimate beach. This all-suites, all-adults resort offers an amazing 17 styles of suites and villas to select from. Choose a bungalow sitting directly on the beach, a Fortress suite with a private rooftop plunge pool, swim out room, or perhaps a tower suite with private terraces, open air jacuzzi and gazebo. The staff is smiling, attentive and competent. Words that come to mind when I think of Secrets Sanctuary are: intimate, lush, dramatic, serene and pampered.
Paradisus Palma Real, Punta Cana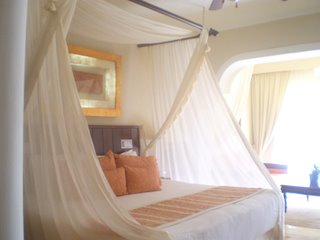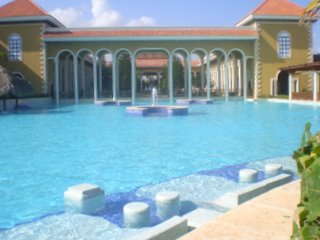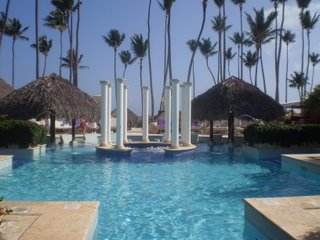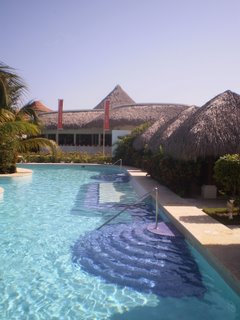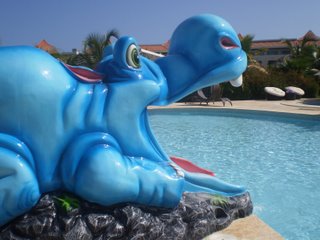 We stepped into a magnificent paradise at the Paradisus Palma Real and never wanted to leave their "Royal Service." WOW is the immediate impression of the dramatic views from marble lobby, through fountain lined shimmer pools, to the aqua sea. The pampering begins at check-in in the exclusive Royal Lounge offering personal butler service, attractive internet center, and a buffet offering small treats throughout the day and evening. Rooms are inviting and elegant with romantic canopy bed, jet-tub for two, espresso maker, custom stocked mini-bar and comfortable living room. This resort is all about dramatic views, stunning pools, jacuzzi islands, sun beds on the beach, thatch-roofed palapas, underwater loungers, and swim up bars. Words that come to mind for this resort are: FUN, lively, congenial, decadent, pampered.
Parents are lovers too at The Reserve The Paradisus Palma Real has a unique and fabulous resort within the property designed just for families -- The Reserve. Imagine checking into a luxury suite complete with kitchen, living room, dining room, AND a family concierge to help plan activities for your entire family. Babysitting in the fully equipped nursery, play date for your tykes at the kids water park, arts and craft classes, sports for your teens -- all included. Now once the kids are all taken care of... deserving parents can enjoy a large terrace with plunge tub, cushioned lounge chairs, your own private thatched palapa, AND swim out entrance to the pool, your own private paradise -- sensational. The nearby YHI Spa is the most extensive and sensuous that I experienced among all the resorts I visited in the DR. Words that come to mind for The Reserve are: Ingenious!
The Iberostar Grand, Bavaro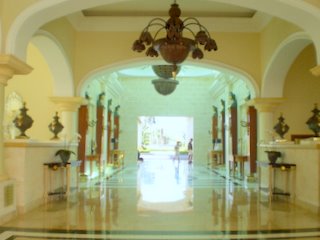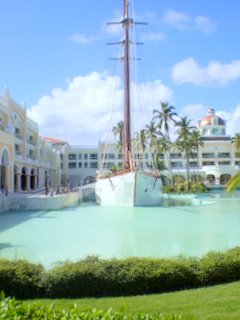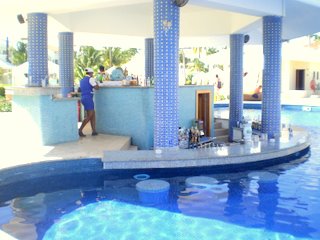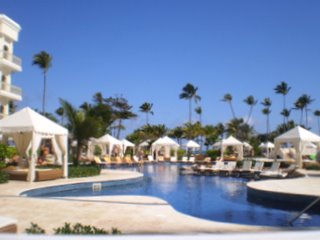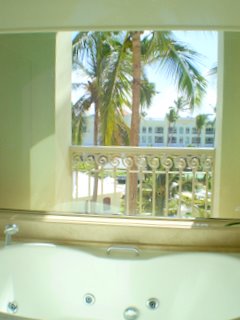 The name says it perfectly. Grand will definitely be your first impression of this sophisticated resort, not because of its size, but because of its elegance. Cool arched colonnades line the U-shaped adults-only resort. You can view the entire complex at once and pick your spot for indulgence. Be pampered poolside where attendants offer complimentary sunscreen, magazines, and cocktails under the shade of a private pavilion or catching the rays on a sun bed. True gourmet dining is what sets The Grand apart from other resorts. Every meal is exquisite whether it's offered in buffet style or at one of the whimsically themed restaurants. At cocktail time, step aboard an authentic sailing ship that is permanently docked inside the resort. This is a resort where you can wear your designer silk cocktail dress and frost yourself with tropical jewels and feel right at home. Personal butlers are at your beck and call to attend to your every desire. Words that come to mind for The Grand are: impressive, elegant, refined, relaxed, and indulgent.
Clearly lovers of all ages will find an extraordinary luxury resort just waiting for them in the Dominican Republic.