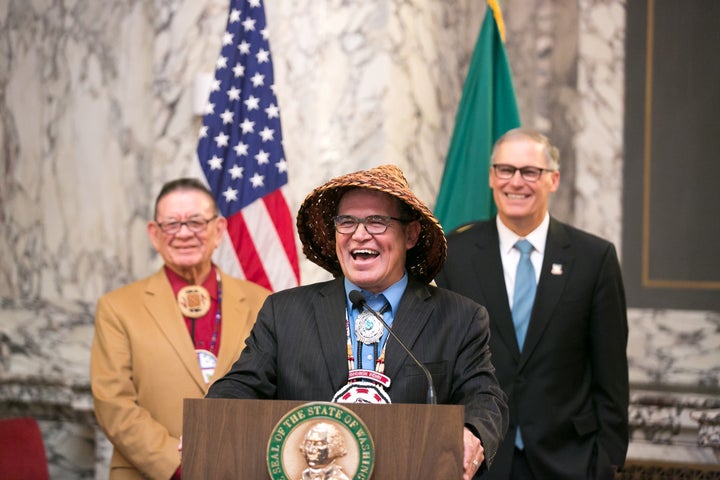 Almost exactly a year ago, I wrote about how an American Indian tribe in Washington state defied a powerful special interest that was making it difficult for members of the tribe to get the dental care they needed.
It was a big gamble, but it paid off. What tribal leaders did was hire the equivalent of a nurse practitioner in dentistry—a dental therapist—to practice on the Swinomish Reservation, despite opposition from the state dental association and the fact that the state had not yet granted tribes the authority to use dental therapists.
In the year that has passed, members of the Swinomish tribe are not having to wait nearly as long as before to get a dental appointment. The wait time has shrunk dramatically, from three to four months in 2015 to three to four weeks now.
The Swinomish and more than two dozen other tribes in Washington now have something else to celebrate. Thanks to a bill signed by Washington Governor Jay Inslee, all 29 tribes in the state have now the legal authority to hire dental therapists. The bill also enables the tribes to receive Medicaid and other federal funding for dental therapists.
Tribal leaders had supported the bill for years because of a growing oral health crisis in Indian Country. Native American populations have the worst rates of oral disease in the nation. Tooth decay among Native American children is nearly three times the U.S. average. Among tribes in the Pacific Northwest, four out of five children have untreated cavities by age 5, and one out of four adults have fewer than 20 natural teeth.
A big reason for those dismal statistics is the fact that there are not enough oral health care providers in Native American communities. In the general population, there is on average one dental provider per 1,500 patients. On the Colville Indian Reservation in Washington, there is just one dentist for 6,000 patients. And very few dentists are Native American—just 0.3 percent, in fact.
Dental therapists have been treating patients around the world for almost a century. They started in New Zealand in the 1920s and now practice in at least 50 countries. They've been treating patients on U.S. soil for a little more than a decade, starting in Alaska Native communities. Dental disease had become so prevalent among Alaska Natives that tribal leaders decided in 2004 to see if dental therapists could make a difference.
And what a difference they have made. More than 30 dental therapists now practice in Alaska and serve 45,000 patients in 81 Alaska Native communities, some of which are reporting cavity-free kids for the first time in generations.
As I wrote last February the Swinomish tribe decided to employ a dental therapist even though the state hadn't yet passed the legislation Governor Inslee into law a few weeks ago. In explaining the bold move, Swinomish tribal chairman Brian Cladoosby told me, "We cannot stand by any longer and allow native people to continue to suffer tooth decay at a rate three times the national average." He added that employing a dental therapist was "a tribal approach to solve a tribal issue."
Dental therapists provide routine and preventive services, like dental exams. But they also can do cleanings and fillings, place sealants and perform uncomplicated tooth extractions. They actually receive more training in their scope of practice than dentists and are evaluated more frequently.
The dental therapist the Swinomish tribe hired, Daniel Kennedy, began treating patients in the community on January 4 of last year, working under the supervision of Dr. Rachael Hogan, a dentist, at the Swinomish Dental Clinic.
During his first year, he saw 718 patients, which is especially impressive when you consider that the total Swinomish population is approximately 1,000. Adding him to the dental team not only meant that tribal members wouldn't have to wait nearly so long to get an appointment, it also enabled the clinic to see 20 percent more patients than in 2015.
It also freed up Hogan to deal with more serious problems.
"Because Daniel is able to do fillings and preventive care, I have more time to do crowns and other more complex procedures," Hogan told me.
In addition to treating patients, Kennedy also spends at least a half day a week visiting schools and daycare centers. Those visits, says Hogan, "are extremely valuable in terms of decay prevention in our most vulnerable youth" and in building trust and relationships with the children and their families and caretakers.
"Overall, the addition of Daniel as a dental therapist has been wonderfully beneficial, some in terms of numbers but a lot in terms of the connection and hope he brings to our community," Hogan said. She added that his presence on the team has inspired at least five members of the tribe to consider dental therapy as a profession and as a way to deliver "high quality, consistent, and culturally competent care."
Kennedy was employed by the Swinomish tribe as part of a demonstration project partially supported by the W.K. Kellogg Foundation through the Northwest Portland Area Indian Health Board.
"We celebrate the action taken by Washington State to expand oral health care in every tribal community," said Kellogg Foundation President and CEO La June Montgomery Tabron. "The Foundation appreciates the leadership of Governor Inslee, State Senator John McCoy, State Representative David Sawyer, Swinomish Tribal Chairman Brian Cladoosby, and countless others who have tirelessly worked to advance racial equity, create new workforce opportunities and improve dental care among sovereign tribal nations."
The Kellogg Foundation is also providing support for a dental therapy demonstration project in Oregon at the request of tribes in that state.
Support HuffPost
The Stakes Have Never Been Higher
Popular in the Community