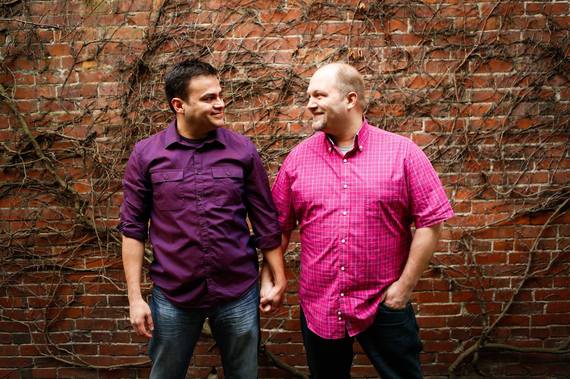 When he was 16-years-old and on vacation in Florida, Brad Cerenzia met a cute boy at Disney World, fooled around with him in the dark on the Haunted Mansion ride, drove to a swamp for some fulfilling sex, and knew that he never wanted to go back into the closet ever again.
Now, he just needed to figure out how to escape the isolated rural farm where he lived, and find his way into showbiz.
Brad's my guest this week on The Sewers of Paris, a podcast about entertainment that has changed the lives of gay men. We both spent significant time gushing over the Mannequin (an unbelievably stupid movie about a mannequin that comes to life) and the show Little Shop of Horrors, which I cannot recommend highly enough. It's a Faustian tale of big dreams gone awry, and the consequences of making dark bargains. It is also -- by admission of lyricist, director, and writer Howard Ashman, "stupid," which is probably why it is such an unbridled pleasure.
Ashman is also responsible for the music of The Little Mermaid, the story of Disney's Beauty and the Beast, and of the songs in Aladdin, he wrote the ones you like the best. He passed away at 40 of complications from AIDS, and there's a lovely tribute to him on the special edition disc of The Little Mermaid that you absolutely have to see.
If you've had your fill of Little Shop and are seeking your next musical theater fix, look no further than Disenchanted, the off Broadway show that Brad helped finance. The show follows a gaggle of Disney style ladies whose fairy tale dreams bump up inconveniently against reality. The show just closed this week after 139 sold out performances, but fear not -- they're recording a cast album in just a few weeks, and I'll announce on the show when it's available to hear. In the mean time, the show is now available for local productions so keep your eyes out for it at a community theater of chorus near you. Follow @disenchantedNYC on Twitter.
Brad uses a metaphor of key changes to explain those moments when your life shifts, and everything suddenly becomes important because it will never be the same.
It calls to mind my favorite part of any story, what mythologist Joseph Campbell calls the crossing of the threshold. Or what Dan Harmon calls a bit less melodramatically the unfamiliar situation. Whether it's Kimmy Schmidt in New York or Evita in Buenos Aires or when the boys in Beautiful Thing go to their first gay bar, I love that magical moment when the hero says this is it. I'm walking forward, no looking back, I'm having my adventure if it kills me.
And one of the greatest examples of that moment is with Mary Ann singleton in Armistead Maupin's Tales of the City. If you're listening to this podcast I can't imagine you're unfamiliar with the books: the tale of a naive young girl who comes from small town Ohio to San Francisco just for a visit, then winds up staying. And then it's alongside her that we discover the incredible universe of queer San Francisco of the 1970s and 80s.
And that's the thing about thresholds: once you cross them, you might not find what you expected. It's our dreams that push us across to what we hope will be somewhere that's green.
Calling all HuffPost superfans!
Sign up for membership to become a founding member and help shape HuffPost's next chapter