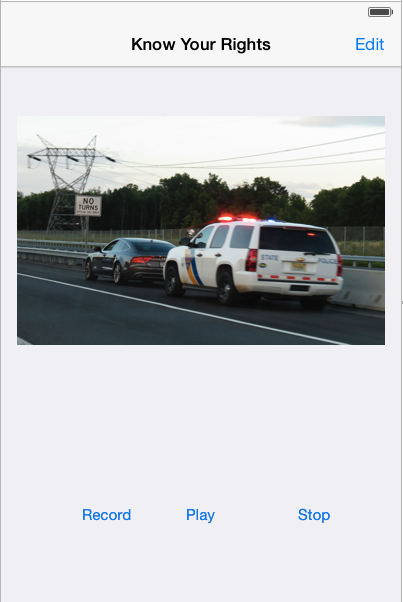 Like many people of color, Mbye Njie says he's been racially profiled by police. And like many people of color -- he's fed up. Now, Njie is working towards a solution to minimize unnecessary stops, searches and arrests.
Following Mike Brown's death in August 2014, Njie started working on ways to help combat racial profiling, and believed video evidence of such instances could make a huge difference in many cases. This spring, 34-year-old Njie began working on Legal Equalizer, an app that records individuals' encounters with police, assesses the individual's offense and educates them on their rights. Njie, who is an insurance salesman by day, has made this app his passion project and said he hopes it will prevent officers from abusing their power and getting away with it.
"It's funny how everybody always wants to believe the officer," Njie told The Huffington Post. "I thought about every time you go to traffic court, you go to court, the word of the officer's testimony is almost seen as solid gold and there's no way the police could ever tell a lie. That's weird. Nobody has anything to counter that."
The Legal Equalizer app isn't complete just yet, but Njie plans to have it record the encounter as soon as the app opens -- a handy feature since more and more people are already recording their encounters with police (such as this) -- and promptly display the Fourth Amendment, which prohibits unnecessary searches. The app also will include an S.O.S. button that sends the video and the user's location to three preselected contacts once the app closes, a feature that was inspired by the dashcam video of Sandra Bland's arrest.
"If her mom and sister had that video on Friday when she had got arrested, they could go to that department, social media and whoever else and I don't think she would be in jail for three days," Njie said. He admits that many people, himself included, get nervous when they get stopped by police. That's why he wants to ensure the app is as easy to use as possible.
Njie considers the app a "necessity" for people when dealing with the police and wishes he would have thought of the idea sooner. When speaking with The Huffington Post, he recalled personal experiences -- he described "regularly" being pulled over by campus police when he was a student at Davidson College in North Carolina. Njie said officers rarely believed he and the black friends he rode around with were students at the school until they showed their student IDs. He said he felt like they were being racially profiled -- and it prompted him to start learning the law.
"We went to the library one day and printed out a copy of all the North Carolina state laws," he said. "We didn't expect we would be learning this as freshmen, sophomores and juniors, but we had to."
Black drivers were about 31 percent more likely to be pulled over than white drivers in 2011, according to the Washington Post. (Nearly five percent of black people polled said they weren't given a reason why they were stopped.)
"This isn't new: young black men and women being pulled over by the police for suspicious circumstances," Njie said, noting that often times these stops lead to unlawful searches and arrests. "What can now stop [America] from having 25 percent of the world's prison population? If people know the laws."
Njie has high hopes for the app. He wants to expand the Legal Equalizer to challenge the entire justice system. His GoFundMe campaign is asking for $25,000 to develop the app. He's raised a little over $3,000, with a family friend promising to match whatever he earns. Njie wants to release a fully functioning product by late September for iPhone and Android. The developers haven't decided how much to charge for the app, noting it won't exceed $1.99.
"There's not a single app right now that does what we're doing," Njie said. "We want the power to be put back in the hands of the people so they know the laws at all times and just know they have that peace of mind to know your loved one or friend knows where am I when I get pulled over."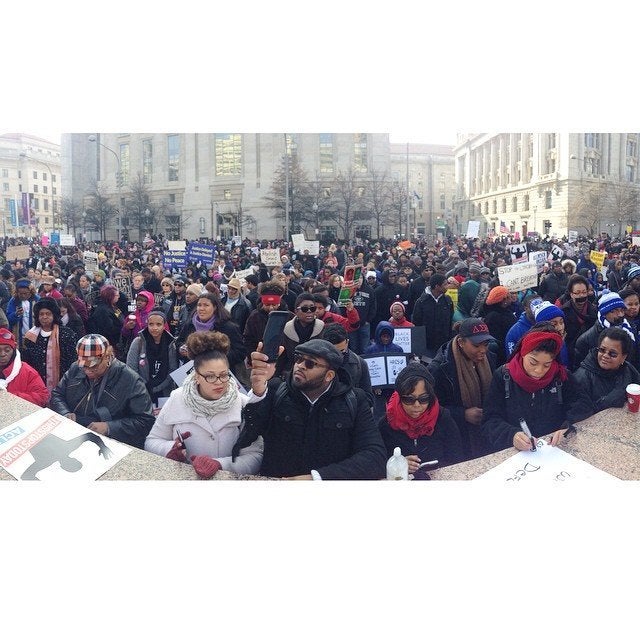 Powerful Black Lives Matter March In Washington
Support HuffPost
Every Voice Matters
Popular in the Community