Ramad Chatman, a black man from Rome Georgia, is serving a 10-year prison sentence after an entire jury found him not guilty of a crime he says he did not commit.
On May 24, Georgia news station 11 Alive published a report on Chatman's interactions with the justice system, which began with a first-time offender probation and ends with Chatman serving 10 years in prison ― despite a jury finding him not guilty of a crime he was accused of in between.
The outlet recounts the story, speaking with family members and legal experts in the video above.
In July 2014, Chatman was accused of a crime in connection to an armed robbery at a corner store in Georgia. Police say the store was too dirty to collect fingerprints from, and four witnesses who were there that night say all they saw was a "black man in dark clothes," according to 11 Alive. Camera footage also captured an unidentifiable black man.
However, it wasn't until months after the night of the robbery, when the store clerk was scrolling through her Facebook, that she randomly came across a photo of Chatman on her feed.
The clerk reported Chatman to the police. He went to the police ― he'd heard they were looking for him.
"He turned himself in because he knew he was not guilty," his grandmother Janice Chatman told 11 Alive.
After Chatman came forward to police in 2015 to rule himself out as a suspect in the corner store robbery, he was arrested for it.
Chatman had been in trouble with the law once before. He was sentenced to first-offender probation of five years at the age of 19, when he entered a guilty plea for stealing a $120 television. His grandmother said he paid his fines and completed community service.
When police arrested Chatman in connection with the 2014 corner store robbery, he was still on probation. He faced a hearing to reconsider the terms of the probation, where Superior Court Judge Jack Niedrach decided Chatman did likely rob the store, which legally, was enough for the judge to revoke his original probation.
Per rules surrounding the first offender status, this meant Chatman was re-sentenced for his original crime. He was ordered to serve 10 years in prison, backdated to his first brush with the law.
Six months later, a jury found Chatman not guilty of the corner store robbery. They acquitted him of armed robbery and aggravated assault. Despite the verdict, the judge chose not reinstate Chatman's probation, according to 11 Alive.
Chatman will remain in prison until 2022 for getting arrested for a crime a jury acquitted him of but a judge thinks he "likely" committed while on probation for an earlier charge.
The jury's verdict is unsurprising. There was no certified evidence that Chatman robbed the convenient store. Transcripts from court proceedings, reviewed by 11 Alive, showed that her description of the suspect changed each time she testified. She reportedly misremembered the color of her attacker's weapon and the clothes he wore, among other things.
"What would bother most people about this is when people tell stories over and over again, they're supposed to remain consistent," Mark Issa, Chatman's attorney, told the site.
While Issa expressed sympathy for the emotional trauma the clerk experienced, he said Chatman is not the man responsible for the crime and that her anger was misdirected. In fact, Chatman tried to enter an Alford plea ― which is a guilty plea where the defendant also maintains his innocence ― before the trial began, but it was dismissed and his case went before a jury.
Ultimately, Chatman is currently serving a 10-year prison sentence for his initial crime of stealing a $120 TV.
Retired Georgia Supreme Court Chief Justice Norman Fletcher told the Rome News-Tribune last year that Chatman's case reflects a failing in the legal system that continues to feed into America's gross issue of incarceration.
"The law does not always lead to a wise and just conclusion, in my opinion," Fletcher said. "We can't afford to continue to lock up more and more people."
Before You Go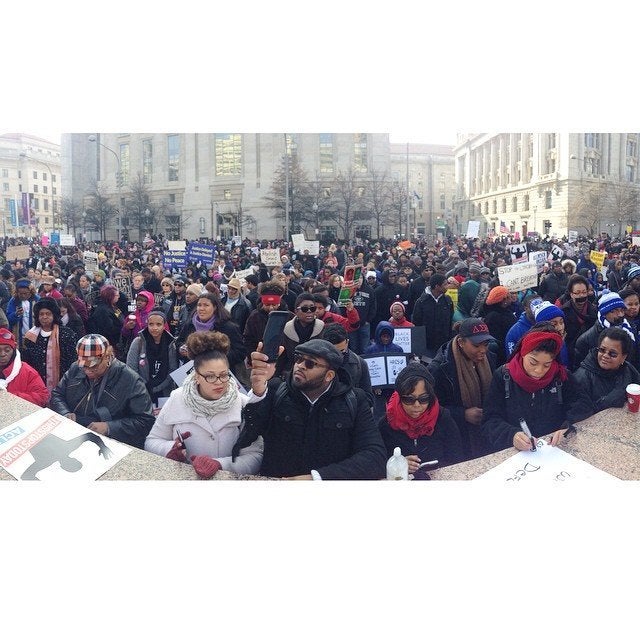 Powerful Black Lives Matter March In Washington
Popular in the Community