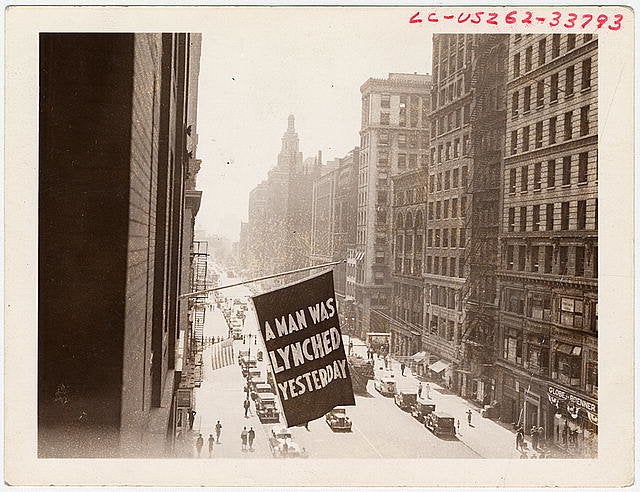 Following the deaths of Alton Sterling and Philando Castile, two black men tragically shot and killed by police this week, an iconic flag has reappeared in New York City.
Waving outside Jack Shainman Gallery, artist Dread Scott's installation "A Man Was Lynched By Police Yesterday" may look familiar to history buffs. The work is an updated version of the memorable banner that hung outside the headquarters of the National Association for the Advancement of Colored People (NAACP) back in 1936.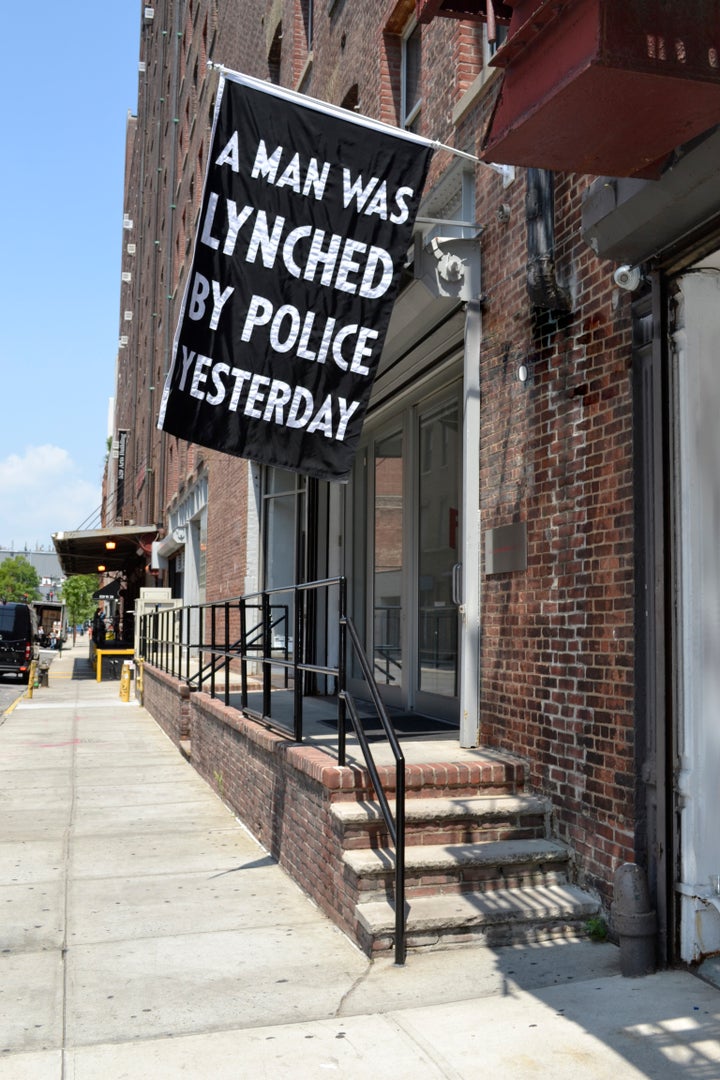 Scott's flag is just one part of Jack Shainman Gallery's "For Freedoms" exhibition featuring the work of artists like Xaviera Simmons, Hank Willis Thomas, Rashid Johnson, Carrie Mae Weems and Mickalene Thomas.
"When Hank showed me a photo of Dread Scott's flag, I felt we had to put it up immediately in the 'For Freedoms' exhibition," Jack Shainman explained in a statement to The Huffington Post via email. "Given the horrific events of the past week, we were compelled to take a stand amidst initial feelings of helplessness and grief. At this point, I feel a moral obligation to take action."
The "For Freedoms" show is an offshoot of the For Freedoms group, described as the first artist-run super PAC that believes artists "play an important role in galvanizing our society to do better." For Freedoms seeks to transform the gallery's exhibited work into advertisements supporting 2016 presidential candidates who "promote a real exchange of ideas, who promote all voices, and who approach politics as a form of civic service."
"We believe it's time for artists to become more involved in the political process," artist Hank Willis Thomas, co-founder of For Freedoms, wrote online. "Our mission is to use the super PAC apparatus to encourage new forms of critical discourse surrounding the 2016 presidential election," Eric Gottesman, fellow founder, added.
Scott told Artnet News that he created his flag "in relation to Walter Scott getting killed," a reference to the black South Carolina man shot and killed by police during a traffic stop. "It's been decades that I've been following police murder people and at a certain point I decided I needed to create an updated version of it for the NAACP," he explained.
UPDATE: Dread Scott sent a statement to HuffPost via email. The entire response is posted below (and a comment from Jack Shainman has been added to the post above):
The flag is an update on a banner that the NAACP used to hang outside of their national headquarters in N.Y. on 5th Ave. the day after someone was lynched. They used it during their anti-lynching campaign. During the Jim Crow era, Black people were terrorized by lynching ― often public and publicized extra legal torture and murder of Black people. It was a threat that hung over all Black people who knew that for any reason or no reason whatsoever you could be killed and the killers would never be brought to justice.

Now the police are playing the same role of terror that lynch mobs did at the turn of the century. It is threat that hangs over all Black people, that we can be killed by the police for no reason whatsoever ― for a traffic stop, for selling CDs, for selling cigarettes. Shot to death, choked to death, tased to death, driven to death. Standing still, fleeing. Shot in the chest, shot in the back. Hands up, hands down. Point blank range or at a distance. And the police never face justice for their crimes. It is a vivid concentration of the complete illegitimacy of this whole system is. Legal armed enforcers of relations of exploitation and oppression murder with impunity.

I made "A Man Was Lynched by Police Yesterday" in response to the police murder of Walter Scott in South Carolina last year. It was an unfortunately necessary update to the NAACP sign then and it continues its relevance in this moment. It is a real testament to the moment and courage of galleries like Jack Shainman that are shifting gears quickly to display work like this. It is a trend that needs to spread if we are going to stop the police from continuing their epidemic of killing people, over 566 people this year so far.
"For Freedoms" is currently on view at Jack Shainman Gallery located at 524 West 24th Street in New York City until July 29, 2016.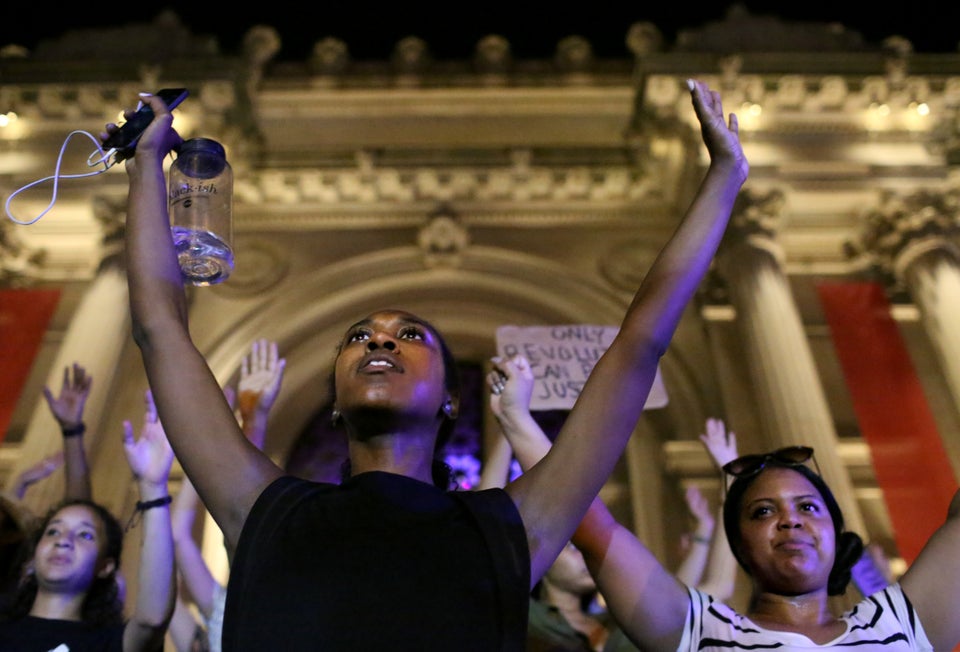 Peaceful Protests Over Alton Sterling and Philando Castile Shootings
Popular in the Community