Two-time heart recipient New Jersey man helps others have their second chance
Heart transplants are, in my nonprofessional opinion, miracles: Precious, God-given, man-facilitated second chances at life.
The Mayo Clinic defines a heart transplant somewhat more clinically as "an operation in which a failing, diseased heart is replaced with a healthier, donor heart...a treatment usually reserved for people who have tried medications or other surgeries, but their conditions haven't improved sufficiently."
Sounds simple enough! However, while the transplant procedure may be "simple" -- actually a medical and scientific wonder and a testament to the skills and dedication of the surgeons and to the medicine and technology behind it -- the heart transplant "process" and post-surgery rehabilitation can be very trying on the patient.
First, the heart transplant candidate has to meet stringent medical, physical and emotional requirements.
One of the conditions listed by the Mayo Clinic is that the candidate be able to "emotionally handle the wait for a donor heart."
The long wait can indeed be emotionally draining -- for some never-ending. It involves registration with a heart transplant center, placement on a waiting list and the wait for a donor heart under an exhaustive donor-recipient matching system managed by the United Network for Organ Sharing, or UNOS, under a national Organ Procurement and Transplantation Network contract with the U.S government.
I say "for some never-ending," because, unfortunately, "there aren't enough hearts for every person in need, and some people die while waiting for a transplant," according to the Mayo Clinic. Others may be (temporarily) removed from the waiting list because they have developed significant medical conditions which make them unable to have a transplant.
With luck and God's will, the day you and your family have been anxiously waiting for is finally here. A matching heart becomes available. You and your transplant team accept the donation. You are rushed to the transplant hospital (a heart transplant usually needs to take place within four hours of organ removal) and you "breeze" through the aforementioned "simple procedure."
Then comes the long recovery period with its own medical risks -- the most significant being the body's rejection of the donor heart -- and with the long-term medical, physical and life style adjustments the recipient has to make. Many heart transplant patients feel stressed and overwhelmed both before and after the heart transplant and need emotional support.
There are several organizations and support groups that do exactly that. They support heart transplant candidates, recipients and their families emotionally, morally, "educationally" and financially.
Wouldn't it be perfect if the persons leading such organizations had experienced the travails and the blessings of a heart transplant themselves?
How about two heart transplants? Or two heart transplants and a kidney transplant!
As Harbourt himself recalls, after suffering a heart attack "out of the blue" in April 1989, at age 57, things went downhill fast. So fast that on April 30, 1991, he was rushed by helicopter to Temple University Hospital, Philadelphia, for a heart transplant.
Unfortunately, after being prepped for surgery, Harbourt was told that the heart was not good. Miraculously, the next morning another heart became available and everything was "go." When Harbourt woke up a few hours later, a nurse whispered in his ear that he had a new heart and that everything was fine.
All went relatively well for a while -- for about five years as a matter of fact -- but then Harbourt developed heart failure again, was treated for it for a year or so and then qualified for another heart transplant. But that transplant would not take place for another six months and not before his kidneys also failed. Finally, on February 21, 1999, Harbourt received both a heart and a kidney from the same donor at Hahnemann University Hospital in Philadelphia. "I am alive today due to the generosity of an organ donor family," Harbourt says gratefully, urging everyone to be an organ donor.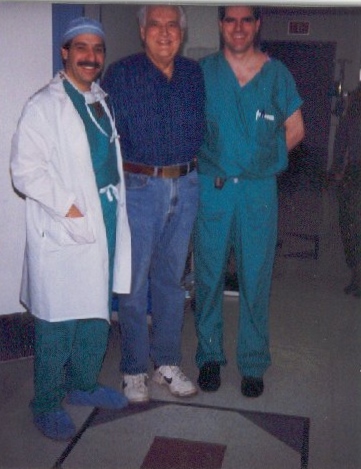 Dick Harbourt and two Hahnemann University Hospital surgeons 12 days after Harbourt's second heart transplant in 1999.
Retired from long and successful business, public and community service careers, Harbourt has dedicated himself -- through Second Chance -- to help those who are in need of a heart transplant by providing financial and educational support, but -- perhaps most important -- by sharing his experiences, empathy and goodwill. He is assisted in this by more than 900 veteran heart transplant recipients, all members of Second Chance which has chapters at four heart transplant centers in Pennsylvania: Hahnemann University, Temple University, University of Pennsylvania and Jefferson University hospitals. Harbourt also chairs a local all-organ transplant support group and, "in his spare time," does an amazing variety and amount of volunteer work for related causes.
Notwithstanding all his own health problems and regardless of which heart is beating in his chest, Harbourt has always had a Big Heart and seems to do everything in twos or threes -- or more.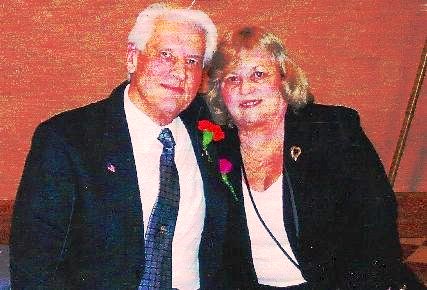 Dick and Marion Harbourt
Not able to have children of their own, Dick and his wife, Marion, adopted six children, including a child -- their first one, named Patti -- with serious medical problems that demanded significant financial sacrifices from the Harbourts. They would have continued adopting children had it not been for the State of New Jersey telling them "enough is enough."
Stan Harbourt, a cousin of Dick Harbourt and a good friend of mine, perhaps says it best. "I am honored to be Dick's cousin. He certainly is worthy of two heart transplants," he tells me.
To learn more about Dick Harbourt's wonderful Second Chance organization, please visit here.
There are numerous tools and resources on the internet for those who may be considering a heart -- or any organ -- transplant or who just want to learn more about it. Transplant Living and My Transplant Life are just two, but perhaps the most authoritative is the previously mentioned UNOS.
As of this writing, there are 119,076 registered organ transplant candidates on the waiting list, every one of them hoping for a second chance. You, too, can give someone a second chance at life by becoming an organ donor.
Richard Harbourt, now 81, lives in West Windsor, New Jersey, and continues to help others fulfill a dream he himself realized -- twice.
Second Chance logo and photographs with permission
Related
Popular in the Community