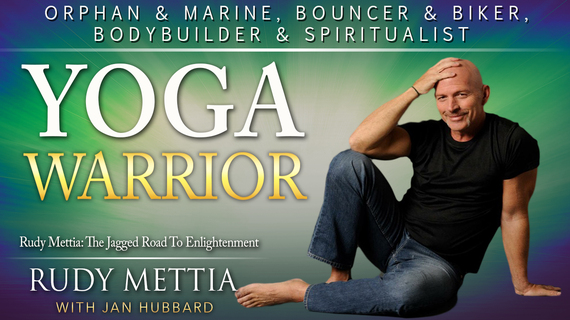 Man-Uprising Presents: Rudy Mettia
Man-UPrising is a multi-platform, social-emotional initiative featuring successful men sharing their struggles and successes to encourage men to come-together and speak their truths, inspire fellowship and help other men rise-up, and to help women to better understand the men in their lives.
His-Story
Orphaned by age 9 by the unexpected deaths of his biological parents, Southern California's iconic yoga and strength instructor, Rudy Mettia, struggled his way through 20 foster homes before joining the Marines at 18. The Marines made him a warrior, but fatherhood (to six-year-old Scarlet) and his journey as a yoga instructor among LA's sizzling yoga scene and to some of Hollywood's most-noted celebrities made him a man.
For full-disclosure, I was transformed myself in one of Mettia's trademark physically tough, punchline-packed yoga teacher training certification courses. There, I saw the vulnerability beneath the wise-cracking, physically dominating man whose course helped peal back yet another layer of my own vulnerable defenses. A physically enduring yoga course, after all, is the somatic intersection of emotional, spiritual and mental every day life lessons. But Mettia explains it best:
Q: What first drew you to yoga and what has yoga done for you?
Mettia: Yoga is just like life, the pendulum swings back. Try holding Warrior Two for two minutes then slide into Triangle pose. You're like "ahhhh." That's life. When everything is going great, hang on. It's going to swing back the other way. And it works the other way, too. If you're financially fearful and physically breaking down, hang on! If you can not get caught up, you will swing back the other away. Have faith. Faith isn't blind, it's experiential.
Q: You have a new book just released. What's it about, and why now?
Mettia: Writing Yoga Warrior was a cathartic experience. There may be something in my disastrous life that will inspire readers because the book is about transcendence of circumstance, and rising to your own vision...transformation. Yoga helps you tap your breaks and find your center again. The book is to help people in that way, but a book with life lessons. And, of course, the book is for my daughter, for when I'm no longer living.
"Comfort will sometimes dull your claws. To be a man, sometimes you need to step up and get out of your comfort zone. Boys want to be in a comfort zone. Men step outside their comfort zone and then get comfortable. Adversity creates champions."
Q: Speaking of your daughter, what would you say to Rudy six years ago who found out he was having a baby, and that it would be a girl?
Mettia: At the time I was 49, it was now or never. I thought I was passed the point of being a dad. By the time she's in school I'm 68. A friend said I was optimistic, and I thought, "Yes I am! I'm optimistic."
So I'd say to him, are you man enough to do the job? And I'd say make sure you pick a woman who can pick up your slack because there's a lot of slack and the mother does the heavy lifting. You need to step up! There's no running away. I struggle a lot because it's all about that child; my wants are secondary. I mean, I want to achieve a lot of what I want because it's going to make me feel more powerful, and more of a provider.
Q: So you see your primary role in fatherhood as a provider?
I think a man can actually bail under the pretense that "I must work and provide." My job is working and providing but that can't be all. For some men, that's what it is and they miss out on the experience, where the the baby is asleep when they leave in the morning and before they get home. Fortunately I get to be home a lot to connect with my daughter that way too.
Q: You have a child but have never been married. Can you tell me about your relationship journey and what you've learned:
Mettia: I'm not with my baby's mother, but she is my family and I would never bail on her. We had planned to get married, but it just didn't work out that way. It wasn't the baby's fault, but our relationship needed tending to too.
I may get married, and that's just something I am thinking about more as I get older. I don't want to have to keep starting all over again. I have my insecurities around that; I don't have as much money as some men, or education, but my physical ability is my business and my asset.
Q: You recently turned 56. You've faced a lot of adversity in your years. Any regrets, or what would you say you wish you could have prepared better for?
Mettia; Some of the most amazing times have come to me when I was between a rock and a hard place and I had no place to move. I was free and virile, because I was like a lion. Comfort will sometimes dull your claws. To be a man, sometimes you need to step up and get out of your comfort zone. Boys want to be in a comfort zone. Men step outside their comfort zone and then get comfortable. Adversity creates champions.
I wish I would have prepared for the future, financial future. I always thought I would be dead by now. My mother died at 42. My father died at 33 and I always thought I'd be out of here by 50. It's just in my genetics. When I got my physical at 45, the doctor said, "You're going to be around a long time." And I thought, "I'm not prepared to be around a long time." Now I'm playing catch-up.
Q: Health is your business and men, like yourself, are often notorious for not going to the doctor. After you left the Marines at 24, you hadn't gotten a proper check up until you were 45? Why?

Mettia: I never needed to go because I was so health conscious, between yoga and strength conditioning. It's naive because there's always the possibility I could have had cancer and it would have been too late. So I don't think it was the smart thing; I played Russian Roulette.
Q: What's does stepping up/Man-Up mean to you?

Stepping up is being of service and sacrifice. Not a martyr. It's a sacrifice of love, time, freedom, money. But I don't think its a sacrifice if you're doing it for the right reasons like for a child or a relationship...for the right person. You're stepping up selfless. I can only do it when I notice I'm not doing it; when I realize I'm being selfish. It's like the construction worker, some guy my age on the 405, you can't tell me he likes shoveling asphalt...but that's a man because he had to take on a job maybe he didn't like to feed his family. I admire it.
Q: Your dad died when you were just 3 months old. Who was a model of a man for you?
Mettia: Coaches. Military leaders. Action heroes. When I was 17, I was weak because I lived on this pig farm with a foster family and we got all the old cakes and buns from a nearby bakery and I was sick and had ring worms and all that. I played senior year football at 175lb. A year later at 215 pounds after marine training, I went back to high school to see my coach. My coach said, "Now look at you." I said, "No one told me." And that started me in the gym, that and Arnold Schwarzenegger...

Q: What do you hope your parents know about you?
Mettia: (Mettia tears up and sarcastically thanks me for pushing him there). That I'm okay. My daughter's mother and I talk about this because we are older parents and we will be dead when our daughter is older. I never felt bad for me, I felt bad for mom. Because her last couple breaths I imagined she thought, "They have no body." I want to be strong enough so when I'm 70, and Scarlett's 19, and she needs me to come get her from a party, I'm busting through that door and clearing the place out.
To read more about Rudy Mettia's book: Yoga Warrior, connect here:
https://www.kickstarter.com/projects/1865532782/yoga-warrior-rudy-mettia-the-jagged-road-to-enligh?ref=project_tweet
Three Questions
1. What decisions around family do you need to pay more attention to?
2. Who were your male role models growing up and what did each teach you - good and bad?
3. What can you do now to better prepare for your future - mentally, financially, spiritually, physically and emotionally?
Jennifer Musselman combines her 15 year business background with her Masters Degree in Psychology to empower people and inspire Brands as an Executive Coach, Organizational Consultant and Life Strategist. She's based in Brentwood - Los Angeles and San Francisco, California. Check out www.SwellConsultingLA.com or JenniferMusselman.com for more information.
Related
Popular in the Community