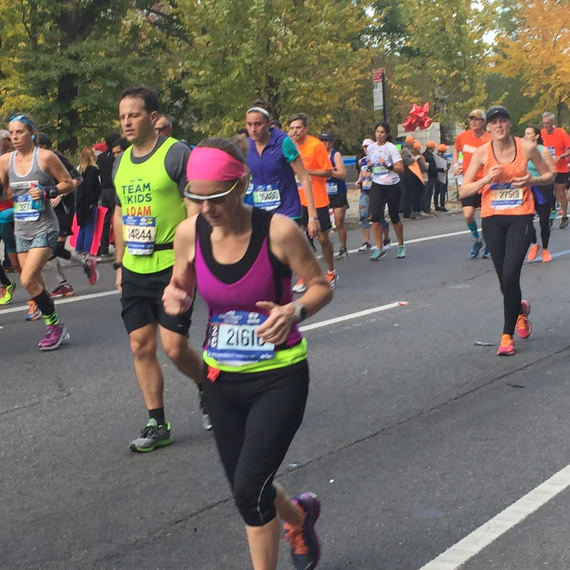 I will never forget being 10 years old and driving down the street with my father in the middle of a rainstorm. Looking out the window, I don't remember seeing anyone outside who didn't need to be there except for one man, who was running. He was soaking wet, running like his life depended on it. I now understand that in some ways his life probably did. Running is no easy task. It can be extremely taxing on the muscles and joints. There are so many things physically that can go wrong. So why do it? Why do we run?
The Reasons:
Some run to feel free, while some run to stay connected. Some run for charities, personal goals, and endurance. The list is endless, but the commonality in every runner is the same: Running makes you feel alive. Running is euphoric (we've all heard of the runner's high). Everything seems to be okay with the world when you run. Your outlook on life changes and you change with it. I'm not a marathon runner -- heck, I only just completed my first 5k -- but I now run every day. I now understand running, and the power it brings. Every problem I've had since I started running, I bring to the run. A great deal of my problems I leave at the end of the run.
The Stories:
I used to watch marathons on TV and thought they were all professional athletes or sports enthusiasts. This is so far from the truth. A runner can be anyone with a determined spirt! The Museum of the City of New York is currently exhibiting Marathon: The Great Race, featuring interesting stories of past New York City Marathon participants, marathon facts, and memorabilia that will inspire you to grab a pair of running shoes and join a race. Here is a summary of stories that caught my attention.
Bob Weiland -- Finished the marathon in 1986, taking 4 days, 2 hours, 47 minutes, and 17 seconds. He did the race entirely on his hands! Weiland lost his legs in the Vietnam War.
Jonathan Brunot -- Lives with severe autism. When he first started running at age 16, he could only stay focused for 15 yards before getting distracted and tired. In 2008 he ran the New York City Marathon in 4 hours, 48 minutes, and 8 seconds. This year he will be running his 17th marathon.
Jen Correa -- Prepared to run the New York City Marathon in 2012, but the devastation of Hurricane Sandy canceled the event. Jen lost her home, and almost her husband, to the hurricane. The running community donated everything she needed to get up and running again, literally. She completed her first marathon in 2013, and completed another in 2015.

There is also a documentary project sponsored by Foot Locker and ASICS America called Real Lives. Real Runners. The campaign, launched in June, invited filmmakers to document runners from all walks of life to show the positive impact running has on lives. The winner of the campaign had its short film broadcasted during this year's TCS New York City Marathon. Last Monday I attended the screening of the finalists.Their panel of judges included Olympic medalist and American marathon record holder Deena Kastor, ESPN sports business analyst Darren Rovell, and New York Road Runners Chairman of the Board George Hirsch, who chose the winning film, The Push.
The Push by Evan Ari Kelman documented Marco Reininger, a war veteran and New York City resident running daily as an homage to his brothers in the service. He reflected on his time in active duty and on his motivation to give more and push harder. It was chosen as the winner based on production and its compelling story. Here is my brief interview with the winner:
Karim Orange: What's your favorite type of music (if you listen to any), to train to? What song gives you that extra push?
Marco Reininger: Music is a big part of my runs and workouts. What I play really depends on my vibe that day and the length of the run. Environment matters, too. In NYC I usually go with high-energy stuff; in nature I often leave the ear buds out and enjoy the ambiance. But if I hit my limit, a strong tune always helps me push that extra mile -- it never fails.
K.O: What do you typically eat before a long run?
M.R: Clean, clean, clean! I focus more on clean, unadulterated fuel than a unique nutritional ratio. But I do eat more good fats before a long run than most of my buddies. I transitioned a while ago and fat works really well for me now, even on long runs.
K.O: How does it feel to know your story will be an inspiration to others?
M.R: When Evan contacted me about The Push, I immediately dug the idea of telling a story that focused on perseverance and teamwork. These days, military and veteran-related stories often focus on trauma and burden. I'm glad we got to put out a more hopeful message. From the feedback we received I know the video jolts people and reminds them of the strength and team spirit they already carry inside. In the military you're nothing without your team, and as a country we're nothing without a sense of community and love for one another. That was the crucial point for me in The Push -- vets reach out and keep each other strong, the way they did in uniform. It's a very American thing to do. If the video helps re-ignite that attitude in folks who need a little push and gets Americans interested in engaging more with vets in an unafraid, open way, then we did our job.
Check out the slide show for additional images and facts.