When I was a boy, after we changed out of our church clothes, another type of religious experience took place on a particular Sunday afternoon each April. Masters Sunday. "A tradition unlike any other" as it's known; watching the final round of the Masters golf tournament was a cherished tradition for my father and I. For many years, we watched together, taking in the tranquil beauty of Augusta National Golf Course and listening to the birds chirp and announcers speak in hushed tones as the world's best golfers walked the lush fairways and greens that are nestled among the Georgia Pine trees. We imagined sitting together at Amen Corner -- the famed three-hole intersection that's left golfers weeping tears of both jubilation and pain. I always vowed that one day, I'd take my father to the Masters and sit at Amen Corner. But to do that, I needed more than a few prayers answered along the way.
My father, George, fell in love with golf some 50 years ago. It was then his Masters dream was born. He was a 14-year-old son of Greek immigrants, whose father had come to this country through Ellis Island. With a thick accent that he carried his whole life, my grandfather worked in a Brooklyn restaurant, then successfully panned for gold in Alaska before settling down in Northern California to teach himself to farm. Once my grandfather had his farm, he needed a wife. He paid a visit to a nice Greek family nearby who had a daughter. Over chicken soup, a wedding was arranged. Together, my grandparents showed my father and his two sisters what truly hard work really meant. He took that lesson quite seriously, both in the classroom and in athletics, lettering in numerous sports including golf and getting accepted first at Berkeley and then Oxford. With an extraordinary work ethic and a remarkable wife beside him, my father excelled academically and professionally, going on to teach at Oxford.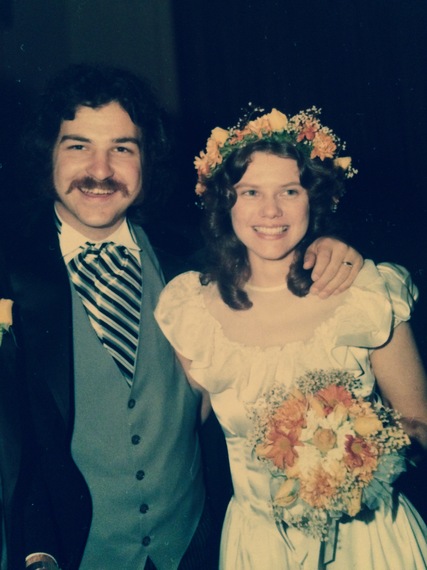 Talk of getting an education was a constant and welcome topic in our house. The dialogue was more about the importance of education than weighting us down with expectations and pressure. It's possibly the greatest gift my parents have given to us children. And in return, my brother, sister and I have all gone on to get graduate degrees. My father is a humble man of few words, who asks for nothing and never looks for any recognition -- but for what he taught us about education and life in general, we always recognize him as our family's pillar of strength and wisdom.
One can only imagine, then, how it blindsided us six years ago when my father was diagnosed with an extremely rare degenerative nerve and brain disease that is slowly crippling his body. His ability to walk is nearly gone, his hand functions getting harder and harder and he sleeps at least 10 hours at night. Maybe the hardest part is that while his body is letting him down, his brilliant mind is still very much alive. I've struggled immensely with how to cope with the fact that no doctor can help him. It's so painful to watch your hero -- someone so invincible to you -- struggle so mightily.
In 2012, we hoped brighter news would cheer up our family. My wife, Lauren and I were having our first child. My parents waited anxiously in Virginia until we made our dash to the hospital and then they got in the car and headed north to New Jersey. They rushed in just as I popped out into the waiting room where my wife's family was on pins and needles. We soon gathered everyone around in the delivery room and introduced our new son -- George. My father was stunned. He didn't quite comprehend what we had said.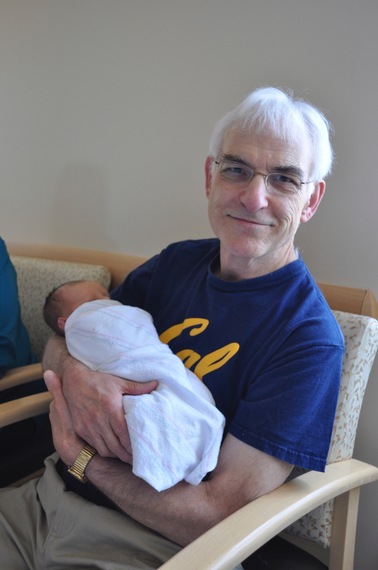 The next day, he told me how truly humbled and honored he was and offered these wise words from one father to another, "Selfless, unconditional, sacrificial giving does more than one can imagine -- it causes acceptance, better self-esteem, and a sense of accepted place of a child in their life. Agape is the Greek word for unconditional, selfless love, which appears in the Bible. This is the ideal to be emulated."
Every day since I've tried to show that selfless, unconditional love and emulate his lead.
When my daughter, Annette, was born seven weeks early in the waning days of 2013, my parents came to the NICU to see our tiny child. My father was wide-eyed at how small she looked lying beneath the incubator glass. But he knew just what to say to calm my nerves. Still, just walking into the hospital was incredibly hard on him. Yet he never said a word. It was somewhere in the fog of the NICU and the aftermath of bringing home our healthy little girl that the seed was planted in my mind that I was going to try and make my father's lifelong dream of going to the Masters a reality. It was clear I needed to do it soon. 2015 was my year.
In April 2014, exactly a year to the day from the start of this year's tournament, I called and booked a room at the Augusta, Georgia Days Inn. Nothing fancy and way overpriced, but I didn't care and I knew my dad wouldn't, either. I called every month for the next year just to make sure they hadn't given away the room. When the highly anticipated and limited tickets came out, I was lucky enough to find some extraordinarily kind folks to help us get some. I gave them to my father as a gift last year as something to look forward to in 2015. His disbelief lasted for months. I was excited too; of course, but also felt massive pressure to not let anything derail the trip. As a television producer, I wanted to "produce" a Masters experience that would take him back to why he fell in love with the golf tournament 50 years earlier.
This past week, Masters week, I drove down from New Jersey to Virginia to pick him up. We loaded up the car with an electric scooter we rented, a backup wheelchair and hit the road for Georgia. We talked for eight hours straight. When we got to the hotel I held my breath as we checked in. "Your room is all ready," the woman at the desk said. Phew. For the next three days, our alarms jolted us awake at 4:30 a.m. so we could get into the handicap parking lot in time to put the scooter together and get a place in line. Each day, as we entered the perfectly manicured grounds -- with not a blade of grass out of place -- the fog gave this golf heaven a halo.
We had made it. Two different dreams fulfilled.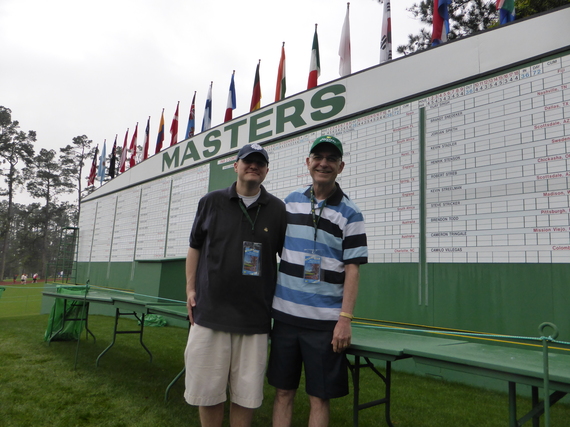 My father battled the crowds on his scooter, zipping up muddy hills and down grass embankments.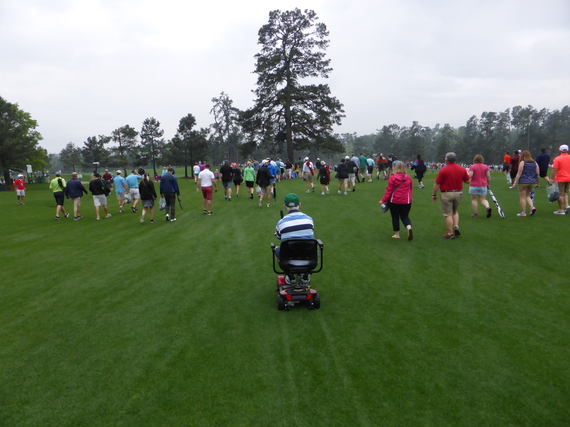 He smiled with delight when we saw Tiger.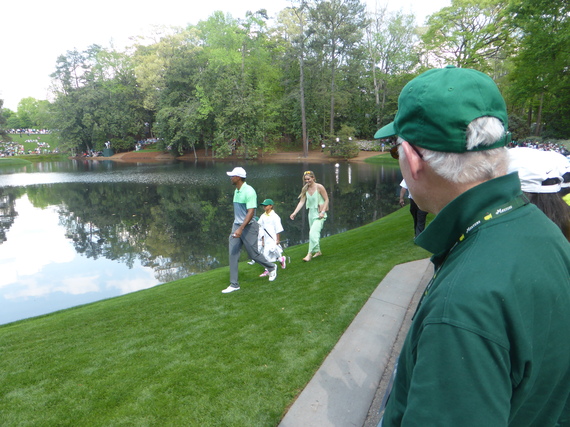 And he was genuinely moved watching Masters legends Jack Nicklaus, Arnold Palmer and Gary Player start the proceedings with ceremonial tee shots. We talked about life, family, sports and on and on. He held onto my arm and walked a short distance into the crushing crowds at the Pro Shop because he wanted some bits and pieces to take home to remember this moment. We ate the famous $1.50 Egg Salad and Pimento Cheese sandwiches. Someone even offered him money for his scooter.
The man who taught me about the hallowed hills of Augusta when I was a boy was home. And I was with him. Just as we'd always hoped.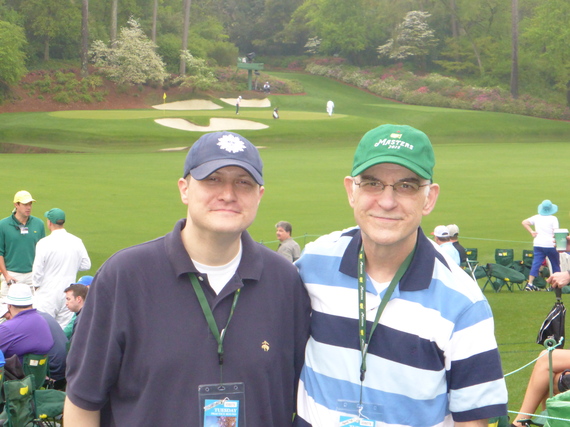 We made our way to the far reaches of the golf course down to Amen Corner -- with its stone bridges and perfect greenery. The birds chirped, the wind whistled and father and son sat together and marveled at the scene that we'd shared on so many Sundays each April. But this time it was different. We'd be eternally grateful for a few more, but countless prayers had been answered in getting us to this spot. Even a few minor miracles performed, perhaps.
No wonder they call it Amen Corner.