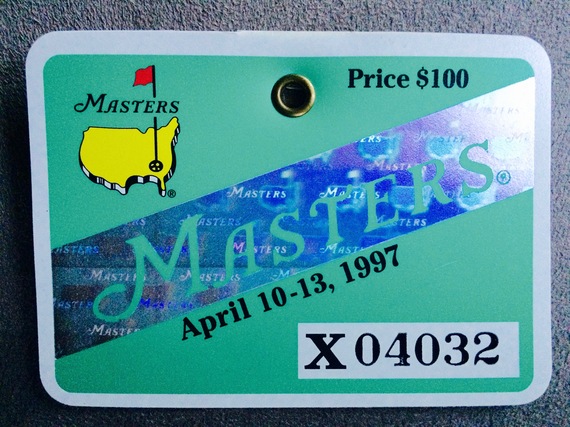 After a round of golf at Stryker Golf Course on Fort Bragg In March of 1997, I registered for a chance to win tickets to the Masters Golf Tournament in Augusta, Georgia. I wasn't interested in going, but was urged by the members of my foursome to put my name in for the raffle drawing.
A few days later I got a call from the Director of Golf at Fort Bragg letting me know my name was the first one pulled from the raffle box; I was going to Augusta National for the first time. I had been golfing for a few years, and was very excited to be going to Augusta to see Tiger Woods play in his first Masters Tournament as a professional golfer, and see Augusta National Golf Club.
I had never been to a professional golf tournament before, and did not know what to expect, nor did I have anyone to attend the tournament with. I called the Fort Gordon Army base in Augusta to book a hotel room, and quickly realized how big the Masters Tournament was.
Every hotel room at Fort Gordon was booked, and the average hotel room price in Augusta increased 150 percent. I found lodging in Columbia, South Carolina, which was 60 miles away. I loaded my golf clubs, a few changes of clothes, and headed off to one of the most memorable experiences of my life!
Anyone who has been to Augusta National Golf Club will tell you it is a very special place. When I walked through the gates for the first time I was blown away. It looked like a valley of perfect green carpet, with perfect white beach sand, pristine ponds and fountains and immaculate historic buildings. I could not believe I was there.
The first day of the tournament, I stood near the first tee box; I saw Tiger sitting down with his head in his hands, looking very nervous. I remember thinking this kid is a mess, and has no chance to win. After Tiger shot a 40 on the front nine, I felt he was finished, and I started following Palmer, Nicklaus, and Player whom were all playing in the same group. When Tiger started making his move on the back nine you could hear the roars throughout the entire venue. Tiger shot a 30 on the back nine that day and never looked back.
I met a lot of nice, interesting and famous people that week including Ernie Banks (Mr. Cub). Mr. Banks walked up to me and started a conversation. I didn't realize who he was until he pointed up to his baseball cap which said, "Mr. Cub." I felt like such an idiot. Mr. Banks and I talked for several minutes about golf, life and Tiger. It was a very special moment.
On Masters Sunday of '97, I was standing on the 18th fairway. Tigers ball had landed near where I was standing every day that week. Two pretty young ladies who worked at Augusta National approached me and asked did I know where Tiger was? I told them they had a pretty good chance of seeing him if they stood there with me.
A few minutes later a golf ball landed right in front of us. It was Tiger's ball! When Tiger walked up he was close enough to touch; the two young ladies were so excited, and I felt like I delivered them something special. I still get goose bumps when I think about their reactions.
As I stood in front of Butler Cabin for the outdoor Green Jacket ceremony for Tiger Woods, the 1997 Masters Champion, I realized I had not only been fortunate enough to witness history, but also blessed to have been a part of such a special week. I kept my Sunday pairings sheet, and framed it.
Tiger Woods visited Fort Bragg, North Carolina in 2007 for a golf exhibition, and I was fortunate enough to meet him, and have him autograph my pairings sheet from the '97 Masters, which hangs in my office today. Tiger Woods made the '97 Masters special, and changed PGA tour golf forever.
I was offered $50 for my ticket (pictured above) after the Masters Tournament was over, but I decided to keep it; I am very glad I did! I am truly grateful I had the opportunity to go to Augusta National and witness the golf mastery, majestic scenery, and the magic of the Masters.
Popular in the Community