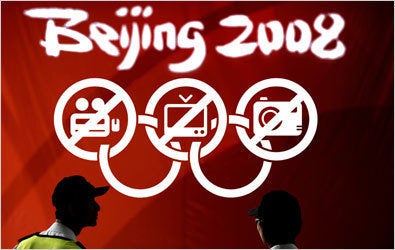 When I first studied in Beijing in August 2001, my Chinese textbook included a chapter about the 2008 Olympics; already, China had made the Games a national priority. Since then, China has worked to meet the many provisions of its Olympic contract. One particularly sensitive issue is how to balance its promise of open journalistic practices during the games with its desire to narrate its international image and to control its domestic media. A particularly risky move for China, therefore, would be to grant hundreds of international journalism students inside access to its media operations -- but that's precisely what it's done.
This summer, over 300 journalism and communication students from six American and two Australian universities will work for the Beijing Organizing Committee of the Olympic Games (BOCOG) as media volunteers. This marks the first time an Olympic organizing committee has allowed such a practice. I am one of those volunteers, part of a team of 31 graduate and undergraduate students from the University of North Carolina at Chapel Hill selected by BOCOG.
In addition to the University of North Carolina, BOCOG has selected the University of Iowa, the University of Missouri, Purdue, Emerson, Ithaca, Newcastle University and The University of New South Wales. In total, 22,000 foreign applicants vied for almost 1,000 spots, 300 of which were media and reporting jobs. Planning and negotiation among each university, its Chinese partner university and BOCOG began over a year ago. The first phase, creating a "memorandum of understanding," was the most difficult and time-consuming, says University of North Carolina faculty advisor Dr. Charlie Tuggle. This written agreement outlines how the parties will interact together on a range of issues including housing and work assignments. Lawyers on all ends had to approve the contract before student recruitment could begin.
For students, getting here was not merely a matter of passing our university's internal application process. Each applicant also submitted a separate application and essay of intent to BOCOG. I myself wrote about the chance to experience the Chinese government communicating with international audiences -- media, athletes and tourists -- operating on its own turf. We also had to clear the government's security system and background check. Lastly, we each had to pass a two-part exam administered in person in the United States by a BOCOG representative. The first section tested our ability to quote audio recordings of post-game interviews with international athletes. I scrambled to catch a Dutch reporter firing questions to a Chinese weightlifter. For the second part, we were given 20 minutes to write by hand match summaries of recorded games viewed in class.
Our assignments at the games will involve brushing shoulders with athletes and broadcast bigwigs while gaining enviable journalistic experience. For example, 23 of our students will assist the Olympic News Service to secure flash quotes from basketball, baseball and shooting stars immediately following athletic competition. Within minutes, volunteers will input these quotes into databases that feed international news organizations. The other seven University of North Carolina students will operate information hubs at the International Broadcast Center, the Main Press Center, and the Ling Long Broadcast Tower, located beside the National Stadium and the National Aquatics Center.
Our experience is also a cultural and educational exchange that will bring together in dialogue two dichotomous definitions of journalism. Through our work we'll likely befriend the Chinese media students and volunteers with whom we work. We'll challenge each other to explore and to question the limits, values and definitions of our respective journalistic environments. I hope we'll develop our own unbiased interpretations and understandings about why the other is the way it is based on first-person experience -- the most persuasive form of evidence. Those of us headquartered in the broadcast centers (or "the eye of the Games," as my operations manager calls it) will experience Chinese public relations at its most urgent; as for me, I'll share my experience with hometown papers, national blogs, or whomever cares to hear how a Chinese media and communications team operates.
As a former magazine editor who left China just last year, I count myself fortunate to be returning not only to witness but also to represent China's media operations during its largest global event ever. My role is Broadcast Coordination at the Ling Long Broadcast Tower. I will have access to the International Broadcast Center, too. Each day during the Games, I will be on the ground working alongside Chinese and international media, BOCOG officials and Chinese student volunteers. I'll use this blog to document these experiences, and I'll add any public relations, marketing or media issues I experience on the ground in greater Beijing. I may not win medals, but at least I'll be blogging for gold.
Related
Popular in the Community