As a resolute SondHead, I've seen more than my share of Sondheim cabaret shows, "reviews" and revues. The issue with most of these experiences is that Sondheim's songs are so specific to the shows from which they derive, shoe-horning them into an evening of spottily plotted song seems more about the director and performers trying to make the thing work vs. honoring the material.
Marry Me a Little, a Sondheim revue from the early '80s, piqued by interest many because I knew nothing of it — aside from a quaint cast recording. But this two-person revue, unlike many of the others, is rarely produced. I'd gather because it was assembled prior to some of Sondheim's biggest critical and commercial hits. However, Porchlight Music Theatre, which has a long history of doing Sondheim proud, has revisited the material and interpolated new pieces and some of the master's rarest and most recent work – think cut songs from out-of-town tryouts – working in partnership with the genius himself. Furthermore, Austin Cook, a megawatt talented music director who also stars in this production alongside the blazing Bethany Thomas, developed smart, new orchestrations for a tight quartet of performers who accompany Cook when he's not banging out a tricky atonal Sondheim vamp on the on-stage baby grand.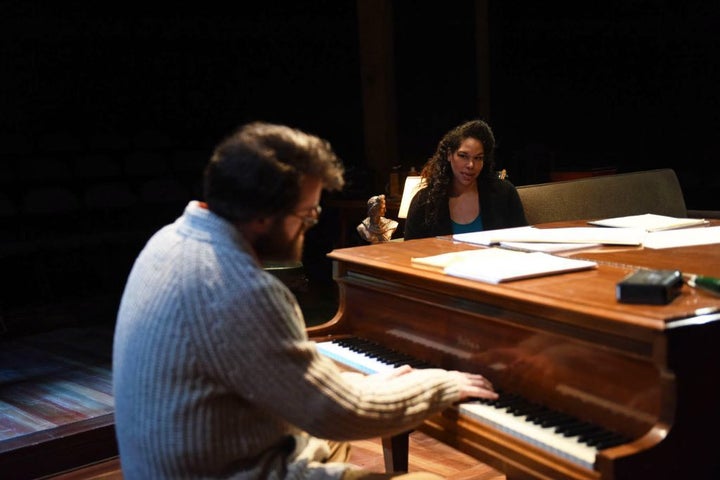 But back to the show itself. Director Jess McLeod has overcome the tired trope of a couple formulating, flaring up, fizzling out and fading away by casting it with the dynamic Thomas and arresting Cook, whose singular talents breathe life into these sketches of characters. Additionally, I'd wager roughly half of the songs in this 70-minute revue were fairly unknown by me (including a beautiful song called "Rainbows," cut from Into the Woods), which will certainly delight fellow SondHead's. Hearing these songs for the first time by these two performers is a rare treat.
Also, watching Thomas — an accomplished actress with a seemingly limitless vocal range — tackle the schizophrenic "Can That Boy Foxtrot" is worth the price of admission. Not a hyperbole, folks.
To add to the intimate experience, Jeffry D. Kmiec has configured Stage 773's space into a theatre-in-the-round setting, which lets the music and performances breathe like a fine wine. And, trust me, you'll want to imbibe.