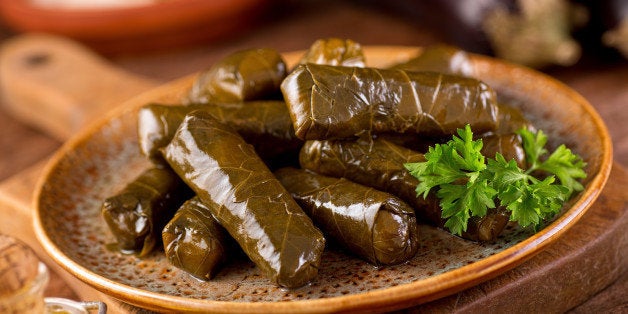 Onion and garlic sizzle in melted butter on my stovetop. I add essential spices. The air quickly fills with a sultry and sensuous aroma of cinnamon, coriander, and allspice.
The scrumptious menu has many tastes and textures. I prepare baked Kibbeh with lamb, bulgur wheat, and pine nuts. I carefully stuff and roll the grape leaves with meat, rice, and parsley; they will cook slowly in a large iron pan with a plate pushing down to keep the delicate morsels from breaking open in the boil. The green salad is graced with fresh mint and juicy lemon. Pita bread warms in the oven.
These are some of my most cherished comfort foods. They've nourished my soul for as far back as I can remember. The sensations of each dish connect me to all I imagine as hearty, robust, and deeply nourishing to my psyche. They take me to a safe feeling from my often chaotic childhood. This is ironic given the current panic associated with Syria, from which these dishes arise.
My husband and son respond immediately to the almost melouflous sensations that waft from my kitchen. The aroma is invigorating. Our saliva glands ignite and our gastric nervous system responds with anticipation. I'm grateful we're safe in our comfy home, tucked away in the rolling hills of northern California.

Nourishing childhood memories triggered by the sensuous food are also spurred by the day's news about Syria and the massive refuge crisis. As I bring forth my mindfully crafted dishes, we turn off the talk of terrorism and mass homicides. We've been overwhelmed with ruminations of war, intolerance, and suffering at global proportions. Now it's time to share our feast -- turning our attention to something that soothes and renews us.
I recall how I felt when I first learned to make these savory delights. I remember watching a cross-cultural sisterhood take place in the small kitchen in our middle class home, deep in the belly of the American melting pot, many years ago.
Harriett was my mother's friend. I can't recall many times when my mom invited friends into our home; certainly not to share her kitchen on a cold Detroit winter. This day we were together as the men found their way (or not) through the icy cold of the early 1960s.
Harriett was Syrian-Lebanese. She came from a very different background than my mom's own Scotch Irish decent. Still, that had no barring on their efforts to share sacred recipes--and cherished stories that accompanied them.
Harriett's family migrated to America early in the 20th-century, like other immigrants, to build a life beyond poverty and oppression. Immigration quotas had been introduced after WWI, in a reactiveness to strangers--not unlike today. At this time Syrian-Lebanese people were categorized as Asians; they were seen as "undesirable." Yet those that made it into the American safety net, like Harriett, worked hard, assimilated, received American citizenship--and made lasting friendships that crossed ethnic and nationalistic boundaries. They fed the richness of America.
While I never discussed politics with Harriett, I do know that she made the best food I'd ever eaten. She was playful and kind, with crow's feet at the corners of her caramel-colored eyes and an easy nature. She taught my mom and me how to make dishes I hold in my most beloved food repertoire to this day.
My thoughts turn to Harriett as I listen to news about the global refuge crisis. My heart goes out to the Syrian people--desperately seeking a better life free of unspeakable terror. Some things just don't change.
I'm drawn to wonder what the migrants are eating in the refuge camps, on the roadside, at the roadblocks that keep them from crossing into safety? As they fight for their lives, have they found a way to carry their precious spices with them? Or have their tenuous hope chests been lost in the search for basic human survival?
As I cook, my intention on this dark December evening is to create a meal in honor of people now in crisis and despair. I seek to forge a connection between my kitchen and a beleaguered group of people now on the run from violence and cruelty. Without a home, without a place to set up their kitchens, how can they find peace?
The draw to the kitchen is more than hunger. It's a deeper sense of connection to an existential core that's ignited by ancient spices. Our mouths water as each olfactory sensation connects us to part of our shared history.
Sadly, today there's an insidious smell drifting throughout American society. It is a rancid odor of racism and intolerance. I share this story of Harriett with the hope that our own immigration policy will not be co-opted by terrorists who only win if we let them.
At the same time, I'm heartened by expressions of fairness that are found in cities across America--from Cedar Rapids, Iowa to Clarkston, Georgia to Houston, Texas. Across our mighty land, we hear a call to stand behind the founding principles of our nation and to include Syrians in our communities.
Seeking courage and resolve, I'm encouraged by the resolution of more than 60 mayors that hail from many American cities. Together in their "Citizens United for Immigration Action," these civic leaders are calling for us to stand together with courage and resilience. They inspire us to keep our eyes on the good that comes when we open our doors and our hearts to those who need a safe refuge from hatred and violence.
Let's not turn our backs on those who need help--even when they come from a land as complex and divided as Syria. Fear breeds reactivity; we need to remember the rich contributions of our Syrian friends and neighbors.
May we each find a Harriett in our lives; may we see the way to compassion and unity across our many differences. It's time to express our commitment to a path beyond fear and terror. We must never forget that we're a nation of immigrants. The pluralism of America is what makes us strong and unbreakable. Each flavor, each spice, each person, makes for a richer meal that can feed our collective wellbeing. Bon appetite!
Calling all HuffPost superfans!
Sign up for membership to become a founding member and help shape HuffPost's next chapter