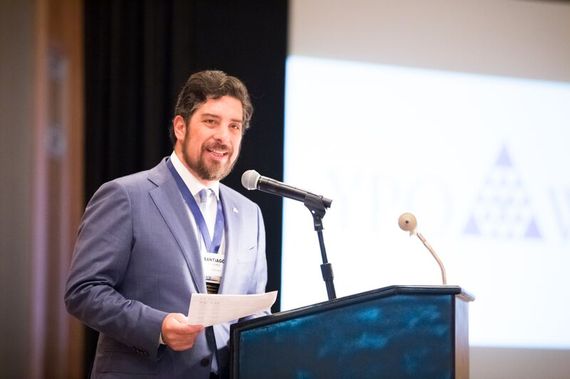 Santiago Sanchez had just finished a year as International Chairman of the Young Presidents' Organization (YPO), a global community of more than 24,000 CEOs from 130 countries, when we spoke by phone for this interview. I did not know it would be his last.
Late August, Sanchez passed away after a battle with cancer. He was 47 years old.
Those close to him described him as someone whose greatest desire was to be a "classic servant," and in his position at YPO, he simply wanted do the work of a good chairman. Scott Mordell, CEO of YPO, said that, "As a leader and person, Santiago was one to serve others. He would often say, 'No matter how much I give I always seem to get more back.'"
Sanchez had been on both sides of mentorship long before joining YPO, an organization that offers CEOs and other top company leaders access to educational resources through business alliances and specialized networks designed to support business development, mentorship and leadership.
True to his legacy as a mentor, Sanchez shared thoughts on the power of role models, how to build a future for the millennial generation, concerns about his native Mexico, globalization, and the expansion of companies operating in competitive global landscapes. He believed in leaders who were tested by fire, often pivoting before they got it right and created a thriving company. He also noted there was great power in finding a trusted advisor who could share wisdom, and said that it is often the critical difference between those who survive and those who fail.
As the international chair of an organization with thousands of members, in your view, what are the biggest worries for these young presidents and CEOs?
The current crop of leaders are worried about how to scale and build their businesses in an uncertain world and how to engage with society and with their employees in a productive way. The real question is also how to engage with youth, especially the millennial generation. During our meeting a few months ago in Dubai, there was a key takeaway, which was about the importance of listening to what millenials are saying and to engage them in a meaningful way, and not to guess what they are saying.
The current crop of CEOs are also worried about larger macroeconomic issues, such as climate change, migration, the flow of people across borders, and political instability driven by bad legislation, or by the ambitions by some countries to establish hegemonic power around the world. These are all things that cut off business development opportunities, and cause instability.
Do you have these types of concerns about the situation in your native country of Mexico?
The political transition in Mexico is incomplete because we established a government, but have not tackled some root problems, such as corruption and lack of leadership accountability. It hurts our ability to harness the true potential of our citizens. When our people do not have opportunity, we lose human resources that could create wealth in the country.
Are the issues facing CEOs different if they are from other parts of the world?
You would be surprised at how we are all facing the same thing. We have members from 130 countries, yet there are more similarities than differences. The humanity of our challenges is truly humbling. The challenges of a CEO in Dar-es-Salaam or Nairobi are the same as a CEO in New York or London, because they are all running companies, which bring similar problems.
How does a leader trying to implement an unpopular idea gain the full commitment of their team?
In my experience, unpopular ideas usually do not have a basic concept and it is unclear what the objective of the idea is. What is the leader trying to achieve? An idea should have dialogue around it. The way to make an idea work is to be clear on its objectives and to listen to the objections of those who oppose it. Communication may make it easy to dispel misunderstandings. Open communication can transform an idea for the better.
What does it take for a CEO or entrepreneur to build a great enterprise?
It takes a team to build a great enterprise -- as well as a great idea. This idea must stem from a vision; that is where the enterprise starts to come to life. For a leader it is critical to turn ideas into collective visions, especially because there will be many challenges after the launch.
How does one keep an entrepreneurial mindset when the enterprise grows larger and more complex?
First, do not take things for granted. Keep developing new projects and challenges as you try to find the right individual to lead each project. For example, our company has a broad portfolio of projects, and we work to enhance our portfolio every three to seven years. We work to create new projects to expand our market, and we try to bring new solutions to meet the needs of our customers.
How does one make crucial life, professional, and business decisions to stay at the top?
A leader's goal is to lead by example, as well as to acknowledge and understand that not all answers should come from inside the company. It is key to allow for leadership and other learning opportunities to come from outside. Not all innovation will come from internal sources. Look for ideas from outside the industry.
I have met many people over the years, but I would say I learned a lot from my mother's work ethic and my father's risk taking. Beyond that, I have always searched for people that I could look up to, in the political or business arena.
I have this need for inspiration, and people who do extraordinary things always inspire me. They may do little, extraordinary things I can look up to and try to emulate. Instead of doing one big thing, perhaps the goal is to do many small things that become a portfolio of innovation. I feel organizations can do the same by being inspired not to go for one project, but to work on many smaller projects, so more people are empowered as leaders.
Any last thoughts on leadership you would care to share?
Leadership should never be theory. Only by acting and being true to your own principles, can you find your own leadership style and journey. Always try to lead -- and ideally lead by example.
REAL LIFE. REAL NEWS. REAL VOICES.
Help us tell more of the stories that matter from voices that too often remain unheard.