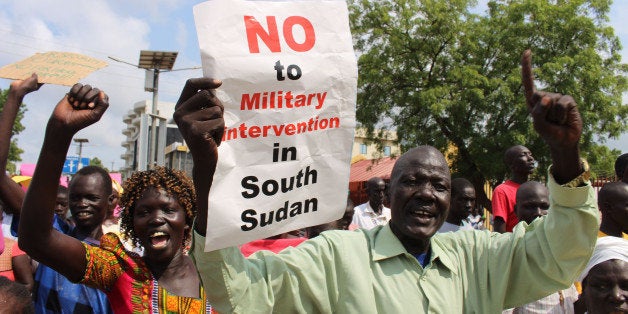 Over the past three years, I've had the privilege to meet and work with hundreds of young women and men from South Sudan. Each time I am able to visit their country and speak with them, I am always struck by their enduring hope for the future of their nation and by how hard they are willing to work in order to make peace a reality.
That's why it's been especially heart-breaking in recent weeks to see South Sudan slide further from peace, toward instability and conflict. This month, one that should have been a celebration of the five-year anniversary of that nation's independence, was instead marked by renewed chaos and bloodshed. I join the international community in condemning this latest violence in the strongest of terms, and I call upon both sides to come together and, for the sake of their country, honor the peace agreement signed last August.
The last three years have not been easy for South Sudan. A civil war that started in 2013 has seen as many as 50,000 people killed and more than 2 million displaced -- about 20 percent of the population. The human cost of this conflict has been staggering.
But in the midst of enormous obstacles, so many of the young people I know in South Sudan are trying to help. They're mediating long-standing conflicts in their communities. They're running a soccer league at a camp for displaced persons. They're traveling around their states calling for peace and non-violence. These youth, simply put, are remarkable. Their passion and their dedication inspire me. And yet I think they are the rule, not the exception. I think there are millions more like them all throughout South Sudan who yearn for peace and are willing to work for it.
In a message to the people of South Sudan last summer, shortly after a peace agreement was signed, I said that peace does not exist on a piece of paper. True peace is cultivated in the hearts and minds of the people, and it can only be expressed through dialogue and reconciliation.
Even though I can never truly grasp the depth of the pain felt by those in South Sudan who have suffered so much, I understand how difficult it is in the face of such unspeakable tragedy to find the strength to forgive and to forge acceptance. Moving forward together, as a unified nation, will not be easy. But it is necessary in order for the people of South Sudan, who for decades have endured war and violence, to finally inherit the dream of peace that they have been promised so many times.
Martin Luther King, Jr. said, "The arc of the moral universe is long, but it bends towards justice." One day, there will be peace in South Sudan. It is my hope and sincere belief that, through the collective will and selfless actions of the people who crave peace so badly -- and with whatever support the international community can offer -- soon, all children in South Sudan will sit in schools, not refugee camps, and they will learn together as they prepare to rebuild their nation for the next generation and for every generation to come.
REAL LIFE. REAL NEWS. REAL VOICES.
Help us tell more of the stories that matter from voices that too often remain unheard.