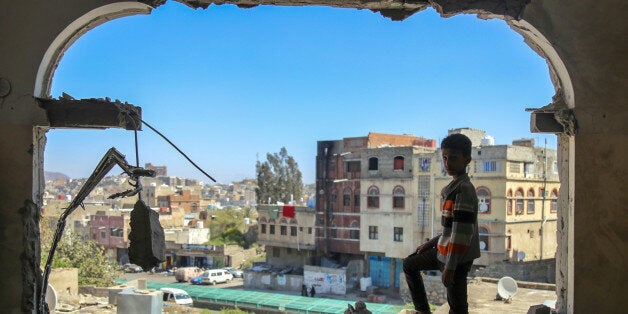 Five years ago, in February 2011 to be exact, along with a huge crowd of young people, eager for a Yemen filled with goodness, justice and a secure future for you and the children of your generation, I headed to Sanaa University Square. I chanted with them at the top of my lungs, "The people want to bring down the regime." A regime that ravaged the country for 33 years. A regime that spread ignorance, poverty, corruption, nepotism, regionalism and racism. It is the regime that is currently lighting the fuse of sectarianism as I write this message to you.
When I chanted that slogan, you were all I was thinking of... I wanted the Yemen that you live in, to be different from the one I lived in. I wanted your education to be a different education and your life to be a different life. I wanted a position in life for you as a woman better than it is at the moment. My darling child, I wanted you to see the Yemen I dreamed of when I was young, and had never seen in the 25 years I had lived.
From the moment the spark of the revolution was ignited, I went regularly to the square. I entered with a heart filled with dreams for a country of rights and freedoms that would ensure a decent life just because you are a citizen belonging to it, regardless of your governorate, tribe, family or political inclinations. I used to meet friends there. I'll introduce you to some of them when we return home someday. I will tell you about others who were martyred for you, for your future. I will tell you about those like you, other children of this country who are filled with love, tolerance, coexistence and all noble human values.
I did not imagine that the victim would become the executioner, or that the state would disappear, or that weapons would become the daily means of dialogue between all parties.
My heart beat fast as I listened to the song, "I am the rebel... I exist among the people of generosity and hospitality," which was frequently played on the stage in the square. I would try to take photographs to show to you and your brothers in the future.... To tell you that your mother was there among those who were writing the history of the new Yemen.
Over the past five years, never did I regret sharing the dream of a new Yemen with my fellow revolutionaries. However, nor did I imagine that you would come to life and the Yemen we dreamed of would have become how it is now as I write this message to you. I did not imagine that the victim would become the executioner, or that the state would disappear, or that weapons would become the daily means of dialogue between all parties.
I never imagined, my darling, that I would spend a full year far from my country, especially from Sanaa, which I love. I never imagined that I would give birth to you in any land but Yemen. I never imagined that the day would arrive when I would be unable to get a separate passport for you. I certainly never imagined that I would fear for you to the point that I would prefer not to take you back to Yemen, firstly because of the discomfort of the journey and secondly because of the fearful sounds of mortars and rockets that fall every day on the poor areas and the crowded houses.
When I was pregnant with you, I stopped following Yemen's political news. It made the heart grieve with the brutality of what we saw on satellite TV and social media. I did not want you to come into this world to take up your mother's sad and concerned state for a country that you didn't yet know. So I decided to stay away from all news related to our beloved Yemen during my pregnancy. I believed than I was protecting you from feelings that you were still too young to experience. You were the small country inside me for which I could protect and care.
Now, I look to your face everyday and wonder whether you will love that land, which you haven't yet seen, like your mother loved it! Is it enough to limit the images and sounds of the Yemen that your grandfather and grandmother represent to the small screen of a mobile phone?
A colleague of mine asked me some time back what method I was going to adopt in raising my child. I answered him with a few points filled with the enthusiasm of a new mother who dreamt of the best for her girl. I forgot, or pretended to forget, to tell him where I was going to raise you. Will you and I return some day to a happy Yemen, some of whose sons insist on being unhappy?
My beautiful little one...
Today, I will try my best to write this letter to you even though I am busy caring for you. Between each paragraph and the next I will have to tend to all your needs, or talk to you in those voices that are incomprehensible even though you know that they are an expression of love and hope for the future... which you and your friends will present to Yemen, a country that needs you and your love more than ever.
I really trust that your generation will be able to achieve what we were unable to achieve. I trust in you, my darling. This post first appeared on HuffPost Arabi. It has been translated into English and edited for clarity.
Calling all HuffPost superfans!
Sign up for membership to become a founding member and help shape HuffPost's next chapter