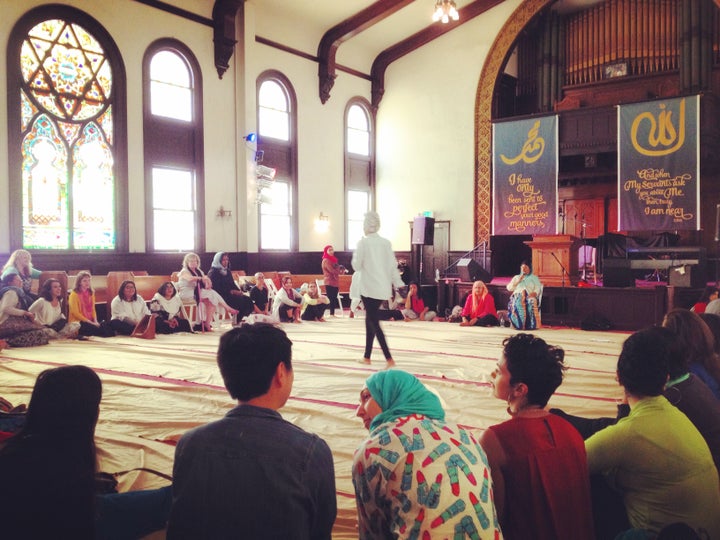 M. Hasna Maznavi is founder & president of The Women's Mosque of America, the first women-led mosque in the nation. Hasna is also a WGA writer & filmmaker dedicated to changing the way Muslims are represented in mainstream American media. This Ramadan, The Women's Mosque of America is raising $32,400 to continue through its second year and start the transition from a volunteer-run organization into a permanent institution. Donate here.
During last Friday's jumma'a (congregational) prayer at The Women's Mosque of America, our khateebah, or preacher, spoke to a diverse congregation of almost a hundred Muslim women and girls on the topic of "Self-Care During Ramadan." The point of her sermon was to bring light to an often overlooked section of the Qur'anic verses that prescribe fasting: "…God wills that you shall have ease, and does not will you to suffer hardship…" (Qur'an 2:185) 
As the khateebah spoke words of mercy and forgiveness, the room settled into a peaceful ambience; light streaming through the stained glass windows of the multi-faith prayer space in Downtown Los Angeles where our services were being held. On the mimbar, our khateebah gave the women in the room simple but much-needed reminders about how to engage in physical, spiritual, and mental self care during what can be a very challenging month – from asking family members to help protect precious "me" time, to drinking lots of water during non-fasting hours, to even taking a nap. "Naps are free!" she reminded the women, who responded with a gentle wave of laughter. Women, who are often caretakers across cultures and selflessly servant to all, she said, must realize that they need to put on their own oxygen mask first before reaching to help others.
It was during the post-prayer discussion circle, however, that one congregant* reminded us of the increasingly chaotic world outside our sanctuary. "I just don't feel safe right now," she choked, breaking into tears as she recounted how her family's Afghan heritage was making her suspect and how she was scared and exhausted from having to defend her faith to strangers. Her vulnerability unearthed a piercing pain that many of us in the Muslim community are feeling these days but that we rarely take time to honor or acknowledge.
Immediately, several women in the circle - including our counselors and women of other faiths - comforted her with nurturing and healing words. Two of the congregants who responded were Jewish women who spoke strong words of encouragement, "Be proud of your faith!" and who also shared their brave practice of defending Muslims around their families and friends - despite the tension it has been causing. Good people must stand for good, or else there is no good at all, another congregant pointed out, encouraging the women to continue their practice. The most poignant moment of the day for me came when a Black Muslim woman reminded the crowd that discrimination is something people of color face from birth, and that Black Muslims doubly face because of their dual identities. In the most beautiful irony, by sharing her fears in our safe space, the Afghan congregant brought about intense catharsis and healing not only for herself, but for our entire congregation, alhamdulillah (all praises and thanks to God).
This exchange is an example of the true magic that happens in our mosque every single month. The conversations that take place expose women from every race, age, level of religious practice, and even faith, to each other's voices in a way that allows each woman in the congregation to freely speak her truth and feel heard, and even help her sisters realize hidden layers of privilege when needed. The Women's Mosque of America is setting a new model for how religious spaces can operate -- as safe spaces of truth and healing where we confront each other's realities and engage in deep, empathetic listening. Hearing the way my brave sisters were standing strong for the Muslim community - regardless of whether they were Muslim or not - was the most hopeful thing I've experienced in a long time. It reminded me that we live in a good world, with plenty of good people courageous enough to stand up for truth and justice, even when it's difficult.
On July 2nd, The Women's Mosque of America will hold our Second Annual Co-Ed Iftar & Qiyam, featuring a brilliant panel of Muslim women speakers who come from diverse histories, ethnicities, and sects. As we're hit with even more difficult news around the world this week, it's clear that the time for Muslim women to take up positions of religious authority in Islam is more crucial than ever. We can't solve the issues we're dealing with if we don't engage the talents, intellect, and spiritual wisdom of half of our community. God tells us in the Qur'an that God does not change the condition of a people until they first change what is within themselves. 
It is my personal vision to see The Women's Mosque of America spark the pathway toward a women-led Islamic Renaissance across the world -- one that is shaped by Muslim women's voices, perspectives, leadership, and scholarship, inshAllah (God-willing). Incredibly, as we continue building sisterhood and growing stronger in our voices through our second year, The Women's Mosque of America is a space that fills me with hope, even though it's a space that didn't exist before I created it. I want you to take a lesson from this: You too have the power to create the safe space you wish to see in the world - even if that space only exists within your circle of friends, your home, or yourself.
As this Ramadan comes to a close, remember that the greatest self-care we can engage in is the care of our own souls, our eternal spirits that will one day meet God with all the deeds we did and did not do while we were here on this planet. Let us re-commit ourselves to keeping our faith, and to staying true to our covenant to worship God alone and fear no one and nothing other than God. God is Our Protector, our Infinite Creator, and we ask God to allow us the privilege to work for good during some of the most trying times in our world's history. What an honor. Let us rise to our calling and fulfill the good works we were put on this earth to do. Bismillahi Rahmani Rahim - In the Name of God, The Most Merciful, The Most Compassionate.
To support The Women's Mosque of America in reaching its $32,400 Ramadan goal to continue uplifting the Muslim community by empowering the women within, please donate here today.
To attend our 2nd Annual Co-Ed Ifar & Qiyam on July 2nd, purchase your tickets here.
*This anecdote was used with permission from the congregant. Our safe space guarantees confidentiality for all congregants during our post-prayer Q&A Discussion Circle with the Imam. 
REAL LIFE. REAL NEWS. REAL VOICES.
Help us tell more of the stories that matter from voices that too often remain unheard.
BEFORE YOU GO