When it comes to wildlife conservation, we often hear only grim news from Africa these days – which is why it's so exciting to see the success of longstanding efforts to protect wildlife in the heart of Africa's Congo Basin. This week, the Government of the Democratic Republic of the Congo (DRC) validated that success by announcing the establishment of Lomami National Park.
Lomami, the first new national park created in the DRC in more than 40 years, encompasses nearly 2.2 million acres of uninhabited forest teeming with wildlife found nowhere else on earth, such as the bonobo, okapi, and Congo peafowl, as well as forest elephants and many other wildlife species.
It's the result of more than a decade of work by a broad coalition of partners and local communities, including the U.S. Fish and Wildlife Service, which provided significant funding and technical expertise.
Our support for Lomami and hundreds of other on-the-ground conservation, education and capacity-building projects in Africa, Asia and Latin America is part of a broader Fish and Wildlife Service effort to sustain the world's wildlife heritage for future generations to experience. This includes dedicated law enforcement and border inspections to crack down on poaching and wildlife trafficking, efforts to reduce consumer demand for illegal wildlife products, and financial and technical support to range countries and partners.
The new park will provide critical sanctuary for bonobos, the highly intelligent and gentle cousin to the chimpanzee - and with whom all humans share more than 98 percent of our genes. Bonobos are found only south and west of the Congo River in the DRC and are endangered due to illegal commercial trade (for bushmeat, pets, or medicinal purposes), as well as the aftermath of civil warfare, habitat loss and degradation, and other human impacts.
The park's creation is a testament to the power of collaboration, and to the persistent efforts of two indefatigable researchers who set out to explore this vast, remote area. Only a decade ago, what is now Lomami National Park and the wider Tshuapa-Lomami-Lualaba (TL2) landscape (named after these three rivers) were largely unknown to science and the wider world. That began to change in 2007, when Drs. John and Terese Hart of the Lukuru Wildlife Research Foundation's TL2 Project set out to document the region's rich biodiversity – first by dugout canoe up the Lomami River, then on foot. The Harts were thrilled with what they found during their explorations ― including populations of bonobos outside of the species' known range ― and the scientific discovery of a new monkey species, the lesula.
The Harts have provided technical support to a range of partners during the past several years, including government officials, village chiefs and traditional authorities, local communities, and others. These partners have worked tirelessly to reconcile the interests of the provinces, national government, and nearby local communities to ensure the park became a reality.
The Service has been a proud supporter of the TL2 project since its inception. From 2007 to 2015, we provided $1.9 million in funding from our Multinational Species Conservation Funds and, through the Central Africa Regional Program for the Environment (jointly implemented by the U.S. Agency for Development, the Service, and other partners), through our Africa Regional Program, to conserve the wildlife of the TL2 landscape and support the creation of Lomami National Park. Throughout the years, these funds have been leveraged by $3.4 million in additional matching funds.
We are currently in the second year of a five-year cooperative agreement with the TL2 Project for work in this landscape, and plan to continue our support to ensure long-term success.
Local community support has been critical to the park's creation, and will remain important as protections are implemented. Partners have worked hard to engage and involve local communities, and the change has been noticeable. Partners are now getting assurance of widespread support for the protected area through traditional community-organized ceremonies (tambikos) across the region. Partners have also recently set up projects to support and encourage alternative livelihoods in key villages in the park's buffer zone.
Bushmeat hunting by outsiders for the commercial market and poaching of elephants for ivory represent serious ongoing threats to both TL2's wildlife and the security of surrounding communities. The presence of militant groups in the park, many of whom use ivory and bushmeat trafficking as a source of income, has brought terror to the TL2 Project and communities in the area through torture, rape, and killings. In collaboration with the DRC's authority for protected area management, the Congolese Institute for Nature Conservation (ICCN), the TL2 Project has been training park guards who will now serve in the national park to address these threats.
Building up a functional coalition with the seven different ethnicities in the buffer zone surrounding Lomami National Park will continue to be a challenge. Above all, the park needs to be supported by outside funding while partners continue to build up and strengthen the capacity of government officials and community members to ensure the park's sustainability.
We are committed to providing sustained support for the TL2 Project because we strongly believe that its long-term commitment and holistic, community-focused approach will ensure that Lomami National Park achieves success. Congratulations to all who have worked so hard to make its creation a reality!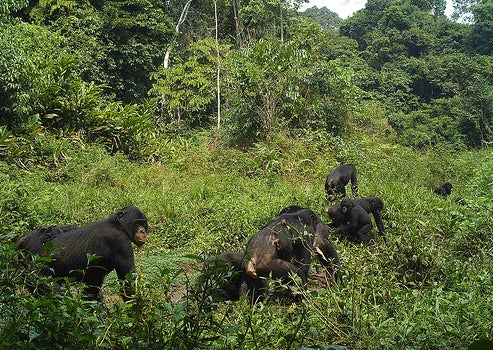 Calling all HuffPost superfans!
Sign up for membership to become a founding member and help shape HuffPost's next chapter
This post was published on the now-closed HuffPost Contributor platform. Contributors control their own work and posted freely to our site. If you need to flag this entry as abusive,
send us an email
.