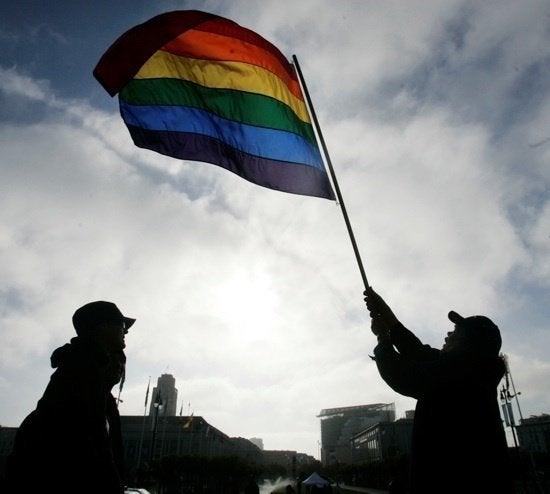 For almost a decade, I have had the great honor and privilege of working alongside some of the best and most courageous men and women serving in our nation's military. These brave men and women sacrifice, every day, in unimaginable ways. And for the service members I have come to know and respect, many of whom are lesbian, gay, bisexual and transgender, "Don't Ask, Don't Tell" has continued to cast a shadow over their careers, their lives and their families.
As Congress prepares to hold its first hearings on this unnecessary and un-American law, we will hear again of the bravery, selflessness and honor that these men and women exhibit in every aspect of their lives ... and we should. But equally important, and just as resonant, are the stories of their families -- the moms and dads, sisters and brothers, and partners and spouses who are left behind. They, too, are directly impacted by the ban on open service, and they, too, have critically important stories to share.
During the summer of 2007, I came to know, very well, the Manzella family. Darren Manzella, an Army medic, was deployed in Iraq, serving our country and caring for sick and wounded Americans and Iraqis. His parents, Nancy and Michael Manzella, were home in upstate New York, where they operate a small vineyard, constantly worrying about their son's safety and whether or not "Don't Ask, Don't Tell" would mean the end of his career, or worse.
I first met Darren via telephone, when I called him in Kuwait to see if he would put his Army career on the line to be part of a groundbreaking 60 Minutes report on the military's ban. Wanting to tell the story of what it is like to serve as an openly gay solider in a war zone, he agreed, and he made history in December when he became the first gay, active duty soldier to tell his story, on-camera, from the Middle East.
In the process of coordinating the 60 Minutes story, I also came to know, and have great love and admiration for, Darren's mother, Nancy. A role model for every parent, she stood by her son, and cheered him on, as he undertook this heroic mission. She never waivered in her faith in him, her love for him, or her belief that "Don't Ask, Don't Tell" was wrong, and her son could do something to help the 65,000 other LGBT troops on duty.
Recently, Nancy spoke with Parents, Families and Friends of Lesbians and Gays (PFLAG) about her experience as not just a military mom, but as the military mom of an openly gay son serving under the law.
"My relationship with Darren is wonderful," she told me. "We've always been so close, and I have such respect for him and I'm so proud of him. The best thing is, he knows this. We laugh and tease each other a lot and when I tend to over-react, he gently hauls me back into line. We're honest with each other ... he's become a proud young man who knows his self worth and has respect for who he is. I just love him!"
As with any mother who loves her son, however, Nancy was worried while Darren was deployed in the Middle East. She knew that anyone in a war zone was at risk of being harmed at any time, but she also understood that, because of "Don't Ask, Don't Tell," Darren was especially vulnerable.
"Darren could be fired, force out of the Army and potentially face harassment and abuse because of 'Don't Ask, Don't Tell,'" she says. "The combined stress was incredible, the unknown of what could happen or where he could end up. I never felt I could admit this while Darren was on active duty, but I do have to make this known now that he has been discharged. As this stress continued, day after day, I truly began to feel that, because of the law, Darren and our family were possibly facing yet another formidable force - 'Don't Ask, Don't Tel.' The possible repercussions of this law were a true threat, and our family lived with this every day."
Had her son been straight, Nancy admits that "I would have had the worries of a typical military mother: injury, death and the mental well-being of a son or daughter. But added to this was the constant threat that 'Don't Ask, Don't Tell' would mean possible discharge, firing, abuse and harassment."
The fact that, on July 23, those who testify before Congress in favor of keeping this law will identify themselves as part of the "pro-family" movement is troubling to Nancy, who still vividly recalls the pain the law caused her own family.
"I don't believe there is any aspect of 'Don't Ask, Don't Tell' that is pro-family," she told PFLAG. "The question is: Pro-family for which families? Certainly this law can't be 'for' the families who have lesbian and gay children who are serving. The law not only discriminates against family members, forcing anguish and fear into their lives, but it tells them that their sons and daughters aren't good enough to serve our country. Our sons and daughters are over in the war, risking their lives, saving lives and doing a great job for our country. They should be judged on their performance and bravery, not their sexual orientation. Considering all the discrimination the law promotes, it can't be called 'pro-family.' In fact, it reeks of anti-family values, because of the discrimination it inflicts upon so many people."
The law simply has to go, she says, and she has a message for the Members of Congress who will preside over next week's hearings.
"I want them to take their job very seriously, because they are responsible for the well-being and the lives of many great American families, and many lesbian and gay service members," she says. "'Don't Ask, Don't Tell' affects so many lives adversely. I know; I've been through it. Our sons and daughters in the military are intelligent, brave and committed Americans who are willing to put their lives at stake for our country. We need them, and it's up to the Committee to see that this law is repealed."
Until that day comes, however, Nancy also offers some words of loving advice to the other military families with LGBT loved ones serving on the frontlines.
"I would tell them to stand by their son or daughter and give them all the support they need. Let them know what unconditional love is and encourage them to confide their feelings in you. Family support is the most important gift you can give them."
"I also want to tell the moms and dads that they are not alone - there are many mothers and fathers out there that share their feelings and fears. Many great, dedicated people and organization, like PFLAG and Servicemembers Legal Defense Network, are fighting to repeal this law . . . and it will be repealed."
"Get involved," she urges them, "and help, for your sake as well as your son or daughter's."
Calling all HuffPost superfans!
Sign up for membership to become a founding member and help shape HuffPost's next chapter