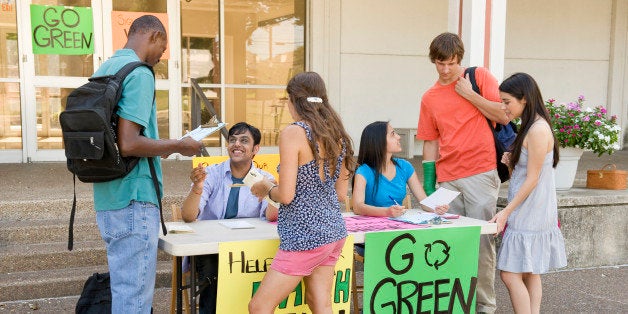 On November 29, the day before the Paris climate talks were beginning, my friends and I gathered 80 teenagers to help rally with people around the world for what we felt was the most pressing issue facing our planet: climate change. We arrived on buses, with signs and matching shirts. This gangly group of youth found ourselves standing in the middle of Downtown LA surrounded by other climate activists that didn't look like us. For the first half hour, in between speeches from local organization presidents, we all hollered, "What do we want? Climate action! When do we want it? Now!" Eventually, our elders speaking at the podium about loving our neighbors and protecting our mother caused many of my cohort to begin loosing steam. The rally really wasn't speaking to us.
A couple days later, I had the incredible opportunity to actually go and represent my generation at COP21 in Paris, the biggest climate conference in history. Now, I thought, I'll finally be able to meet leaders trying to change the world in other ways than holding up signs with hand-painted sunflowers. I could not wait to attend the marathon of conferences to learn about what I could do to save my planet.
Paris was abuzz. At the Chamber of Commerce, 200 adults in business suits, wearied by two hours of oil companies' execu-speak, slammed coffee at the 11 am break. There I was, a 5-foot-3 15 year old in a ponytail in a room full of blue suits and gray hair. I felt so out of place.
The next speakers were equally ancient-looking oil industry CEOs again throwing around terms like API, KBD, and NGL. I tried my best to follow but I could not comprehend all the acronyms, and I certainly couldn't imagine seeing my friends in the audience trying to understand.
The next day I hoped I might feel more at home at the Women's Earth and Climate Action Network conference. My mom and I arrived at a tired conference hall filled to the brim with women my mom's age. One woman was standing up, swaying to the bongos played by two indigenous women while another woman tried to get everyone's attention.
"Ladies, before we start the day off, I want to welcome the oceans and the rivers into this room," the woman at the podium began. At that moment, I felt like I was in the 70s Coke commercial, "I'd Like to Teach the World to Sing." This way of rallying felt so antiquated. Again, I felt so out of place.
Neither the industry nor the hippy contingent inspired me. In fact, it was quite the opposite, and I believe it's because they aren't reaching or appealing to younger generations. These are the original people who brought attention on the issue and were responsible for incredible environmental victories dating back to the 70s. I believe that we will be able to fight climate change more effectively if we bridge the groups and communicate the importance of this issue to young people. It may be as simple as changing the language of each movement. Above all, we need to create a demographic of climate activists where everyone feels the urgency of the situation and a way to get teenagers actively participating in their future in a way that seems fresh, worthwhile and exciting.
At the New York Times Conference, I had the pleasure of hearing the CEO of Patagonia, Rose Marcario. She spoke about how her company approaches the idea of sustainability and the emerging green economy. Quite surprisingly, she was studying people exactly like me and our future buying proclivities. She declared that when millennials knew more about the origins and ethics behind their product, they were more likely to buy it. As a consumer of the brand, I can attest to the fact that Patagonia's sustainability policies are a selling point for me and my peers. Here was a big CEO, explaining that evidence showed that millennials want to have a stake in a greener future. So why weren't there more millennials in the room learning about the economy and the dying world they are going to inherit? I know, if given the opportunity, my friends would love to hear about these new innovative ideas.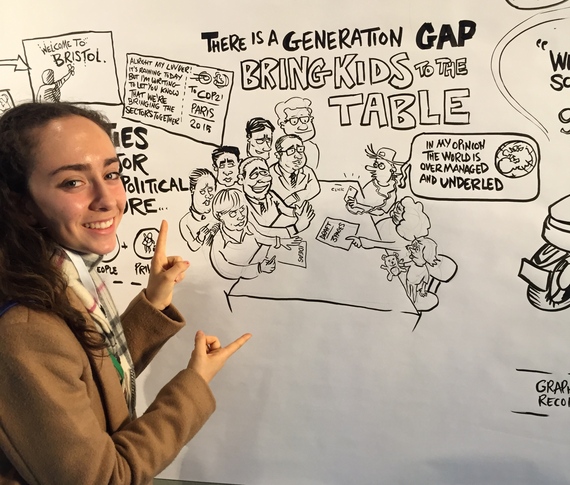 On the next day at the Earth to Paris conference, we walked into a room with places for staged photo-ops and posters hung with hashtags galore. Here was a destination quite literally set up for millennials! Blanca Juti, chief brand officer at Rovio, the company responsible for the most downloaded app worldwide, Angry Birds, spoke about using gaming to raise awareness about climate change. Juti said that when gamers played a special earth day rendition of the game, the amount of time they played the game increased and that told her that climate change is important to millennials. UN Secretary General Ban Ki Moon even spoke about how the environment rests in the hands of young people. Why aren't there people my age here? They would have left feeling so empowered, just like I did.
When older people with flowy hair or business suits speak about climate change, it doesn't have an urgency that seems like ours when in fact, this issue is more ours than any single cause.
I realized I shouldn't dismiss or have disdain for the people who created the movement and have led us to this point, but now, we must take it from here, make it our own, and transition it with language and stakes that will have meaning for my millennial peers. So my fellow millennials, rise up, show up and make noise to send a message. Buy conscientiously and sustainably and forcefully encourage your parents and friends to do the same. This issue needs fresh and innovative ideas so use your vote, use your wallet and use your force because the power is in our hands.
A first step to youth activism!
Related
Popular in the Community