On October 7th, national service marks a major milestone: the induction of the one-millionth AmeriCorps member. Twenty-two years ago, the first class of AmeriCorps members - 20,000 strong - raised their right hand and "pledged to get things done for America." They immediately went to work, pouring their talent, energy and passion into helping individuals and communities in need all across the country.
Today, more than 75,000 dedicated young people serve in AmeriCorps annually. These extraordinary Americans tutor and mentor students, help people to lead healthier lives, help communities rebuild after natural disasters, provide job training and other services to returning veterans, and preserve the nation's parks and public lands. All told, these one million AmeriCorps members have provided over 1.4 billion hours of results-driven service to all 50 states.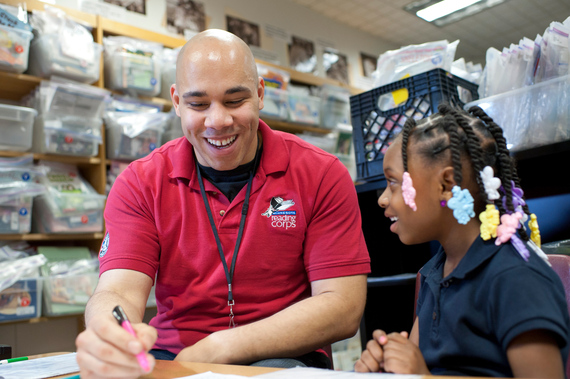 At the same time, they have saved taxpayer dollars and yielded a remarkable return on investment. According to economists at Columbia University, for every dollar invested in national service there are returns to society of $3.95 in terms of higher earnings, increased output and other community-wide benefits. And they have earned critical skills to better prepare themselves for the workforce, while at the same time saving money for college - earning a combined $3.3 billion to help pay for college or pay off student loan debt, which has become increasingly arduous for many young Americans.
National service has enjoyed strong bipartisan support since its inception - from the creation of the Peace Corps by President John F. Kennedy in the 1960s, to the ACTION Agency (a federal agency to oversee domestic and international service programs) by President Richard Nixon in the 1970s, to the signing of the National Service Act by President George H.W. Bush in the 1980s.
AmeriCorps is no exception. Building off the successful program launched by President Bush, President Bill Clinton founded AmeriCorps in 1993. President George W. Bush expanded it significantly, proposing to expand AmeriCorps and Senior Corps by more than 200,000 positions, and in 2009, as one of his first acts as president, Barack Obama signed the bipartisan Edward M. Kennedy Serve America Act into law authorizing the program to more than triple in size.
What's more, according to a fall 2015 poll conducted by TargetPoint Consulting, voters from nine presidential battleground states overwhelmingly support funding for national service programs - 83% of all respondents, including 78% of Republicans, 90% of Democrats and 84% of Independents. And this past April, more than 3,500 mayors, county officials, and tribal leaders nationwide joined together in bipartisan support for AmeriCorps and Senior Corps. Together, they represent more than one-third of all Americans.
Each year, approximately 75,000 young people dedicate a year of their life to helping communities in need by serving in AmeriCorps. Yet thousands who would like to serve are turned away because of lack of positions. Notwithstanding decades-long bipartisan support, the promise of the Serve America Act - a vision to expand AmeriCorps to 250,000 members per year - has not been realized. While AmeriCorps received its highest funding levels to date this year, Congress has failed to come close to full funding of the Serve America Act.
So as we celebrate the extraordinary talents, passion and commitment of one million AmeriCorps members, let's redouble our efforts to expand national service so that in the future all Americans who want to serve can do so. Next year will bring a new Congress, a new President and an opportunity to unite after an exhausting and tumultuous campaign season around an issue that we should - and can - all agree on. Let's make national service that issue. There are more than one million good reasons to do so.
REAL LIFE. REAL NEWS. REAL VOICES.
Help us tell more of the stories that matter from voices that too often remain unheard.