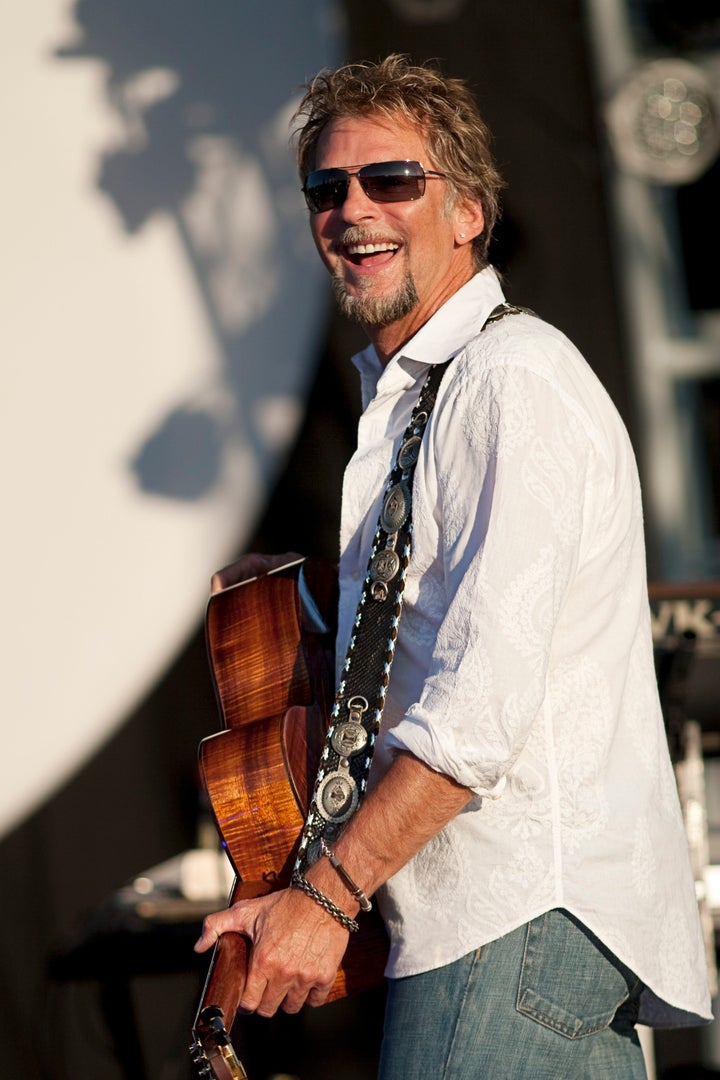 Years ago I wrote a song called "Your Heart Will Lead You Home," for The Tigger Movie, with the famous Sherman Brothers; the Disney songwriting team that brought us everything from "Davey Crockett" to the music for "Mary Poppins," and well beyond. When I worked with them, both brothers were in their 80s, and after we finished writing the song, while driving Robert Sherman back to his home, I casually asked him, "Have you guys ever considered retiring?"
"Are you kidding?" he replied. "Where else can you get a rush like this?!"
(I should mention here that those of us who knew Robert Sherman and loved his lyrics are saddened by his passing this past week.)
"Kenny...You DO know there's a reason why most people leave bands to go solo, don't you?" said Bobby, my old friend and trusted adviser on all-things-career-oriented. And yes, I DO know what I'm getting into, but why the hell not launch a new band? And it's for exactly the kind of rush Robert Sherman was talking about, one I've all-too-rarely experienced, but what we live for. That all-or-nothin' rush.
"Sure, I know you want to feel the excitement of a fresh start," he went on, "but the hard truth is, you're just too old to start over. Radio won't accept you. TV won't want you. It's all about kids now. Don't you listen to the radio?"
"But I know there's an audience for us out there, just waiting for something they can relate to. Something that moves them. And with no one over 40 even trying to get their attention, well, that kinda leaves a wide open field, doesn't it?" I argued.
"Listen," said Bob, "It's a long, hard road you're embarking on, and even the young guns have a tough time with the grueling schedule that the business demands, let alone, need I mention, you'll be taking a significant cut in pay. The odds against you breaking through are a million to one!"
Now, let me first say that I have trusted Bobby for years. He has been the wise, creative counsel to many famous pop musicians, having guided the careers of a number of huge stars. Who would know better the dangers and stark realities of starting a "new band" in this vulnerable record-biz climate and economy? His "advice" was not easy to ignore, and I could feel the "sensible," scared part of me take his words way too far to heart.
Then, after a few seconds of total quiet, he somberly added, "I suggest you concentrate on what you do best: be Kenny Loggins. Stick with that franchise. Just write great songs with your Nashville friends for other recording artists and prepare for the inevitable 'gearing down.' You've earned it."
After half an hour on the phone with him, I no longer felt like an exuberant boy on his way to Monterey, but more like a little kid who'd just been told Christmas has been cancelled, and oh, by the way, there is no Santa Claus!
His words put an arrow right into my "Achilles' heel": I am NOT 25 anymore, and the music business is a damned demanding mistress. So what's it gonna be? Once again, here I am at that same old crossroads, "the head vs. the heart!" But at that moment, I admit, I was pretty damned deflated.
Almost immediately after I spoke with Bobby, I synchronistically got a call from Gary and Georgia to talk about scheduling another trip to Nashville to write. But he could tell right away, just from my tone of voice something was off.
"I'm just down tonight." I hesitate. "Truth is, I just had a very disconcerting call from an old friend and he gave me a lot to think about. Honestly, I'm so damned depressed now, I was thinkin' maybe I should just wait till tomorrow before I called you...to sorta sleep on it. I've gotta be sure this project isn't more than I can bite off right now, that I'm not just acting impulsively."
"Well, you should know that we love the new music," said Gary. "We're both very excited to explore where this might go." Then Georgia chimed in over the speaker, "Kenny...what feels right to you... right now?" She could sense what was up.
I take a breath, and the part of me that remembers who I am finally speaks up.
"Well...I went with my gut when Messina and I first started, even though there were no acts like us on Top 40 in those days. That wouldn't seem very logical.
"Six years later I made 'Celebrate Me Home,' even though L & M was still riding the big wave. That sure wasn't logical.
"I went with the spark when my heart knew 'Leap of Faith was the record I HAD to make, even though no one at Columbia Records believed in it. 'No hits,' they said. Ironically, that album ended up with five singles. But I suppose you could have said that CD wasn't such a logical move at the time either.

"Two years later I followed my intuition and went against CBS's strong admonitions when I made 'Return to Pooh Corner,' even though nobody in pop music had ever made a 'children's' album and managed to keep their 'rock credibility' at the same time. And that record is over two million in sales now."
I went on, "I guess I've always just done what I feel is calling to me at the time."
"Well, it sounds to me like we'll be seeing you in Nashville again next week then," said Georgia, chuckling.
"I guess we will then," I said, finally feeling calmer inside.
That night I texted Georgia a line that just jumped out at me. All I wrote was: "Too Old to Dream?"
A week later I'm back in Nashville writing with Gary and Georgia again. "Check this out, " says Georgia, and she picks up her guitar and sings these words:
"Leave me in the rain
Send me out to sea
Lock me up in chains
Throw away the key
The day I ever
Get Too Old To Dream"
Gary and I were blown away. It was as if she was singing my life. So this is how my song goes now.

(You can play "Dream" below and right click on this link and hit "save link as" for a free download.)
Singer/songwriters Kenny Loggins, Gary Burr and Georgia Middleman recently formed the new band Blue Sky Riders, and were profiled by Huff/Post50 in February. They are finishing their first album and will be chronicling their experiences as a band in this blog. Below, Kenny reveals the riskiest thing he's done since turning 50.
REAL LIFE. REAL NEWS. REAL VOICES.
Help us tell more of the stories that matter from voices that too often remain unheard.