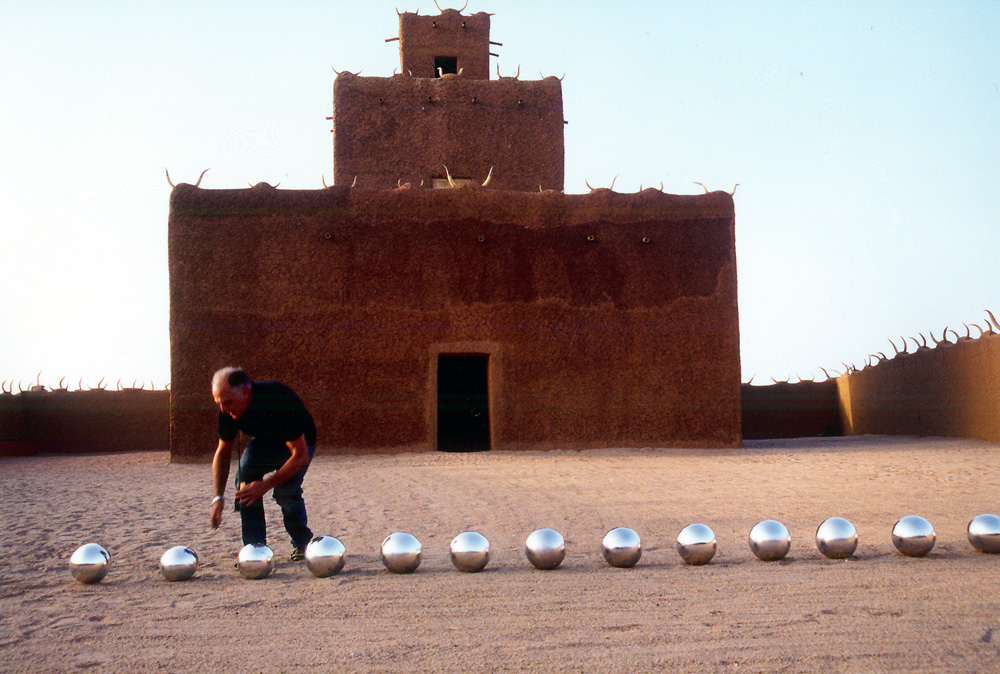 Artist Not Vital in Agadez, Niger - Mekafoni. Camel, 2003 - Courtesy of the artist and Sperone Westwater Gallery New York
Raised on the dizzying slopes of the Engadine region in Switzerland, nomadic artist Not Vital takes delight in alighting on equally liminal perches on the new Pangaea of the 21st century, peppering the planet with sculptural architecture from Patagonia to Agadez. Vital and I had a conversation about his migratory life while circling the artifacts of his recent peregrinations exhibited at Sperone Westwater gallery. Though his creations arise from emotional encounters and passionate collisions with other cultures, they are often born smooth and shiny in their egg-like perfection. Linked to Vital's personal journeys, they become vehicles for an idea and transport one - which is the underlying root meaning of the word metaphor.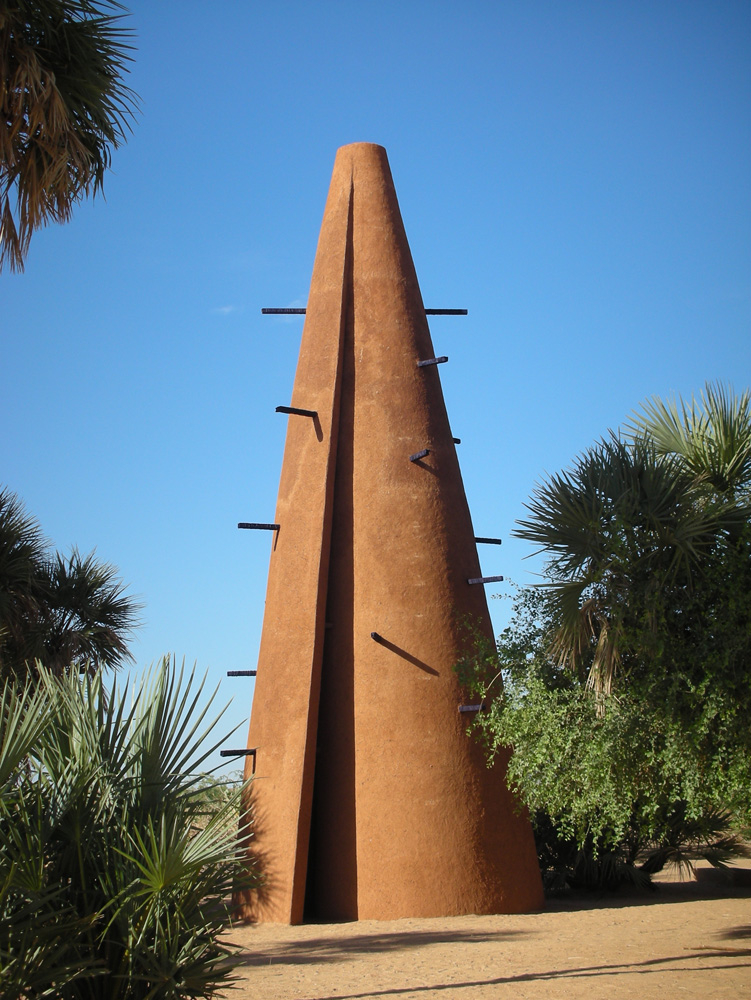 House to Protect Against the Wind, Agadez, Niger - © Not Vital. Courtesy of the artist and Sperone Westwater Gallery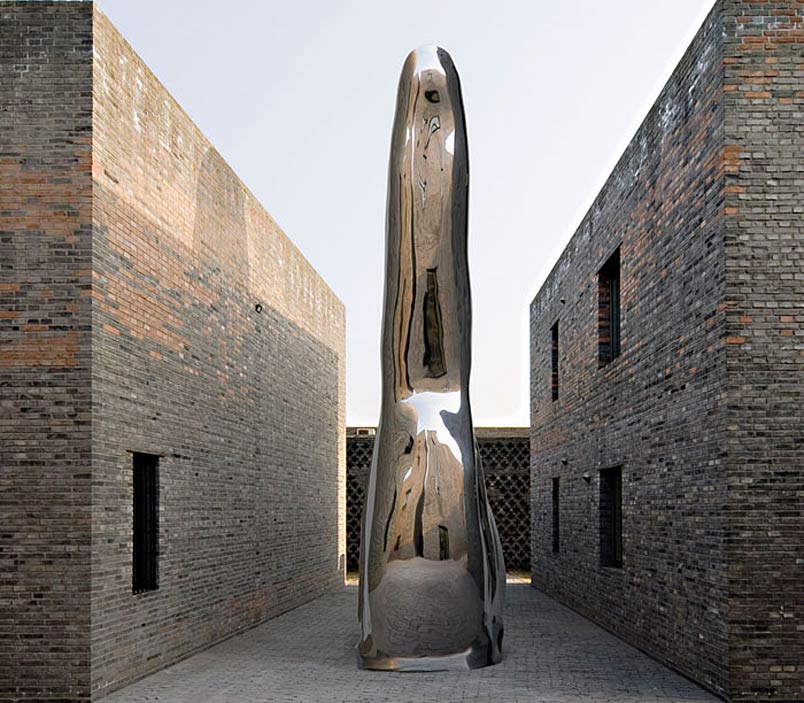 © Not Vital, Tongue, 2008 stainless steel 310 1/4 x 65 3/8 x 65 3/8 inches; Edition 1/3 - Courtesy of Sperone Westwater Gallery
Vital has had an obsession with these after finding the severed organs in an Italian butcher shop. Since then, he has cast them in various sizes in bronze or steel, a signature element of his shows. The tallest to date at nearly 8 meters is a totemic and virile looking specimen of hand-beaten, smooth steel. Tongues are tools for tasting what's tangible, but underappreciated as prehensile appendages. A cow's tongue maybe an edible delicacy for some, but my own experience of being licked by a cow, a quick exploratory flick, was shock. Its unforeseen alien and erotic invisibility, hidden length and roughness in a creature of otherwise harmless bovine temperament, was an epiphany.
Presque vu, sequentially related to déjà vu, is to almost grasp, like something on the tip of the tongue - could be an attempt to describe Vital's ever-lengthening antennae: a tongue that desires to taste that which can never be completely known.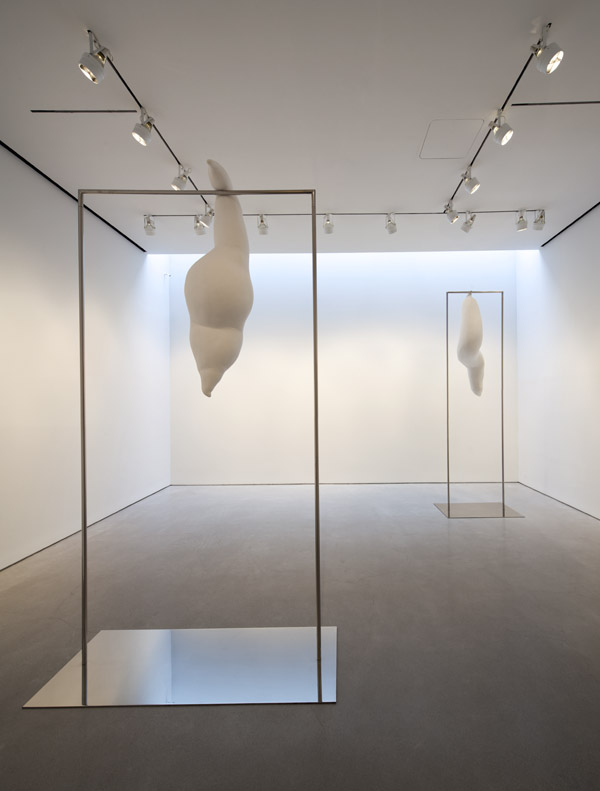 © Not Vital, Installation view of Hanging and Weighting, 2010, Plaster and Stainless Steel - Photo: Eric Gregory Powell, Courtesy of Sperone Westwater Gallery
White plaster sculptures hang slug-like on tenterhooks and seem to capture a state of uncertainty; all hang from a similar height. Vital tells me that his upbringing in the Engadine, with its backdrop of snowcapped mountains, had fixed his contemplative gaze at a certain height.
"When the sun goes up, the people in the Engadine are looking up," explains Vital, gesturing above eye-level. "If you look at old people in Italy they look down. Growing up there - and we are formed very early - vision is always fixed up there. When I was in New York, my first apartment didn't have much light, but it was the tallest I could get because if I had to concentrate on something, it would be up there... at 3m 30cm," Vital recalls, his gaze fixed at the exact height of his reverie.
Growing up in lands bleached of colour, Vital's work is largely monochromatic and sensitive to the nuances of white; he argues with assistants who cannot see the subtleties of something incompletely white. "Half the year, it's 2 meters of snow - your eyes become sensitive to light. If I was in Brazil and India, my work would be much more colourful."
Excavated from Dali, in Yunnan district of China, Dali marble, which might as well be named after the Surrealist, is sliced to reveal hidden landscapes that mysteriously mirror both the terrain from which they are taken and the landscape of Vital's birthplace. Finding the right rock and cutting the marble is an intuitive task and tensed with unpredictability; one must sense when to stop, or the stone crumbles. One takes a gamble and may find there is nothing inside.
A Cave Dweller in Patagonia
Vital tells me that four years ago he came across an island in a remote part of Patagonia in Chile, which he purchased. "The entire island is white marble. It is beautiful but you could not build anything on top... so I had to come up with something else, by going inside it. What I did was to tunnel inside 50m, with an opening in the west; the whole floor is one piece of marble."
He named the island NotOna after himself and the naked natives that once lived there. It recalls the simplest, 'primitive' dwellings of the troglodytes who were masterful cave architects.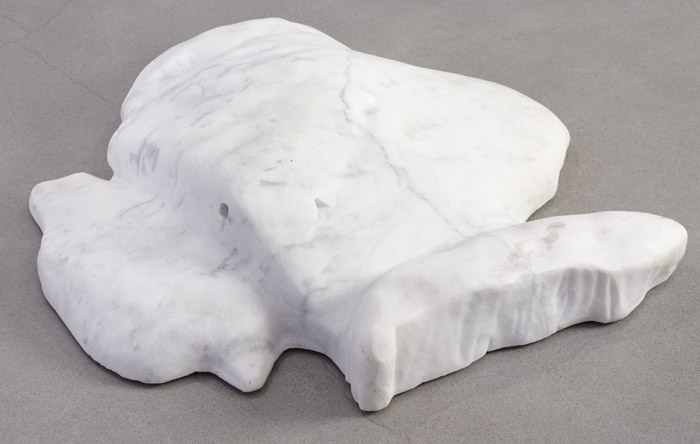 Rendering of island in Patagonia 'NotOna' with excavated entrance and exit, 2011 - © Not Vital. Courtesy of the artist and Sperone Westwater Gallery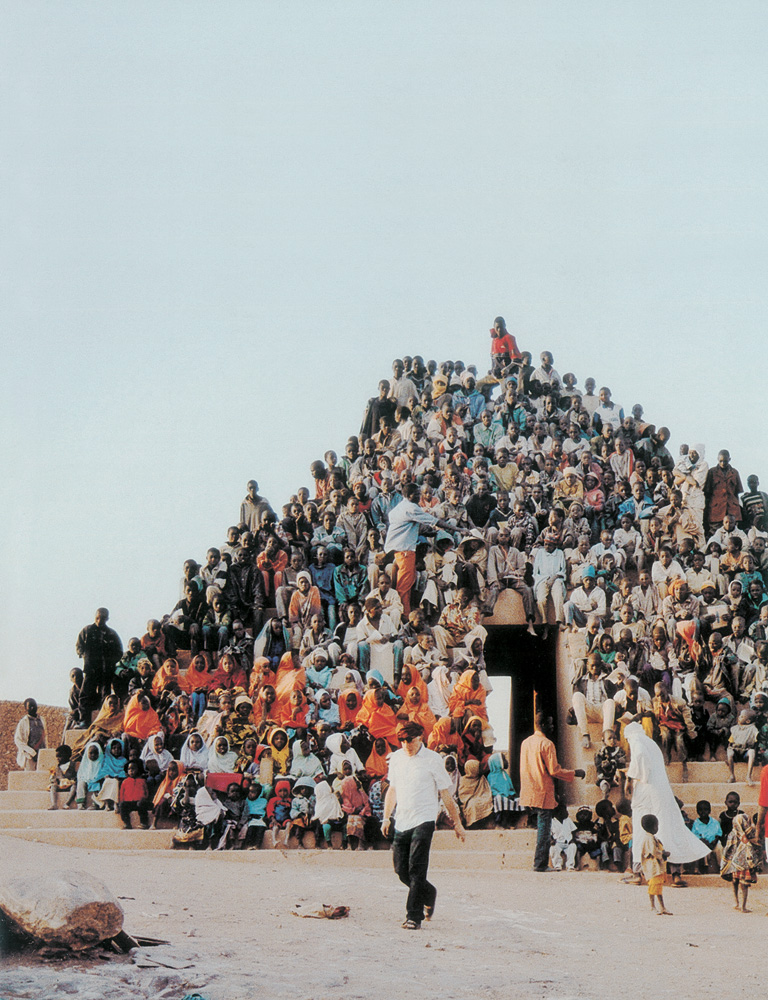 Makaranta School, Agadez, Niger - © Not Vital. Courtesy of the artist and Sperone Westwater Gallery
Architecture for Sky-Watchers
On a whim, the artist went to the desert city of Agadez in Niger and built a house there to watch the sunset. The sky is an endlessly fascinating substitute for TV in the desert where stars are used to orient one self. "The concept was to build a house to watch the sunset in the poorest country in the world; at four storeys high, it is the biggest building in adobe in the whole region; it was a big challenge."
Then he built a school: "The Tuaregs - the nomadic people of the region, were very much against the school because they believed if children learned to read and do mathematics, they would not be able to read the stars anymore."
The Tuaregs now have towns and are only semi nomadic, but I was curious as to how they got around national borders when roaming the desert. "They go over them...but the borders are completely wrong," said Vital with frustration. "They are [vertical], so insensitive. The Tuaregs move East-West, and the borders are cut North-South. So you have to go from Niger to Burkina Faso to Mali to Senegal, instead of in a flow."
Sensing his wanderings cultivated a detachment for material things, I asked Vital whether he had any philosophies guiding his understanding of death.
"I have experienced how a mother can lose a child, and two hours later it is buried and forgotten. Not forgotten, but she has moved on. You show a photograph of the daughter and she laughs, she smiles, and that is something that shows strength, that you can really learn from. Of course I am not a Tuareg...If you have nothing you have nothing to lose. With these accumulations that we have in the west, it is never enough, and much more difficult to leave; It makes the prospect of dying much more difficult."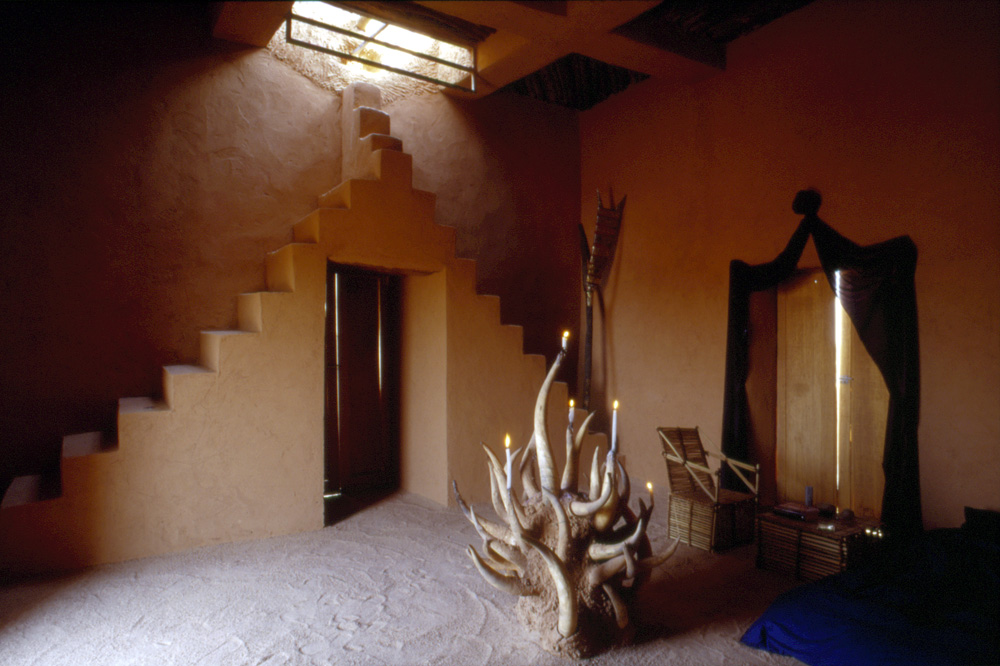 Though his family had been in the Engadine for many generations, Vital grew up close to the earth, valuing commonsense, with farmers as neighbours, and animals in the cellars to heat up the house. Hunting and forestry were the natural way of life.
"Even though we had very little information and no TV from being too high in the mountains," Vital tells me, "we had 5 months of vacation: From April to the beginning of October we didn't have school. During this time, as children, we had to do something with our time - so that we weren't bored.  At six years of age we were on our own and wanted to be on our own. We would go into the woods and survive in this harsh environment - and it was done with enormous passion. Afterwards, I read Italo Calvino's Baron on the trees, and felt, I had done that."
I said to Vital, that I recalled that the desert traveler, Wilfred Thesiger used to say that possessions made one weak.
"Yes, love him. He is a great wonderful writer and photographer. I wanted to go to Oman just because of him. I never met him, he just died; Of course I wanted to. Some time back I got another book of his from Richard Long's girlfriend."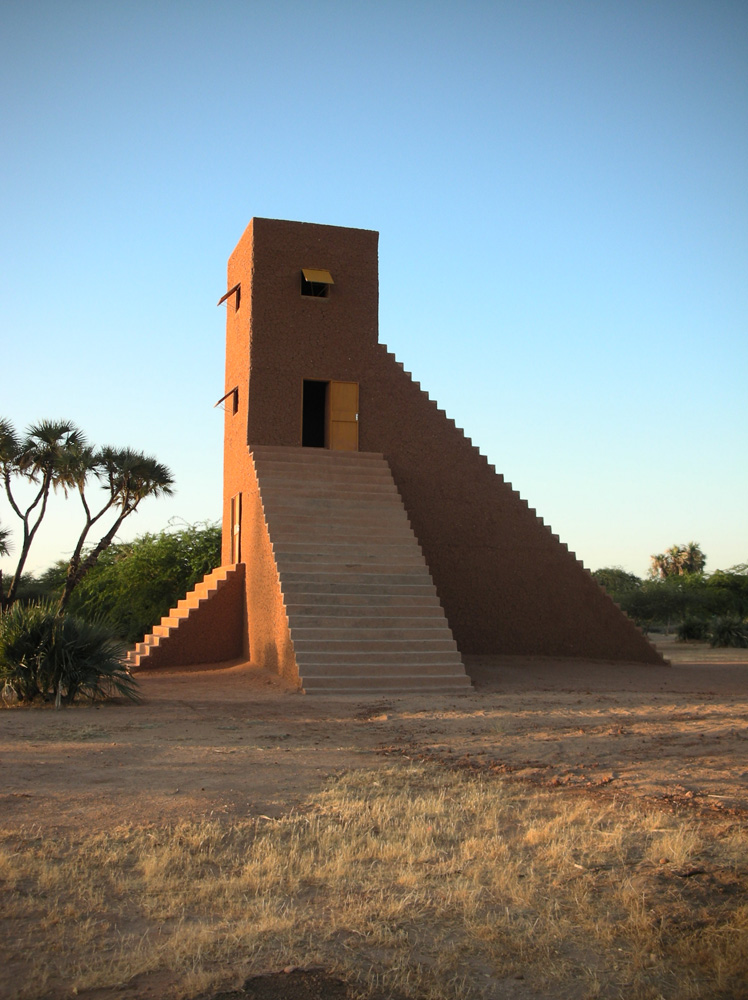 © Not Vital, House to Watch the Sunset in Agadez, Niger - Courtesy of Sperone Westwater Gallery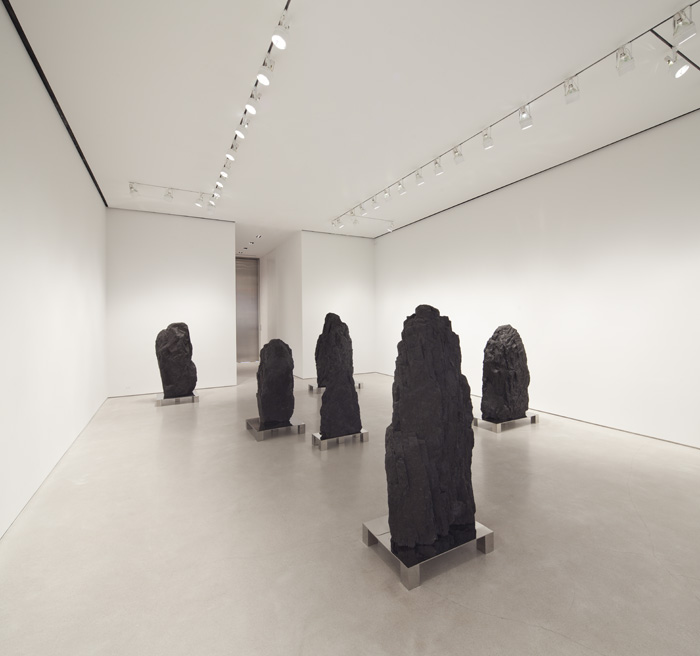 © Not Vital Installation view of Piz Nair, 2011 Stainless steel, coal - Photo: Eric Gregory Powell, Courtesy of Sperone Westwater Gallery
Meditations on Black Mountains of Coal
Vital had selected whole chunks of coal from batches shipped in from Mongolia that are slices of Chinese landscapes like Shen Shui paintings.  Vital described them as riddles... from carved rock. These inflammable rocks seemed to inspire something similar to the Daoist contemplation of landscape, intended not for the eye, which is concerned with appearances but for the viewer's mind, a physical bridge that transcends one to a metaphysical place.
"That's good," Vital says to me, "I wanted to put two chairs here...Last week I went to see the Rothko Chapel. I was there for 3 hours..."
I told him about Alain de Botton's plan for a Temple to Aetheism, and he said that incidentally, de Botton's father had lived in the Engadine, and been a collector of his artworks.
Though a polyglot and master of seven European languages, including his mother tongue of Romansh, Vital still chooses to live around people who do not speak them. Now that he has settled into his studio in Beijing's 798 Zone, he has bought another house to renovate in Rio. But it's not always about being a wanderer he claims, sometimes it's about engaging with people. In Beijing he has even started painting, "I have much more time, I see all these people...and with all these assistants, you can just live, and not go out."
I asked if he felt attached to his homes. "I am asked why I have so many houses? These areas are just places I visit and like to stay in even for a night. I would have a house to watch the sunset even if I could only spend one night there. Next day it could have crumbled, and it would have been fine, because I had this one night of an experience...."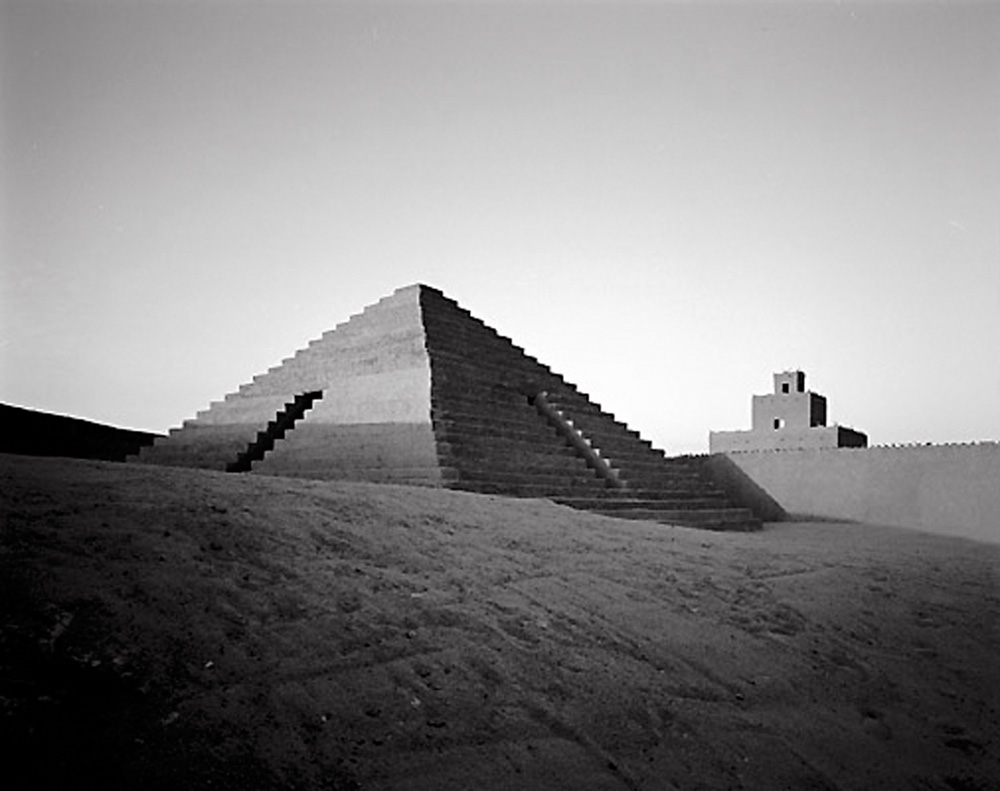 © Not Vital, Makaranta School in Agadez, Niger - Courtesy of artist and Sperone Westwater Gallery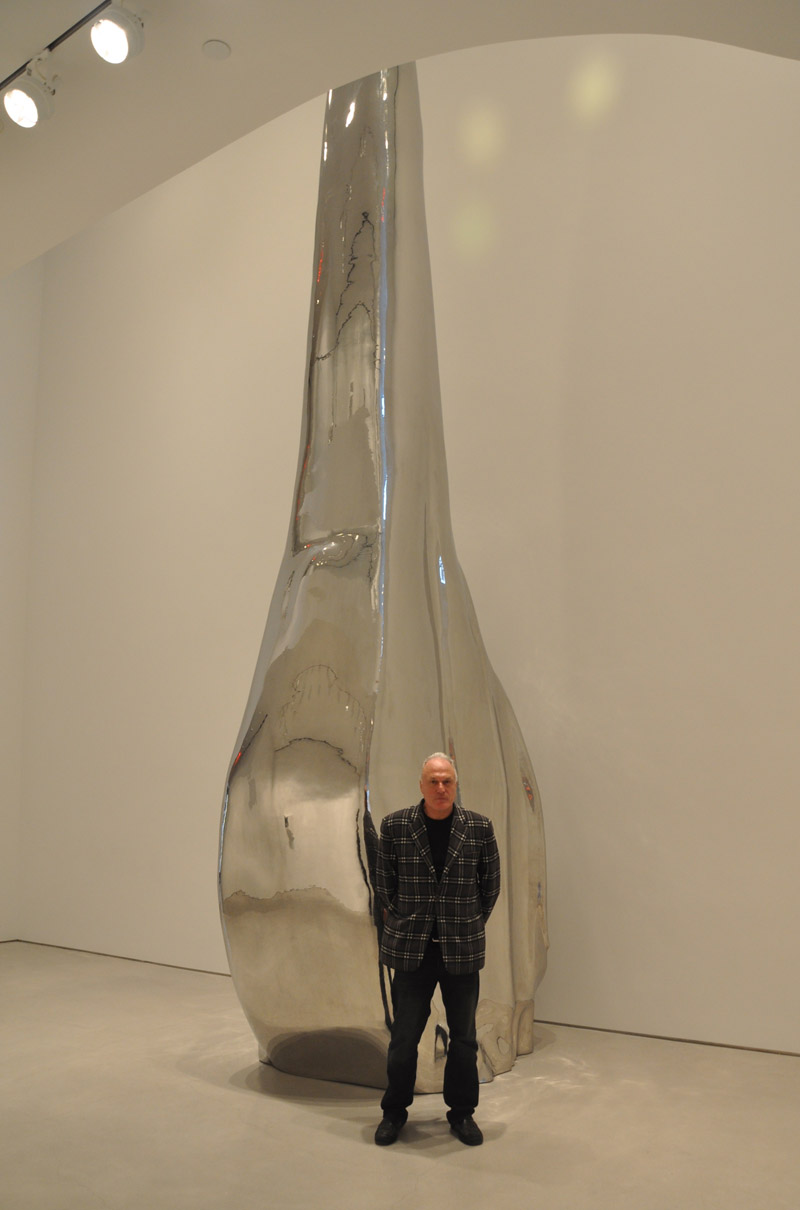 Artist Not Vital in front of his Cow Tongue sculpture at Sperone Westwater, 2012 photo: Kisa Lala
The show entitled 十 五 - fifteen - written in Chinese characters - refers to the number of works in the current show.
Not Vital: 十 五 3-31 March 2012, Sperone Westwater Gallery 257 Bowery, New York, NY 10002
REAL LIFE. REAL NEWS. REAL VOICES.
Help us tell more of the stories that matter from voices that too often remain unheard.