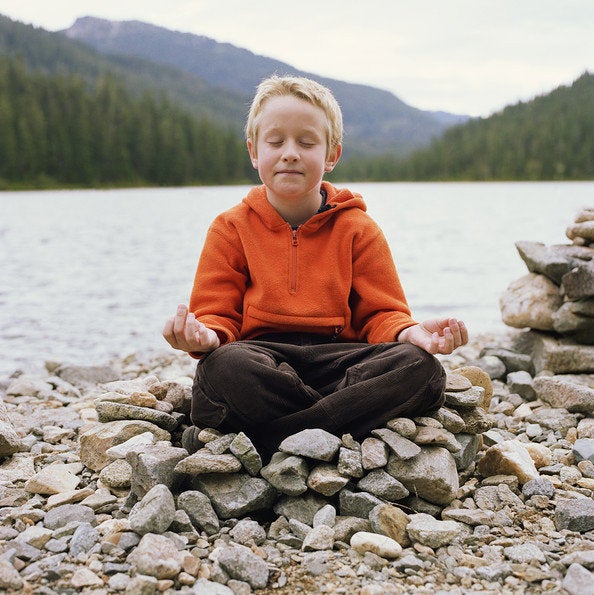 In my humble opinion, bringing the transformative practice of mindful awareness to children, teens and their families could revolutionize the world as we know it. There are great educational programs that teach valuable life-skills cradle to grave. But it's tough to use those life-skills in a crisis or other difficult situation unless you can: (a) Attend in a clearheaded way to inner and outer experience; (b) Tolerate any emotional discomfort that comes up in response to what you see; and (c) Purposefully respond in a way that is kind and compassionate to yourself and others. When kids, teens and adults systematically develop these three capacities through mindful awareness - attention, balance and compassion - they transform themselves and are better able to transform our world into a more peaceful, collaborative and caring place.
I just got back from an inspiring weekend with 300 educators interested in mindfulness and education. Hosted by the Omega Institute, our faculty (led by Jon Kabat Zinn with Gina Biegel, Jennifer Cohen, Vinnie Ferraro, Laurie Grossman, Linda Lantieri, Daniel Rechtschaffen, Dan Siegel, Spring Washam, and me) taught games, activities and songs that help develop mindful awareness at an early age. In panel discussions, we shared our perspectives on how best to build and implement programs suitable for public education. Home from the conference, and back to my workaday life, there are a few things we discussed that are important to share with a wider community.
1.Motivation. Be clear about why you're teaching mindful awareness in the first place. The answer may be different depending on the teacher, but before stepping into a classroom know your objective. For me, it is to share tools that help people of all ages manage life's ups and downs in a way that's in their best interest as well as kind and compassionate to all those involved.
2.Perspective. Mindfulness in everyday life is not a religion, so don't approach it as one. While this work is informed by contemplative traditions it is also informed by child development, psychology, neuroscience, and pedagogy. Leave any remnants of religion at home, be they implicit messages, gestures, language, or icons. They are not appropriate in public schools.
3.Simplicity. Use simple, clear language and activities that communicate simple, clear concepts and experiences. Some of the language and many of the activities that are useful when teaching mindfulness to adults go right over the heads of kids and young adults. Adapting mindful awareness games and activities for a younger audience can be a fun opportunity to express your creativity.
4.Play. Speaking of fun, we're working with kids so let's be playful! We can develop mindful awareness singing, dancing, laughing and playing. If we frame mindful awareness playfully kids are more likely to be drawn to it than if we frame mindful awareness as a serious, sedentary activity. Besides, there's nothing wrong with having a bit of fun ourselves.
5.Integration. If one of your objectives is to help people better manage life's ups and downs, don't forget to integrate mindfulness into everyday activities. The more we include mindful awareness in our daily routines, the more accessible it will be and available for kids to call upon to help cope with challenging real-life situations.
6.Collaboration. Not everyone in this growing field agrees with me or with the seven points that I'm outlining here. But to take this work to the next level, and demonstrate why it's important to those who need to be convinced, we'll have to put our differences aside and work together for the benefit of everyone - students, teachers, families - absolutely everyone without exception.
7.Strategy. Congressman Tim Ryan is the first national politician to see the importance of mindful awareness training and act on it. To borrow from my students: "Let's give it up for Congressman Ryan!" We need more big-picture thinkers to join him and develop a comprehensive strategy for researching and developing secular mindful awareness programs and implementing them in public settings.
Support HuffPost
A No-B.S. Guide To Life
Related
Popular in the Community