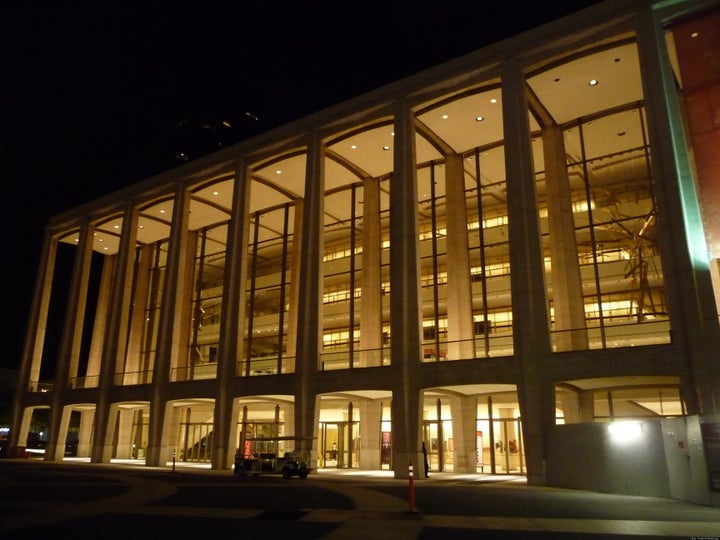 The American musical comedy -- in the past considered one of this country's most important cultural exports internationally -- has over the last few decades had what could be called extreme bipolar ups and downs. Once revered for, to name just a single aspect, its contribution to the Great American Songbook, musicals by the 1990s had become the sure-fire butt of sitcom jokes. (The term "musical comedy" was clipped long ago of its "comedy" designation.) By the 2000s, musicals were regularly the recipient of Simon Cowell's American Idol scorn as woefully "old-fashioned."
Recently, however, there's been a change for the better, kicked off by the influence Disney's High School Musical series has had on younger audiences and further strengthened by Fox's Glee. So much so, that at this week's "upfronts" it was announced that in the fall -- or at least soon -- Smash, a series about getting a new musical to Broadway, will appear and include original songs by Hairspray and Catch Me If You Can tunesmiths Marc Shaiman and Scott Wittman.
At the same time as these bright rays are beamed, musicals have been dealt a debilitating blow from one of the most important musical wellsprings: Lincoln Center Theater, where the best musical of the past decade, The Adam Guettel and Craig Lucas Light in the Piazza, triumphed. The current wallop is A Minister's Wife, the Joshua Schmidt, Jan Levy Tranen and Austin Pendleton adaptation of George Bernard Shaw's Candida.
It's important to note that not all critics regard the property as deficient. Far from it. One critic is even on record as calling A Minister's Wife the season's best musical. Another observer of record --and perhaps the most influential of the daily commentators -- was almost as favorable.
But this observer believes the musicalized version of Shaw is not only a sorrowful entertainment, but indicative of a much larger concern about how the musical, as a genre, is evolving and where it's ultimately -- and disturbingly -- heading. The pertinent issue it raises is nothing less than the purpose of music in a musical. As musical comedy developed, the notion was to entertain by way of new songs adorning a workable, even forgettable, plot. When Jerome Kern and Oscar Hammerstein II supplied the score for Show Boat, they established the enduring requirement that songs arise from character.
That remained true, needless to say, when Alan Jay Lerner and Frederick Loewe successfully adapted Shaw's Pygmalion as My Fair Lady -- a challenge others had taken on and many had declared an impossible task. Nevertheless, the masterpiece is now so established in show business annals that productions of Pygmalion can seem unfinished without the Lerner-Loewe embellishments.
It's unlikely, though, that anyone sitting down to Candida in the future will miss -- or even think about -- the songs in A Minister's Wife. More than that, it's questionable whether anyone watching and listening to A Minister's Wife will regard the music they're hearing as songs. They're not songs; they're dialogue set to music. The same could be said of opera, of course, although operas often include arias, which, to some extent, are the equivalent of discrete songs.
Worse than the music in A Minister's Wife being dialogue set to music -- and no matter how well it's delivered by cast members Marc Kudisch, Bobby Steggert, Kate Fry, Liz Baltes and Drew Gehling -- the moments that dialogue is set on melody seem randomly chosen. The impression is that composer Schmidt (whose score for The Adding Machine a few seasons back was infinitely more persuasive) and lyricist Tranen used a rule of thumb whereby every four or five minutes it was time to musicalize whatever Shaw has the characters saying, whether solos, duets, trios, quartets or quintets were called for or not.
It may be particularly telling that in trimming the script for this chamber approach, librettist Pendleton eliminates the figure of Candida's father. He's the one who might have needed a rousing number along the lines of Alfred Doolittle's "Get Me to the Church on Time," from My Fair Lady. And God forbid, the authors imply, anything that happens along musical lines should prompt actual applause when it ends. The writers appear to wonder as well why Candida -- who's meant to be incandescent from the moment she makes her late entrance -- should have the point brought home with music that confirms her unique allure. Oh, no, spare us an invigorating, show-stopping turn, they seem to whisper conspiratorially.
That's right, old time (retrograde?) musical-comedy lovers. Just as with the Stephen Sondheim and James Lapine Passion (which isn't about passion, but examines sexual obsession) the proceedings here are shaped so that the action allows for little -- or no -- audience response when the musical segments end. It's as if, having had that path forged by Passion, the Minister's Wife creators have taken steps further along that route. And the question arises as to where that route ends: An analyst could infer that it ends where musicals cease to be musical at all, but just sung notes over dialogue -- tepid operas.
Oh well, over the decades, genres change. It's the way of the world. Perhaps A Minister's Wife is where musicals are going inevitably and commendably, whereas something like The Book of Mormon, that blockbuster hit, is merely a temporary throwback to what used to be, and isn't really where it's at anymore. Perhaps this viewer and those who share his preferences need to face reality and accept that songs and personalities -- musical comedy staples of sixty, seventy, eighty years ago -- are a thing of the past, while tune-filled, but not tuneful, works like A Minister's Wife are the present and future.
If so, allow an old curmudgeon to say, "Seems a shame!"
Calling all HuffPost superfans!
Sign up for membership to become a founding member and help shape HuffPost's next chapter