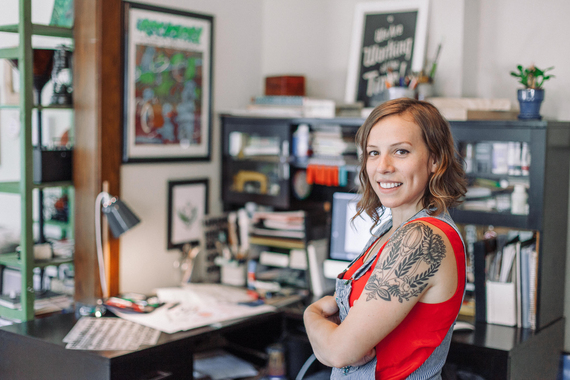 Here's a little girl power for your Instagram feed. Julie Van Grol, an illustrator and art instructor in Minneapolis, Minnesota is illustrating 100 powerhouse women as a part of a daily illustration project called "100 Days of Badass Babes."
For the last couple of weeks. Van Grol has been posting her babe of the day to Instagram with the hashtag #100daysofbadassbabes. The selected subjects range from supreme court justices to rock band members, all illustrated with vibrant, funky patterns and bright colors. Lucky for you, she's only a quarter of the way into the project so you're all invited to follow along for the duration of the 100 days. Below are a couple of the illustrations from the collection so far.
Van Grol says the process for selecting her subjects has been a collaborative one- and she's open to suggestions if you have a fierce female in mind. With each post, more suggestions are coming in and more conversation is being sparked, something Van Grol is really excited about. What started as a list where she jotted down personal idols expanded to a Google doc shared with girlfriends which came to include and surpass 100 names in just 2 hours. There's clearly no shortage of leading ladies to illustrate - what a problem to have am I right?
The naming behind the project is also pretty neat. As a firm believer in the idea that gender exists on a spectrum, it was important to Van Grol to be sure to celebrate both cis females as well as non-binary, gender fluid people. That is why you'll see her use the word "babe" and her own personal definition for the term is t-shirt worthy.
"Babes are the people who encounter obstacles, give 'em the middle finger, and do the thing regardless," said Van Grol.

The project officially began on August 1, 2016 - so, if you're counting along - that means day 100 will fall the day after election day. Van Grol is keeping her fingers crossed that she can post a celebratory illustration on that day.
Related
Popular in the Community