We found ourselves in Penang six weeks into our year of around the world travel with two toddlers. Penang lured us with its cultural diversity, the result of centuries of war, trade and immigration. The island is a tapestry of Malay, Chinese, Indian and expatriate cultures. Portuguese spice traders used the island as a stopover between India and the Far East. The British used it as a free port to lure trade away from the Dutch. For some time Penang served as the opium trade hub between India and China. Exciting things have been happening between diverse groups of people on this island for centuries.
Instead of sightseeing in Penang, we tried to assimilate into our residential neighborhood, Tanjung Bungah, located midway between the capital of George Town and the white sand resorts of Batu Ferringhi. We found that one of the best ways to live the local life was to spend time in the social heart of the neighborhood, the food hawker center. These open air food courts were a way for our family to interact with local Penangites, receive some cultural lessons and nourishment.
There is a basic anatomy to most Penang hawker centers. Hawker stalls specializing in a one or a few signature dishes line the perimeter of the court, with tables scattered in the middle. The set up is great for asking a neighbor what they were eating, or letting the kids make friends at a nearby table.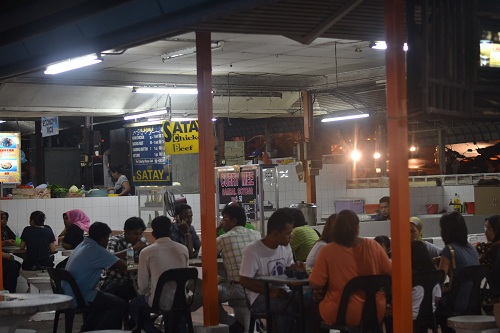 The cultural diversity of Penang is evidenced by the food on offer. Each hawker center has at least one each of a Malay noodle place, a Chinese chicken and rice, traditional Satay, an Indian stall, a fresh juice, tea and coffee place and a dessert vendor. Despite their ethnic and religious differences, the halal vendor serves peacefully across from the "Western" stall selling pork chops. A chorus of various languages keeps the atmosphere lively. Our kids were exposed to several ways of saying "rice" and other food basics, which was an educational experience for two people still learning to speak.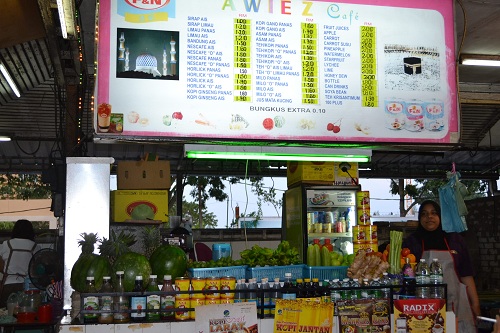 The basic drill at dinner time goes something like this. We locate a table and immediately order a round of fresh juice, usually apple, watermelon, sour plum-and-lime and star fruit. I make one round with the kids to pick out a few dishes that suit them. Sandeep holds the fort at the table to receive and pay for dishes as they arrive. The kids and I sit and start to eat while Sandeep makes his hunt. Favorites for me are the koay teow, or fried flat noodles. Sandeep likes the ayam goreng, fried chicken. And satay is always a hit with the kids.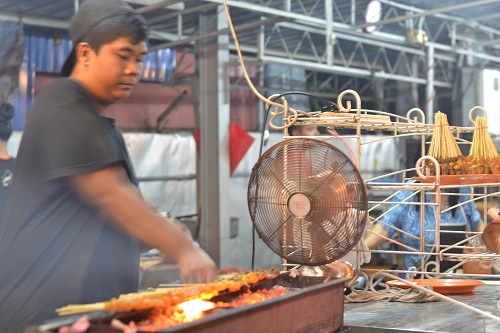 By this time, we've eaten half a dozen dishes and are ready for dessert. It's fun to watch the dessert vendor prepare one of the traditional Malay dishes based on heaps of shaved ice. So we move to a table closer to his stall and chat with him as he tops our ais kacang with a variety of jellies, syrups and ice cream.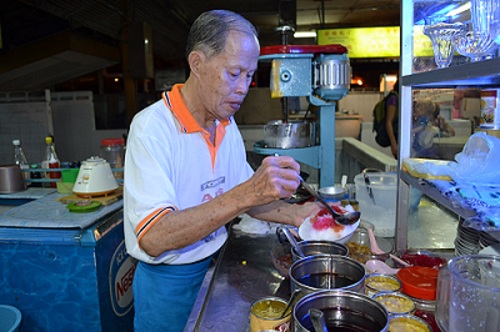 I was interested in learning how to make a few of these dishes, so I just asked to watch. Hawkers are excited to share their skills, and for most of them their stall and recipes have been passed on through generations. They don't expect their more educated children to assume the trade and are honored that someone is interested in learning. I got a good lesson in how to make nasi goreng, traditional fried rice.
Every Penangite gave us passionate response to "where are the best hawker stalls?" so you'll have to make your own judgment. Our local hawker center was Mutiera Selera in Tanjung Bungah. The Malay vendor on far left corner opens at 9 a.m. and serves until the food runs out. We used to make a noon run there for our lunch. Tony, the ais kacang dessert vendor, makes great traditional desserts. The juice stall to the left of the entrance has the freshest juices, which the kids had at least once a day. The mutton satay opposite the entrance iss perfect for slightly sweet meat balanced by salty and spicy peanut sauce.
The best times to visit hawker centers are in the morning, when a few stalls are open for breakfast, or after 6 in the evening, when nearly all are open for dinner. Just don't go too late, because the food runs out. Most dishes are between 3 and 10 ringgit ($1-$3). The portions are smaller than what we are used to in New York but are designed to be eaten family style and work when experimentation is of the essence. With uninhibited ordering we usually spend less than 50 ringgit for dinner (about $16).
Cooking lessons, cultural emersion, relaxed atmosphere and fresh food all for $16 a family? It was the best way for us to experience the culture of Penang.