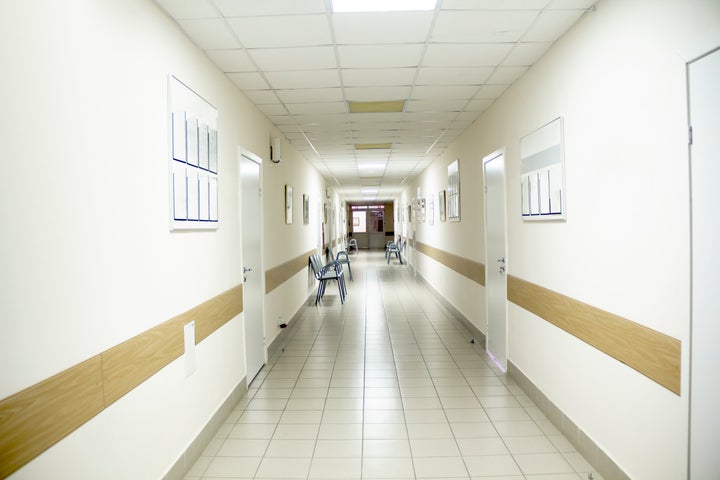 This will be a story about the glories of fatherhood. Let's get the embarrassing bits out of the way first: I am going into the hospital today to have an abscessed fistula sliced, drained and stitched. Sitting will be a challenge for a while.
If you are still with us, this is where the story actually begins:
It is 6 AM and I have just finished showering with a fresh bar of anti-bacterial soap that was specified in the pre-op guidelines. I can have one cup of black, unsweetened coffee before 8 AM because the "procedure" starts at10 AM. The last morsel of food was consumed before midnight (as per the rules)and I am presently getting dressed in loose-fitting clothing (as per same rules) when the phone rings. It's the surgeon's office. The "procedure" is being pushed back to noon. Why that may be is left to my imagination. And yours. No rules.
I arrive at the third floor of a major New York hospital at 10. First a nurse and then an anesthesiologist ask me questions about me, a subject with which I am all too familiar. Even though my blood pressure is higher than usual, and higher than healthy, I ace the dual quizzes. My left arm, as a reward, is pierced with a butterfly needle to accommodate any and all forthcoming intravenous infusions.
At 11:30 AM, a physician's assistant notifies me that the noon "procedure" has been pushed back to 2 or maybe 3 or 4, no one knows for sure because things have run amok in the OR. I can feel confidence draining from my fistula. What's happening, I inquire. The "procedure" before mine, which began at 7 AM, has encountered some "unexpected problems," says the P.A., but can disclose no more due to HIPAA* regulations. I understand, I say meekly. I understand no such thing, but I am standing there in my yellow gown with the opening to the rear and my red socks with the sticky, anti-slide soles and the P.A. is half out the door as she reminds me that my last sip of water comes at high noon.
The hospital suddenly feels like an airport in a thunderstorm when your flight has been delayed, indefinitely. The ETP is now TBD. Unknowing is always most nerve-racking. I am hungry and jittery. There is no Shake Shack. No duty free shop. No magazine stand. Not that any of them would help, since I am restricted to my room (save lavatory visits) and prohibited from leaving the third floor lest the "procedure" be cancelled: germs.
I wonder how long Dial soap can combat the marauding micro-organisms; we are at five hours and counting.
I also wonder what could so discombobulate the timing of a master surgeon with decades of experience and a wall full of awards and citations.
I am deeply grateful that I am not the patient presenting him with all the "unexpected problems." I do not delude myself, however, into believing that I am immune to similar twists of fate. Maybe this is just a bad day and I should read the signs; surgeons get on streaks like anyone else. I consider walking out. Running, if I were able. My exit might be a small favor to the surgeon, not to mention the three patients stacked up behind me on the tarmac.
I pace the small, square room for two hours without bumping into another human. I think I see staphylococcus bacteria gathering around my punctured vein. I make phone calls until my mouth gets too dry to talk. I watch the Food Network for vicarious nutrition. Bobby Flay, who won fame by competing on "Iron Chef," is challenging someone in "Throwdown! with Bobby Flay." On the very next channel, Bobby Flay is being challenged on "Beat Bobby Flay." BobbyFlay likes to compete. I am really hungry. And really amped. And losing my last soupçon of magnanimity. I want to challenge Bobby Flay. To anything.
4 PM. I am told by a new nurse that my afternoon "procedure" has been pushed into the evening – 6 at the earliest. Maybe 7 or 8, who knows? As she hooks me up to an IV to keep me hydrated, she says the doctor sends his apologies, but his hands are tied, and he cannot spare a moment to speak with me, so she was sent to placate his patients. I picture my surgeon ankle-deep in blood and stressed to the max andI worry about his energy and composure at the end of this long, dicey day. Sweaty and thirsty and spooked, I raise the possibility of postponing the "procedure." The choice is all mine, says the nurse. I call the surgeon's office, a few blocks away, to scope out the schedule. The first available time, I am told, is one month hence. A month? Four weeks? But I've already waited four weeks andI'm in pain and infections get worse, not better, and I have kept my part of the pre-op bargain and can't you see that I'm getting shafted here?
No. So: I buckle down. I buckle up. I try to watch CNN. I try to meditate. Sitting in a semi-lotus position does nothing kind or compassionate to my area of concern. My wife commiserates over the phone. She wants to join me in my misery. I beg her to stay away, for there is nothing to be gained in sharing my monkish, microbial space.
At 7:30 PM, as if nothing unusual has happened, happy faces whisk me to the OR. The anesthesiologist, the third of the day, is young enough to be selling Girl Scout cookies. She makes me nervous and hungry. I can taste a hint of chocolate mint when I am asked to count backwards from 100. When I reach 99,I am already in REM-land, dreaming of Will Smith racing through the streets ofWest Philly, my old hometown, with a soft pretzel in one hand and mustard dripping from the other and the next thing I know the Girl Scout asks me to shift my weight to the adjacent bed, the one with wheels, and I am watching ceiling lights whiz by on my horizontal journey to the recovery room, thinking all the while how anesthetics made all these "procedures" possible.
At 8:30 PM, I am given three shots of ginger ale, three sheets of post-op rules and three prescriptions; one for pain and two for the inevitable constipation resulting from no food, pain pills and the anesthetic. The first24 hours will be the worst, I am told, so do not hesitate to take the oxycodone-acetaminophen before the pain becomes unmanageable. Will do, you bet, okay.
I am cleared to depart at 9:30 PM. My wife arrives at 9:45. With a yogurt in hand. She tries to be punctual, but using Via doesn't help. We go directly to our neighborhood pharmacy. They don't have the prescriptions, not the opioid any way. What? That's at another Duane Read, the one downtown. Downtown? Can it be transferred to the Upper West Side? It's aControlled Substance and has to be re-prescribed by the physician tomorrow.Tomorrow?
But the first 24 hours are…oh, it's a bloody long night.
9 AM. I call the surgeon's office. I want to thank him. Although I never saw him in the OR, neither before nor after the "procedure," I have to assume it was his handiwork that has me alive and ambulatory this day. Also, I need the pills. He is, where else, in surgery, far from the phone and the wall with all his awards. He will deal with this minor blip when he is free. Yesterday, I remind his secretary,he was unfree until the evening and I sorta kinda need the pills now. Sorry, Mr.Bushel, you have to wait. Isn't there another doctor in the office? In the building? In this mighty metropolis?
Ding ding. A text from Duane Read two hours later: your prescription is ready. Hallelujah. I limp gingerly to the pharmacy. My script is ready all right – downtown. Same as it ever was. The pharmacist says the only way to unscramble the confusion is to cancel the first script and begin anew. I am about to call the surgeon's office when one of my sons calls. I tell him the story you have just read, or most of it.
"You are one lucky old man," he says.
"I have all the Vicodin you need. And since you sound super stressed, I'll bring some Xanax too."
If you raise your kids right, you can always count on them in a pinch.
_________________________________________
It is a sin to let a prescription languish, so I pick up the pills at Duane Reade that night. 30 of them. Next day, I get a new text: your pills are ready. At the second pharmacy. Right now, I am in possession of Uptown Oxy and Downtown Oxy and Familial Vicodin and figure I have pretty good control of these Controlled Substances for the foreseeable future.
_________________________________________
*The Health Insurance Portability and Accountability Act
BruceBuschel has written two books and numerous articles for GQ, Esquire, RollingStone, Salon, BackChannel, and the New York Times Magazine. He chronicled the start-up of his two restaurants in a NYTimes weekly blog called You're The Boss. Buschel co-wrote the Off-Broadway musical―Eli'sComin'―and produced and directed a series of jazz films, Live at theVillage Vanguard.He currently produces a radio show, Shinnecock Nation, for the NPR affiliate in Southampton, N.Y.
REAL LIFE. REAL NEWS. REAL VOICES.
Help us tell more of the stories that matter from voices that too often remain unheard.