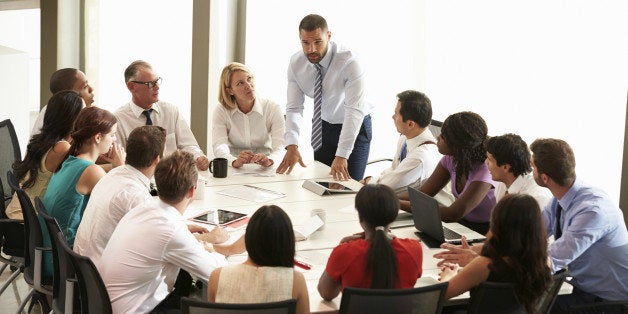 Perhaps one of the greatest surprises of our modern global society is not that the pace of change has quickened considerably, but that we as a society may have gotten ahead of ourselves in being able to sustain the change that we have created.
As world leaders gathered for the World Economic Forum in Davos, Switzerland this week, they focused on this New Global Context: a world that is increasingly more global, inter-connected and converged than ever before thanks to advancements across technology, research capabilities and greater transparency.
The ability to respond to, predict and operate in this era of constant change, however, continues to be one of society's most vexing challenges. At the center of this man-made dilemma is finding the right human power at the highest levels of leadership in business and government needed to successfully navigate within what is this "new normal." Global thinkers on leadership have even remarked that there are fewer leaders today. Trust in leadership is diminishing; the old leadership models of command and control stylistically no longer work, and the new generation seeks a greater purpose than just commercial success. So where does this leave us as we navigate the new world?
The future itself is so unpredictable, that on the surface, it seems nearly impossible to predict, let alone cultivate, the leadership competencies required to further our progress. It is not a surprise that more leaders are failing today and the supply of qualified leaders appears rather limited. Despite the seismic shifts that are taking place, organizations have remained wedded to "competencies" and experience as the best predictors of future success.
This approach, simply put, is failing. Today's -- and tomorrow's -- business is too volatile and complex for the long-standing evaluative approach to work alone anymore. In our new reality we need a new paradigm -- there are no longer "traditional" norms to emulate. Leaders in the new global context must have the ability to master the changing complexities while orchestrating processes that promote continuous creativity in the organization. Leaders in today's world need to develop a deeper emotional connection with their teams to promote change and to ensure that the company's purpose is anchored in society.
In order to meet these challenges, "potential" is the trump card in the new era. Leaders of tomorrow need to focus on recognizing and fostering potential: one's capacity to grow and adapt to unprecedented, unpredictable and increasingly complex responsibilities. This is perhaps the only meaningful gauge for success in this unpredictable world. Curiosity, insight, engagement and determination are likely to be the important determinants for great leaders in the future, not just IQ, past performance or even competencies.
The World Economic Forum provided us the opportunity to pause and make an honest assessment of our understanding of the talent landscape. The reality is that there is not a skills gap, but rather a fundamental misunderstanding of what great talent looks like.
It is only with a thoughtful, re-imagined approach to discovering and cultivating talent that we will be able to put the best leaders in place to advance our current trajectory. With this new paradigm of potential, I am confident that we can collectively progress, both embracing the opportunities and overcoming the challenges presented in this new global context.
This post is part of a series produced by The Huffington Post to mark the World Economic Forum's Annual Meeting 2015 (in Davos-Klosters, Switzerland, Jan. 21-24). Read all the posts in the series here.
Related