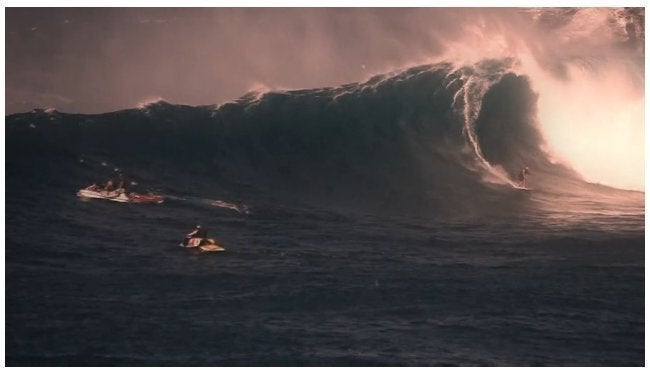 If you're familiar with the works of Robb Havassy, the odds are you are a surfer or a lover of surfing. That's because his art reflects his passion for the sport, and his love for the ocean. A talented painter, Mr. Havassy uses surfboards as his canvas. And these are no ordinary surfboards. He paints with bright splashes of color, transforming synthetic fiberglass boards into works of arts. His art can also be found on T-shirts, simple flip flops and swimwear.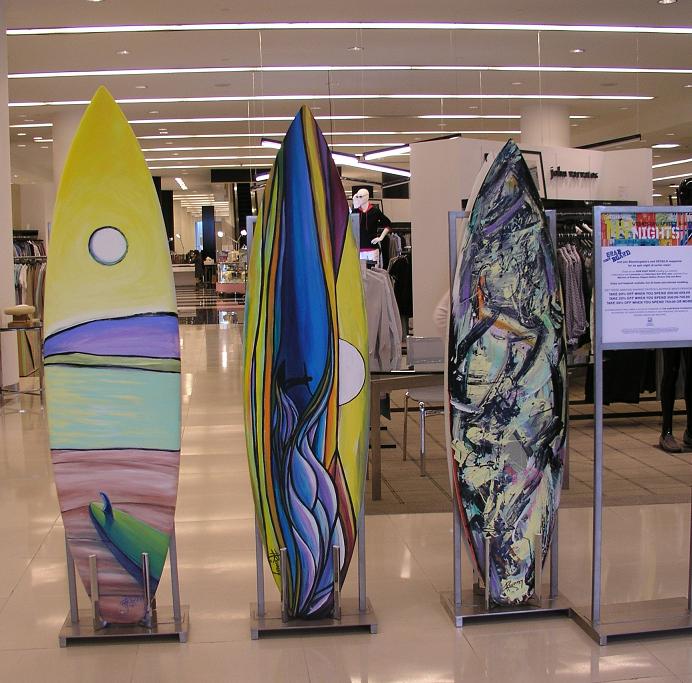 Pictured: Rob Havassy's Surfboards on display at Bloomingdale's in Los Angeles, CA. (Photo: M. Hall)
Mr. Havassy's story as an artist is interesting for a wide variety of reasons. His story is intriguing because he came to the art world by way of the fashion world. Before he transitioned to full-time painting, he was a successful model. A very successful model, working with the best names in the menswear business. I asked him who his favorite designers were, and he smiled wryly. "Well, I liked Valentino, Mr. Armani, and Gianni. I liked Gianni's black stuff." Those are names most models dream of working with. But in interviewing Mr. Havassy, it's clear that although he was highly successful, modeling was not his dream. For him, it was only a means to an end. Although he started to paint as a hobby in his mid-twenties, eventually he took it seriously enough to make it his career. In talking to him, its clear that he has found more fulfillment in surfing, connecting with nature and using it in his art, than he ever found surfing the fashion runways. Today, his contribution to fashion is his own eco-friendly sandals or garments featuring his designs.
Pictured: The best looking sandals I've ever seen: Rob Havassy's flip flops. (Photo: M. Hall)
In Southern California, Havassy is recognized as a leading voice in surfing culture. Part of his art is his authenticity. He actually rides the waves, associates with other surfers and knows their stories and individual styles. Beyond art, he has translated his passion for the sport into a book called Surf Story, a unique, 444 page collection of art and surf stories by almost 100 of artists, writers and surfers. The book was obviously a labor of love, and as an artist, Mr. Havassy did what most writers only dream of. He was able to self-publish his book, in his own voice without his story being edited or filtered through the eyes of any editor or publisher.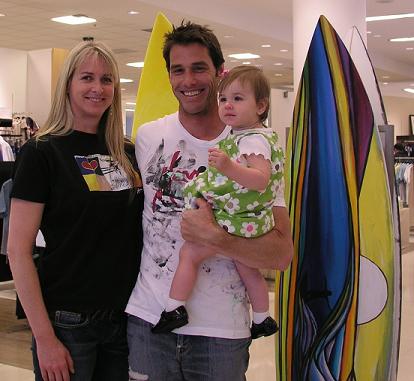 Pictured: Rob Havassy with his wife Petrice and daughter Marin. (Photo: M. Hall)
He's also been able to fight to protect his art against copyright infringement and misuse by large corporations. Most artists are not financially equipped to take on those challenges. But Mr. Havassy is that rarest of combinations, a commercially successful artist with an uncompromising vision. And a genuinely nice guy. Through his art, he donates to the Surfrider Foundation, Heal the Bay, SIMA (Surf Industry Manufacturers Association) as well as fundraisers for Breast Cancer and MS research. When I interviewed him, he told me simply, "I feel blessed." That's what happens when you do what you love.
If you're interested in learning more about his art, check out havassyart.com.
Related
Popular in the Community