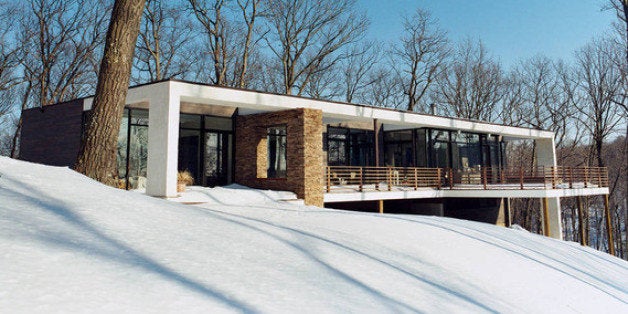 Keeping his eye on the budget and the needs of his wife and child, architectural and interior designer Will Meyer built a James Bond-worthy but kid-friendly lakeside retreat for his most demanding client: himself.
Can a house be a pure work of art, or does somebody have to be able to cook breakfast for the children? Modernist architects--and more so, their clients--have wrestled with this question since the legendary tussle between Edith Farnsworth and Ludwig Mies van der Rohe 50-some years ago.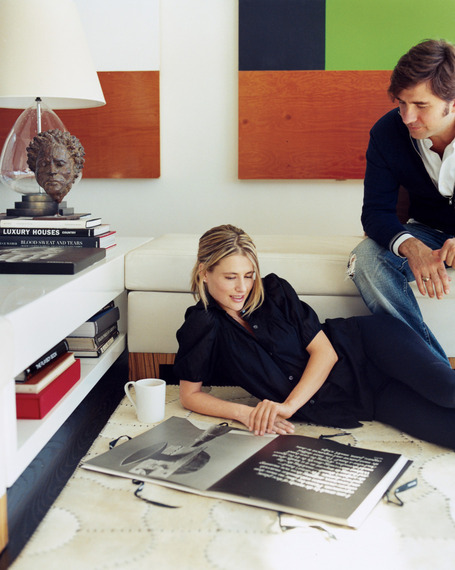 The question reared its head again recently for Will Meyer, a partner in the New York City firm Meyer/Davis Studio, which is responsible for Oscar de la Renta's boutiques around the globe as well as many private homes, when he set out to build his upstate country house in 2005. Will is married. His wife, Kerstin, does not dress in deconstructed Comme des Garçons capes. She is an avid cook, they have a 2-year-old daughter, and friends come to stay most weekends. In other words, they lead a life of good, messy fun. Will was determined to reconcile his aesthetic requirements to his family's needs and cost constraints.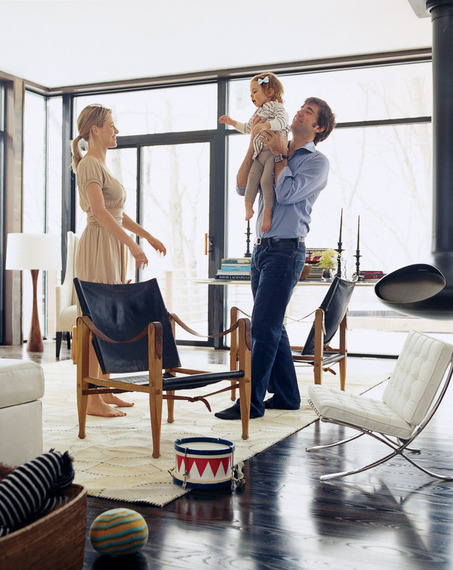 His guiding design idea sounds almost deceptively simple: a house on one level. "With a kid, it's easier to watch over things and to just all end up spending time together in the same place," he explains. When it came to construction, Will delighted in being as frugal as possible. "That was the best part. Anti-extravagance was one of the main missions of Case Study architecture, the style I thought most about in terms of what I wanted to accomplish here," he says. "Whatever they had at Herrington's [the local building-supply company] was what we chose, provided we could stain it the color we wanted. So they must have had Douglas fir that day! There were no special-order materials in the house, because I don't believe design has to be expensive or complicated to have integrity." A very low-key--and very refreshing--attitude.
From the outside, the house looks like a cabin from the future. It's mostly wood, with smoked horizontal fir boards stained a rich brown-gray. The color is so surprisingly sophisticated that it almost makes you look at wood as a new material. Stone and glass elements add to the wintry mysteriousness.
The copious windows are an aluminum commercial-style system, which allows for
customization at minor cost, and they are mounted in bronze metal frames--not the first thing you think of for the country. The disparate dark materials are wrapped in monumental white stuccobris de soleil, which unifies the lake facade and expresses that the life within takes place on one long, panoramic level.
Inside, the practical advantages of Will's single-story vision are evident. The house is basically a series of rooms strung along an internal spine that emanates from the living room in either direction and gives you perspectives from one end to the other. Besides being elegant to peer down, the vertebrae-like arrangement is functional and convivial. As Kerstin says, "I don't have to hunt for Lilly, or Will for that matter. And when we have friends staying over, they just know where to be. If you want time to yourself, there are plenty of places for that too."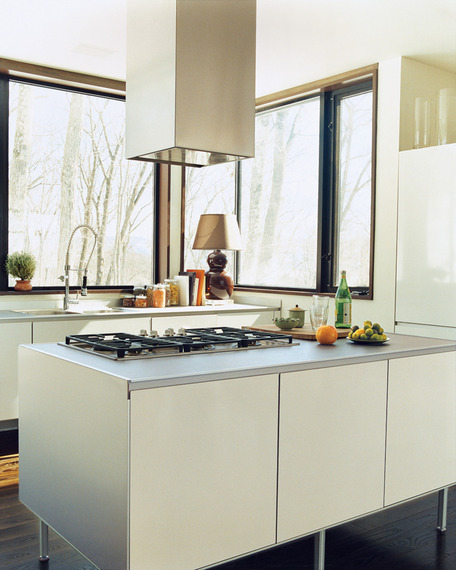 Because the kitchen--where Kerstin can often be found making a stew or enchiladas--is essentially a node belonging to the living space, everything is built-in and concealed, so it doesn't distract from the view. The Valcucine range hood descends like a sleek sculpture over the island, and Kerstin has a table lamp unexpectedly on the counter to read cookbooks. It's also not the usual kitchen fare, blurring the boundaries between kitchen and living room, which this architecture is all about.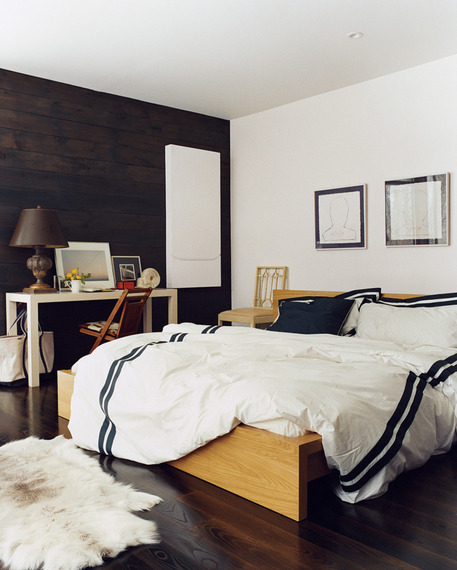 Throughout the house, the furniture is more informal than what's typical of high-design projects: a mix of Scandinavian modern and eclectic, always with a cozy touch--Kerstin is, after all, Swedish, and Swedes have always known better than to be intimidated by anything modern. The Philippe Starck dining chairs have been swaddled in sheepskin pelts from IKEA. In the living room, an overscale lamp sits casually on the floor by Will's favorite reading chair, and a zebra wood sectional sofa, designed by Meyer/Davis as a prototype for a client, has found a home at last. Upholstered in pleather, it should endure years of child's play.
Likewise, the walls are Benjamin Moore White Dove in eggshell finish, so they can be wiped down in the wake of kids. The noir shine of the wide-plank, ebonized ash floors was accomplished with two coats each of Slate Gray stain and semigloss polyurethane--a buff and polish that can withstand plenty of wear and tear. It all looks as snappy as a black-and-white scheme, but with wood playing the role of black, you know you're in the country.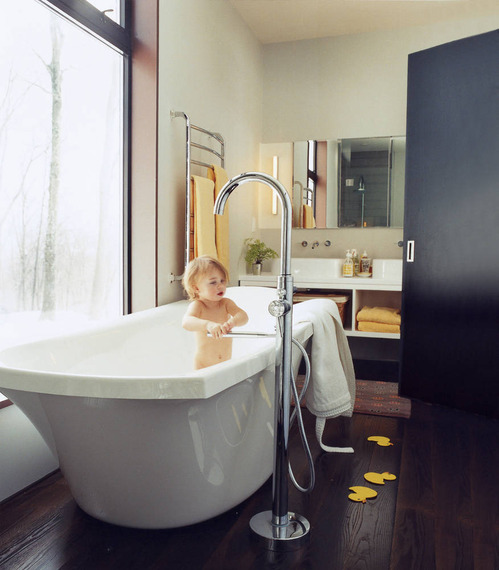 But then, it's impossible to forget your surroundings here, with the epic sweep of windows providing just a thin line between the domestic and the natural worlds. "Using customizable storefront windows gives you the freedom to make Mondrian-like compositions for each glass wall, so you can subdivide the view and look at it in interesting ways," Will says. Who needs Calgon
when the master-bathroom tub looks out on oak trees that extend as far as the eye can see?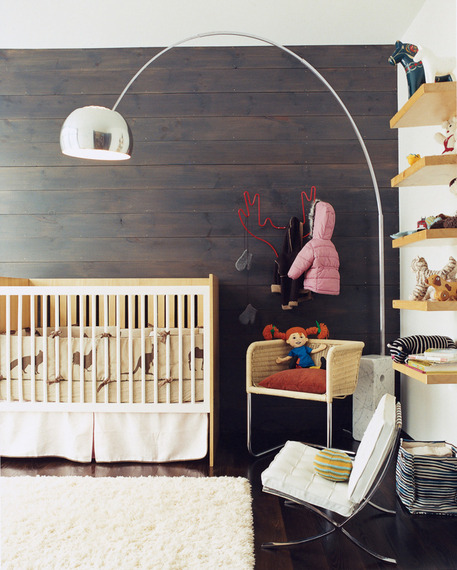 Lilly's room is as modern as the rest of the house, down to the "mini me" Barcelona chair.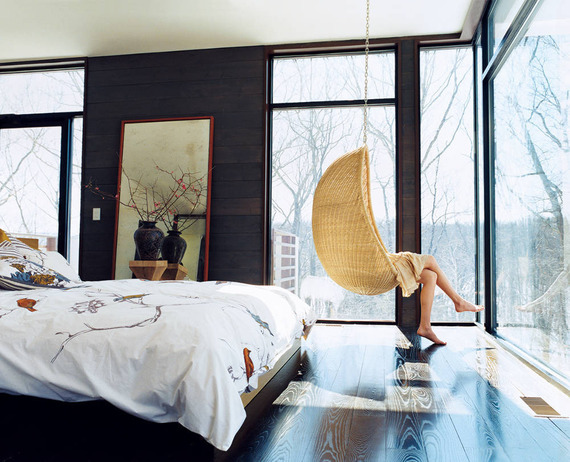 And spending the day in bed is undeniably more tempting when you can gaze at the Catskill Mountains. That's part of the reason the sleeping arrangements are so flexible at the Meyers'. There are two master bedrooms bracketing two smaller ones, and the couple sometimes spends the night in a room other than their usual one to mix things up--and because there is no "bad" room in the house. The smaller bedrooms have cozy wood walls of the same dark fir as the exterior. The big bedrooms are essentially like glass boxes suspended in a forest. Kerstin sums it up beautifully: "The part I like best about the house is how much being able to see everywhere--inside and outside--takes away the feeling of loneliness one can get in the country."
A cantilevered terrace effectively doubles the interior space.
Photographs by PAUL COSTELLO produced by SARA RUFFIN COSTELLO styling by LILI DIALLO text by DAVID NETTO
Support HuffPost
A No-B.S. Guide To Life
Related
Popular in the Community