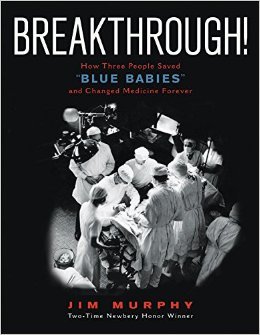 I'm always a sucker for heroic, against-all-odds stories and, of course, as a nonfiction writer, I am especially moved when the story is true. Yes, there is value in truth. I spent part of today reading Jim Murphy's new book Breakthrough: How Three People Saved "Blue Babies" and Changed Medicine Forever. The story was not unfamiliar to me; I had seen the 2004 film "Something The Lord Made," which I accepted with a grain of salt, knowing full well that the truth had been massaged with a dose of "dramatic license."
I just LOVE print. Jim Murphy doesn't need play fast a loose with the truth to tell a riveting story. The real story, which involves a dyed-in-the-wool southern gentleman, Dr. Alfred Blalock, a young and very stubborn female doctor, Helen Taussig, and an African American, Vivien Thomas, who would have become a physician if the stock market crash hadn't decimated his funds. This trio became an improbable alliance and solved the insurmountable problem of open-heart surgery, particularly as a way to cure an affliction of malformed hearts in babies.
Breakthrough is a story of life and death set in the 1940s when Jim Crow drew very clear social lines between the races, and female doctors weren't taken all that seriously. Dr. Taussig needed every bit of grit she could muster to get her colleagues to take on the problem of congenitally malformed hearts in the smallest of humans. Prejudices aside, it was their shared brilliance and compassion that caused the collaboration that solved a seemingly intractable problem. This is a book that is written for young adults. But don't let that stop you from reading it. Let it be and encouragement. Jim Murphy writes to hold his readers' attention. (Teenagers have notoriously short attention spans.) Relax and enjoy. You're in the hands of a master storyteller.
Calling all HuffPost superfans!
Sign up for membership to become a founding member and help shape HuffPost's next chapter