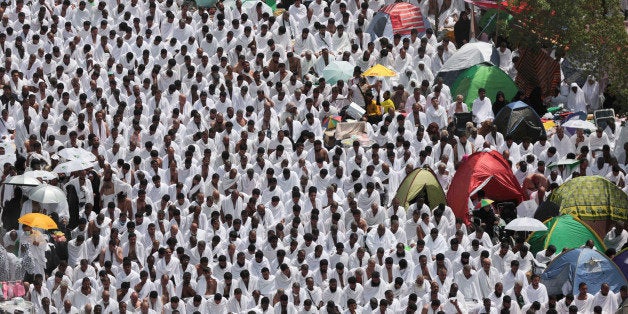 Yesterday in sunny Dili, Timor-Leste, was the first time I have spent Eid abroad completely away from family and friends. Yet it was also the first time since my early childhood in Bangladesh that I experienced Eid as a national public holiday. Given Timor's painful history of Suharto-led Muslim Indonesia's brutal invasion and occupation, the fact that both Eids are recognized as public holidays here is quite remarkable (though surely it helped that a Muslim was one of Timor's founding resistance leaders and its first post-independence Prime Minister), I went to mosque at seven, met brothers and sisters from all over the world, and enjoyed a moving sermon advocating for peace for the long-suffering people of this country. My happiness and joy lasted for most of the day-until news began to break of the latest Hajj stampede.
Hajj: Ecstasy and Anguish
I used to think it was so awe-inspiring how the Hajj is one of the biggest gatherings of human beings on Earth. I was fortunate enough to perform umrah (a non-Hajj pilgrimage) with my father in 2011 during our post-graduation trip to visit family in Bangladesh, and it was easily the most moving event of my life thus far. I was humbled and awed by how many people were there just to perform the truncated umrah in Mecca and to visit the Prophet's mosque in Medinah -- and could only imagine how amplified my sense of wonder and inner peace would be if I could one day return to fulfill my obligation to perform all the rites of full Hajj, insha'Allah.
Now as a lawyer and aspiring human rights advocate, and in the horrific aftermath of both the crane collapse and this latest stampede in which over 700 perished, I now believe it is as beautiful as it is needlessly alarming and tragic.
To all those hundreds of souls who departed our world, Inna lillahi wa inna ilayhi raji'un. It is indeed comforting to know that under Islamic doctrine those who die while performing Hajj with pure intentions will be rewarded with paradise -- but what about their families? What about their surviving spouses and kids? Many if not most of those who perform Hajj are the breadwinners of their families and most come from countries where life insurance isn't a thing. It's just not enough to just mumble the standard "Allah will provide" because every disaster like this has devastating, multi-generational, real-world consequences.
Socially Responsible Hajj
I am sorry but if we cannot organize this thing while consistently adhering to some basic safety standards, it's almost better to not do it at all -- or at least NOT with these massive, clearly unmanageable numbers of pilgrims. Year after year, these organizational fiascoes strike me as more jumping through the hoops of a mandatory ritual as well as a capitalistic exercise in maximizing profit (because rest assured -- there are plenty of folks who profit from Hajj whether the participants actually get to go to Hajj as well as whether they come back alive or not -- and we should stop pretending that they don't) rather than a meaningful and responsible attempt to facilitate the fulfillment of the fifth pillar of Islam.
In the aftermath of this latest tragedy, there have been some calls to review safety standards. Yet what is truly needed likely cannot be fixed with just a few minor tweaks, but will require a fundamental re-think on what constitutes a successful Hajj. Rather than rushing to admit as many pilgrims as humanly possible, responsible and adept authorities (and it's not just necessarily the Saudis who should be burdened with acting as the guardians of the Hajj, but through a cooperative and global conglomeration of skilled institutions and experts-a collaboration in of itself which could do much to unite the Muslim world while furthering safety) should first limit the number of pilgrims to a manageable number whose safety can be as guaranteed as humanly possible -- and increase this number when and only when the Hajj's capacities, capabilities, and competencies increase and improve.
When pilgrims are so worried for their safety due to the negligence and incompetency of officials that they are afraid of continuing their rituals, something must change. Indeed this principle of earthly safety before religious ritual is not really all that radical of an imposition on Islamic values, because Hajj is all about the sincere intention of the worshiper trying to perform it. If some of them cannot perform one year due to safety restrictions and ultimately die before they are able to perform it, they will still reap the reward from God due to their intentions. It's better to have safe and healthy pilgrims who return to intact and healthy communities rather than setting world records for gatherings as well as body bags. Ask yourself: When your parents, relatives, and loved ones go on Hajj, do you want to play Russian Roulette with their fate? Or would you rather enjoy the peace of mind knowing that their individual safety was being taken care of to the greatest extent humanly possible?
#MuslimLivesMatter and should be a priority not only when the victims are from illegal wars and brutal subjugation abroad, and Islamophobic hate crimes at home. Yet to actually do this will require real accountability and collective action. So the question remains: How many more bodies will pile up next year, and the year after that, before we finally do something? Morally, ethnically, spiritually and pragmatically -- what we're doing right now is just not right and everyone (who is intellectually honest and reasonable) already knows.
(Disclaimer: This is NOT a fatwa or Islamic opinion. It is just my personal views, thoughts, observations and feelings-and at best an application of ijtihad)
UPDATE (9/28): I just learned that one of my uncles from Bangladesh fell down during the Hajj stampede (as reported by his guide), but his fate is unknown. We do not even know if he has been admitted to a hospital, because the Saudi authorities are restricting access to the hospitals including for embassy officials. HIs family tried to call his cell phone, but the folks who picked up spoke only in Arabic so we can't tell if he's been admitted to a hospital or anything. His information is as follows --
Name: Syed Mushfiqul Hussain
Phone #: 00966538031307. (This is the number they called from Bangladesh, so the digits will be less if one calls the number from Saudi)
We are hoping that someone reading this (especially from Saudi) may be able to provide us with greater information.
Calling all HuffPost superfans!
Sign up for membership to become a founding member and help shape HuffPost's next chapter