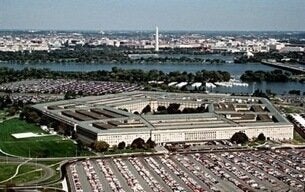 During the U.S. presidential campaign, the Obama-Biden team announced it would would "expand cultural and arts exchanges throughout the world." And Michelle Obama recently stated that the "spouses of world leaders forge bonds by sharing the arts. ... It is a form of diplomacy in which we can all take part.'"
But these words, despite their honorable intentions, have not resulted in much noticeable action. The White House and the State Department seem -- understandably -- too busy with problems ranging from Iran nukes to global warming to worry about the government supporting concerts, exhibits, or poetry readings overseas. (The position of Assistant Secretary of the Bureau of Educational and Cultural Affairs, part of the Department's public diplomacy operation, is still vacant.) Given this dire situation, at least according to some culture vultures, something urgent must be done to support U.S. cultural diplomacy -- narrowly defined, U.S. government support for the presentation and promotion of American culture overseas.
This urgent need, arguably, is vital to the national interest because culture, no matter how you define it, counts more than ever in international relations. "Globalization, it turns out, has only intensified, not diminished, cultural differences among nations," says the New York Times. And the U.S., even if we Americans think people from elsewhere should like us -- or should be like us -- still has a lot of cultural "explaining" to do to citizens of other countries, many of whom are concerned about American cultural imperialism. Even Hollywood and McDonald's haven't succeeded in meeting this challenge. Some would say they've made it even worse. As for non-business organizations picking up the cultural ball, listen to the words (true, not universally shared by the U.S. arts community) of Michael Kaiser, President of the Kennedy Center:
[W]hile some American embassies abroad have been active in bringing American artists and arts groups to 'their' countries in recent years, this is still a very minor activity of the Department of State.

But does traditional cultural diplomacy work? ...

Does sending a symphony orchestra to play for a thousand of the most powerful people in the capital of another nation truly affect the way our nation is viewed?

As the Obama administration tries to rebuild America's image abroad, do we need to send dance companies and theater companies abroad?

My response ... is no.
Given this rampant lack of support for cultural diplomacy, both inside and outside of government, what is to be done, as Lenin asked? Thinking "outside the box," may I suggest that we make the Pentagon our very own Ministry of Culture.
But let me get serious and give my reasons for this modest proposal:
1. In the past, the military has successfully disseminated American culture -- granted, perhaps unintentionally. Take, as an example, Berlin during the Cold War:
In creating its own broadcast presence in Berlin, the American Military Government set on course a radio operation that would do much more than intended-simply announcing information from the military authorities to the German residents of Berlin. The unintended consequences were that the radio station would become a leading source of culture, education, political enlightenment for those in West Berlin and a political instrument in dealing with the Communists-both Soviet and German-in the what was to become the German Democratic Republic (GDR).
And let's not forget U.S. military paraphernalia and uniforms, which for many years enjoyed popularity among youth overseas and represented a form of American culture, often in a "camp" fashion. In a way, the U.S. military was like Roman centurions and their troops, spreading culture -- often involuntarily -- through its sheer presence, symbols and equipment. Pax Americana.
2. In recent years, DoD brass has shown an increasing interest in culture -- perhaps not high culture, at least for now, but culture as a way human beings define themselves, as anthropologists would have it. This is the not the unhappy consequence of two tragic wars -- in Iraq and Afghanistan -- which the military realized could not be won by bombs alone. The troops, now say the generals, have to be able to connect with the local population in far off countries by being familiar with their language and mores. Give GI Joe "cultural sensitivity" training! And, as has been widely reported, Secretary Gates himself underscores the importance of "soft power," of which culture is an essential part, as pointed out by former Defense Department official Professor Joseph Nye.
3. The Pentagon has at its immediate disposal the resources, both material and human, to support American cultural presentations overseas. No need for extra funding. At a moment's notice, its huge transport planes and aircraft carriers can start carrying American performers and cultural materials (e.g., exhibits) overseas (after all, if the military can have hospital ships to assist foreign populations in need, why can't it have "culture carriers" to bring U.S. artists and their creations to other lands?). Announcements about cultural events can be publicized by leaflets dropped from helicopters and other aircraft, as well as by Pentagon media/cyberspace outlets.
4. The hundreds of U.S. military bases throughout the world are turned into cultural centers similar to those run by the United States Information Agency during the Cold War (but of course these new centers would be bigger, more user friendly, and equipped with far more advanced technology). Security is not a problem, of course, given the presence of US armed personnel trained in "cultural sensitivity."
5. Using only a few billion dollars (pennies in its huge budget), the Pentagon makes grants available to foreign artists on topics pertaining to American culture, and also provides honoraria (and transportation) to U.S. lecturers to speak about American art, literature, music and other subjects to overseas audiences. With DoD funding, seminars with the participation of intellectuals from the United States and other countries discuss issues such as "Why Art Can Bring an End to Wars"; "Resolved: Culture, Not Weapons, Provides Hope for Avoiding Global Conflict." Officers formerly involved in psyops take part in these meetings, to discuss "creativity and the individual artist" in the United States. Eventually, as the Pentagon fully assumes its new role, it has its own Symphony Orchestra and Theater Company, made up of the creme de la creme of American performers, that travel abroad on a regular basis.
6. The Pentagon, with a medium-sized office for Minister of Culture Gates on its top floor, itself is turned into a vivacious international cultural center, as it is conveniently close to the heart of the nation's capital, visited by many tourists from other lands. It becomes an open and welcoming place where foreigners meet Americans eager to expand their knowledge of the world on a people-to-people basis. Like the Hirshhorn Museum in Washington, the revamped Pentagon is surrounded by a sculpture garden. Formerly top-secret briefing rooms are turned into cinemas for screening classic American films; poets recite their verses in the halls, for all to hear; musicians enliven the space with songs and the sound of instruments; ballet performances are held in auditoriums; advanced computer systems are used to access cultural material on the web; the cafeteria is converted into a restaurant offering the best of American cuisine (including apple pie) at reasonable prices; colorfully costumed clowns roam in the building to amuse children ...
Related
Popular in the Community