DigiKidz from Republic of Moldova was featured in a new report identifying top solutions for addressing pressing global issues. On January 31, 2017 the first edition of the Youth Solutions Report, which identifies 50 youth-led projects aiming to solve the world's toughest problems, was released at the United Nations Headquarters in New York.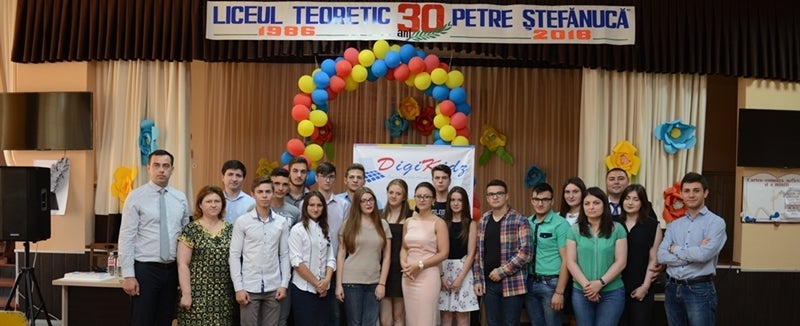 The report highlights the work of youth-led organisations, such as Liter of Light who bring over 750,000 affordable solar lights to 15 countries; the talented team behind BenBen who operate a Blockchain-based land registry that facilitates secure land transactions to encourage investments and transparent land resource management; FinFighters who run a citizen shark science program to collect genetic data and information from Moroccan fishing ports and market; and the group running the SHAPE project using mobile technology to promote citizens' e-participation in their city's public life.
Among solutions identified by the report is the DigiKidz from Republic of Moldova, which is an ICT project designed to implement a sustainable model of IT Education and Computer Literacy for high school students from the remote areas of the country. Republic of Moldova, as well as all countries over Europe, faces with increasing ICT skills gap and with a low level of digital literacy.
"A proper, up to date, and affordable quality education is the key element to achieve the implementation of SDGs. Our inputs, as framers of our own future societies, are more than necessary and, therefore vital to the core values that we share."
Professor Jeffrey Sachs, UN Secretary General's Adviser on the SDGs, and Minister Karen Ellemann, Danish Minister for Equal Opportunities, launched the report during a two-day series of forums on youth and the Sustainable Development Goals (SDGs) at the United Nations Headquarters in New York. The report was produced in partnership with Ashoka, Sustainia, the Resolution Project and Panorama (joint initiative of IUCN and the German government) and has been reviewed by a panel of experts, comprising leading figures from academia, business and civil society organisations.
Paul Polman, CEO of Unilever, has supported the initiative. "SDSN Youth and its Youth Solutions Report are excellent examples of initiatives crucial for helping young people realize the full potential of their abilities, innovations and solutions."
"Today we have the largest generation of youth in history - a powerful force for change. 84 percent of millennials are convinced they have a duty to make the world a better place, and many already are, through socially aware businesses and youth-led campaigns in support of the Sustainable Development Goals." Mr Polman said.
Siamak Sam Loni, Global Coordinator of SDSN Youth, says that young people must be seen as key stakeholders in the sustainable development debate and that there is a pressing need to acknowledge their essential role in achieving the SDGs.
"Young people are already contributing to the implementation of the SDGs but they face common challenges that prevent them from realizing the full potential of their ideas and solutions, including the lack of visibility, limited access to finance, and the lack of training and technical support. The Youth Solutions Report will help investors, donors and supporters better understand the multi-faceted role of young people in sustainable development and give them additional opportunities to showcase and scale their work." Mr Loni said.
The Sustainable Development Goals (SDGs) are a set of 17 goals included in the 2030 Agenda for Sustainable Development, which was launched at UN Headquarters in September 2015 and adopted by 193 member countries of the UN. The SDGs, which are relevant to all countries, aim to achieve social inclusion, economic prosperity and environmental sustainability.
SDSN was launched by UN Secretary General, Ban Ki-moon, in 2012 to mobilize global scientific and technological expertise to promote practical problem solving for sustainable development, including the design and implementation of the Sustainable Development Goals (SDGs).
SDSN Youth is the youth initiative of UN Sustainable Development Solutions Network, focused on empowering youth globally to create sustainable development solutions. SDSN Youth educates young people about the challenges of sustainable development and creates opportunities for them to use their creativity and knowledge to pioneer innovative solutions for the SDGs.
For media enquiries and interview requests, please contact: veaceslavcretu[at]gmail.com
Calling all HuffPost superfans!
Sign up for membership to become a founding member and help shape HuffPost's next chapter
This post was published on the now-closed HuffPost Contributor platform. Contributors control their own work and posted freely to our site. If you need to flag this entry as abusive,
send us an email
.