"The world is a mess," former Secretary of State Madeline Albright said last Sunday on Face the Nation. Her grave understatement about conflicts burning around the world could also be used to describe each of our spiritual and psychological states, which veer recklessly between outrage and despair.
We cannot let violence and cynicism win.
On Wednesday, July 30th at 12:30 p.m. Eastern time, The Huffington Post is inviting you to a event we're calling A Moment of Peace.
The world is in a very bad state. We are roiling with violence, and each day appears to be worse than the next. Ukraine, Sudan, Iraq, Syria and especially Israel and Gaza are being devastated by wars to which there appears to be no solution, and with every drop of blood shed, our hearts harden until they turn into stones to be used as weapons.
And so we invite you to A Moment of Peace to ease the hardened heart. We will not be talking about blame or strategy or even negotiated cease-fires. Instead we will be inviting people to drop in on HuffPost Live from around the world to use this opportunity to engage in the moral and spiritual exercise of peace and dialogue. In the face of tragic news and creeping pessimism, we will observe A Moment of Peace.
Together, we will remember the humanity of those whom we have been calling enemies, invoke the power of compassion that the great traditions of the world teach us, and have a conversation about how we can have dialogue that is truthful while still remaining open to hearing another view. But, most importantly, we want to bring people of different perspectives, religious traditions, and "sides" together for simply A Moment of Peace.
It's true, A Moment of Peace online may not offer any tangible results. It is foolish in the face of real war and death to expect too much from any initiative, especially an online gathering. But can we suspend our cynicism for just a moment and be a part of something positive? If nothing else, we are inviting you to take your place among those who still believe peace is possible, among those who still have hope.
I was at Princeton University serving as Associate Dean of Religious Life in 2008 when another Gaza conflict was tearing the fabric of the university apart. A student came up with the idea that all sides of the community would just stand together for 10 minutes in silence -- not as a show of agreement but in a showing that underneath the deep distrust and animosity that there still existed a solidarity of hope. Standing there in silence -- knowing there were deep disagreements among us -- did not take away from the profoundly courageous act of showing up for hope.
Efforts for peace in the midst of conflict are too often cast as weak. But the opposite is true. It takes strength to counter violence with peace. It takes courage to respond to conflict with dialogue. It takes wisdom to sit together, online or in person, with people who walk a different life path. The great prophets of our time, such as Martin Luther King Jr. and Gandhi, insisted on peace as not only the goal, but also as the means, and they call us to do the same.
A Moment of Peace is about showing up for hope on the Internet. The Web, especially social media, is playing an important role in the conflicts around the world. We are very good about passing along information that inflames our passions of outrage. Can we be as good about passing along an invitation to share A Moment of Peace?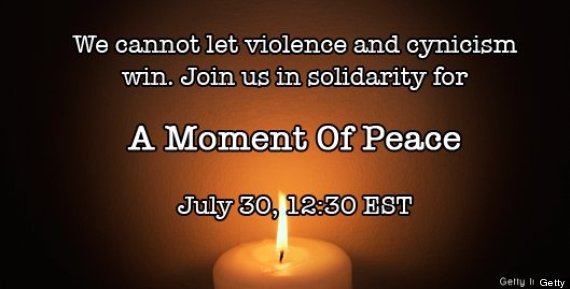 Popular in the Community