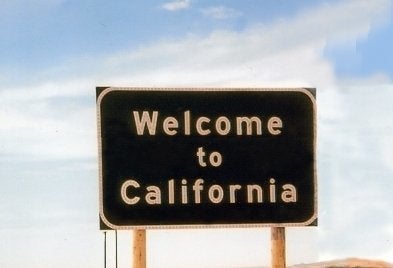 This week, California faces a moment of truth. Will we live up to our aspiration to re-power the Golden State with clean, renewable energy and advanced efficiency technology, or take a rain check on the new energy economy?
As senior executives of California-based companies in the technology and entertainment industries respectively, we strongly believe that now is the right time to invest in clean energy. Such investment promises to be California's salvation in the deepening global recession, and our path to a new era of economic leadership and environmental progress.
The defining moment we face is a vote by the state air resources board on whether to implement California's landmark Global Warming Solutions Act, known as AB 32, or instead to fold under pressure from the fossil fuels industry, and from naysayers in traditional industry who portray every swing of the economy, either up or down, as an excuse for inaction.
AB 32 calls on Californians to reduce our global warming pollution to 1990 levels over the next 12 years with a variety of strategies such as boosting energy efficiency and producing at least a third of our electricity from wind, sun and other clean power sources. The ultimate target is an 80 percent reduction in global warming emissions by 2050, the level scientists think necessary to avert the worst impacts of climate change and ocean acidification.
When Governor Arnold Schwarzenegger signed AB 32 into law two years ago, he said that it would be good for business and create "a whole new industry to pump up our economy." He was right on the money. That's one reason the bill garnered support from more business organizations and leaders than from environmental ones.
Since then, two important factors have changed: both the economy and the polar icecaps appear to be experiencing meltdown much faster than experts previously predicted. That's why California needs AB 32 now more than ever.
Implementing AB 32 will revitalize our economy by generating tens of thousands of good-paying jobs - jobs that use the skills California's workforce already has. Moving forward with AB 32 will help us gain control of our own destiny by breaking our addiction to fossil fuels, and enable us to lead the rest of the country toward energy independence.
Sure it will cost money. But if history is any guide, the return on investment will be spectacular. Consider California's remarkable experience with the limited investments we've made already in energy efficiency. By setting high statewide standards for the efficiency of appliances and buildings, each Californian's electricity consumption has remained constant despite our ever-increasing appetite for gadgetry. Meanwhile, per capita energy consumption nationally has increased nearly 50 percent. That's saved California households $56 billion, according to a recent U.C. study - money that was redirected to other goods and services, creating 1.5 million jobs in the process.
Energy efficiency is the cheapest and fastest way to reduce global warming emissions from burning fossil fuels, but we can also benefit economically by developing our capacity to generate clean power. California is blessed by its natural resources, including prodigious amounts of wind, sun and geothermal energy. It's nature's gift to us, but so far we've squandered most of it. Why not capture that free energy and simultaneously become the market leader in designing and manufacturing clean power technology for the rest of the world?
Our companies are not in the energy business, but both of them are making substantial investments in energy efficiency and clean power. We're doing that not just to be good corporate citizens but because we've penciled it out and know that those investments are good for the bottom line. That's just as true for the state as a whole.
California was ahead of its time when it adopted the Global Warming Solutions Act two years ago. Let's capitalize on that lead. Now is not the time for hesitation or half-measures. As the President-elect has demonstrated with his economic stimulus proposals, now is the time for bold investments that will get our economy moving again and put it on a path of sustainable growth.
Eric E. Schmidt is the chief executive of a technology company based in California. Alan F. Horn is president of an entertainment company based in California.
Calling all HuffPost superfans!
Sign up for membership to become a founding member and help shape HuffPost's next chapter