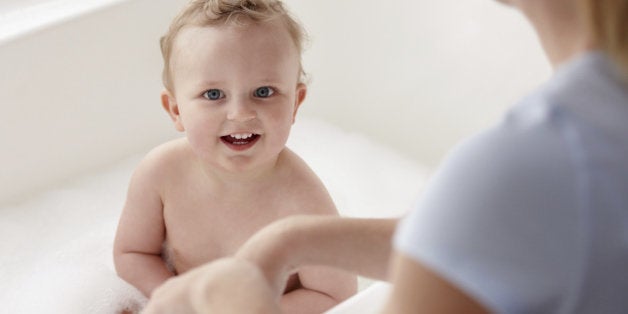 I'll be the first to admit that this situation was probably a once in a lifetime "win" for mommy -- but I'll take whatever I can get at this point. My toddler creates a whole new level of "strong-willed" let me just tell you...
Recently, we've been working on enforcing "sit on your tooshie" in the bath tub to our 14-month-old, Carter. We've tried several different mats for the bottom of the bath tub, none of which have stuck -- so we gave up and just let him sit on the bottom of the tub. This, in retrospect, really isn't all that terrible. The problem is; this sweet, stubborn, boy loves to stand up and run from one side of the tub to the other. I'm sure in his head it's a lot of fun - but, as a mom, my head is screaming "STOP YOU'RE GOING TO FALL AND HURT YOURSELF OR DROWN, OH PLEASE JUST STOP, PLEASE!" While my mouth is saying, "sit on your tooshie. Carter. Sit on your tooshie. Oh little boy, please just sit on your tooshie."
This past weekend, though, was a whole different story. I'm sharing this with you because the little moments where your toddler does decide to listen, are moments to cherish - forever. This is what will get me through bath time this entire week, I bet, and maybe even next week if I'm lucky!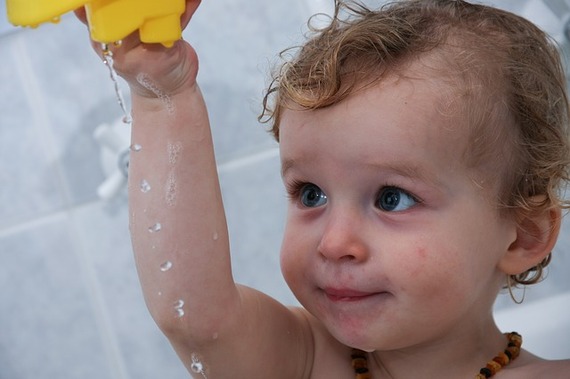 Anyways, as usual, Carter stood up and took off to the other side of the tub. What happened this time, is exactly what I keep thinking will happen unfortunately. He fell and went under the water. Of course, my husband and I were right there when it happened (another reason I will never leave my child alone in a bath tub). I quickly picked him up and sat him on his toosh to continue lathering is head full of hair -- but, he was so scared he couldn't catch his breath. So, drenched in water and all, I picked that little toddler up and comforted him.
I rubbed his back and said, "This is why we have to sit on our tooshie, its dangerous when you stand up in the bath tub because you could hurt yourself. So here's what we're going to do: mommy is going to put you back in the tub, we'll rinse the shampoo out of your hair, and we'll be all done. But, you have to sit on your tooshie the whole time, okay?"
Of course he didn't respond, because he's 14 months old -- but I sat that boy back in the tub, and it was like a lightbulb switched on in his head. He sat there so still, while I rinsed the shampoo out. My husband got his towel and I lifted him up out of the tub just as I had promised.
I know he understands us when we tell him things (case and point being this entire story) he just never chooses to listen. He knows he's cute and boy, does he use that to his advantage! This was a learning experience for all three of us. Instead of using harsh tones and angry words towards our stubborn toddler, it seems that simply explaining the situation and comforting him the ways that we know how work best with his personality.
I know that this is not the same for every child, but all you have to do is try - try an alternative route to parenting every once in a while; maybe it'll work, maybe it won't but you never know what you will learn along the way.