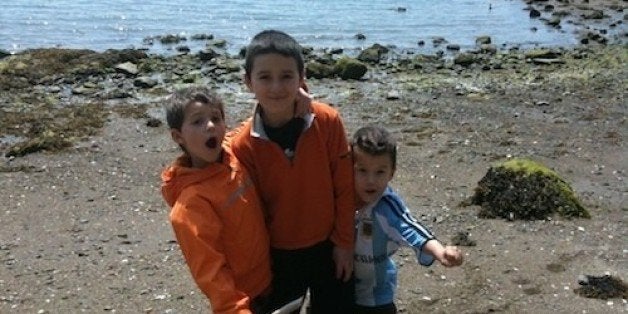 Sometimes the word "thankful" is inadequate; yet a better, stronger, more perfect word does not exist to define feeling completely overwhelmed with gratitude. The story below, from several Thanksgivings ago, illustrates just that.
My heart pounded as I beheld the Long Island Sound from the tiny slice of rocky shore. To an outsider, I looked like a stock photo mom, ruddy from the exercise and the cold, energized by the hike with my family. But the tears pooling in my eyes weren't from the stinging wind. My body was letting go of the stress that had been manifesting inside of me for weeks. Today could have gone so differently. That realization was hitting me. Hard.
Hiking makes my heart sing. It doesn't, however, do the same for my husband or our three boys. For them, it's less soaring aria and more dull, bellowing, why-does-mom-make-us-do-this thud. So, together, we hike on my birthday and one other day if I am persuasive enough. Today, the day before Thanksgiving, was that day. For that, I was thankful.
We went to the Rye Marshlands Conservancy in Rye, NY, for what was more nature walk than hike, but no less magnificent. It was cold, so we bundled up the boys in colorfully-patterned fleeces and hats, jackets and mittens. Actually, we bundled up Jason, 7, and Judd, 4. Will, our "spirited" 5-year-old, insisted, to no one's surprise, on his well-worn and beloved purple and gold Lakers warm-up suit. But he agreed to a hat. For that, I was thankful.
The trail started in a wooded forest, emptied into a tall-grass meadow, wound its way through protected marshlands and ended on a tiny, rocky beach of the Long Island Sound. The boys were entranced by the tranquil family of deer we spotted in the meadow. And I was entranced by the breathtaking view that met us as we approached the shore. It was near dusk, sailboats dotted the distance, and the water was silvery blue, the color of my favorite butterfly. The boys skipped stones, and it was perfect. For that, I was thankful.
I stood there and thought about how differently the day could have gone. That morning, I had taken Will to the pediatric neurologist. He had been complaining about headaches for weeks. Initially, we thought it was nothing. Fatigue. Too much chocolate. Eye strain. After one particular week when he visited the school nurse repeatedly and decided to skip his beloved gymnastics class because his head hurt too much, our pediatrician suggested we call a neurologist to rule everything out. Luckily, we didn't have to wait too long to get an appointment. For that, I was thankful.
As we sat in the waiting room, with its itchy chairs and old issues of Highlights, Will busied himself with the wire and bead activity table. I busied myself with worrying, even though my gut told me, urged me, not to. When it was our turn, the doctor, an older man with years of experience discovering unimaginable things in the perfect heads of babies and children, was thorough with his testing, his questioning, his assessment. And after he told me that Will's optic fundi were lovely and beautiful and fine, which meant there was no pressure on the brain which meant there was no worst-case scenario, he told me my gut was right. I sobbed with relief. An act of grace. For that, I was thankful.
Lately, I have been overwhelmed by the stubborn impenitence of serious disease. How it seems to strike friends and family powerfully and at random. Lives are forever changed. What used to be the unthinkable becomes the new normal. That could have happened to our family today. For some reason, we were spared. For that, I was thankful.
Life is fragile. Children are hardy, yet their existence is capricious. Always threatening to turn our worlds upside down and our hearts inside out. Sometimes the enormity of the responsibility to care so much for my children makes me cry.
But now, I stand on the shore, staring at pure beauty, and my family is intact.
And for that, I am thankful.
Susie Orman Schnall is a writer and author who lives in New York with her husband and three young boys. Her award-winning debut novel On Grace (SparkPress 2014) is about fidelity, friendship, and finding yourself at 40. Her second novel, The Balance Project: A Novel (SparkPress 2015), is about work-life balance and is inspired by her popular interview series The Balance Project. Visit Susie's website for more information.
Related