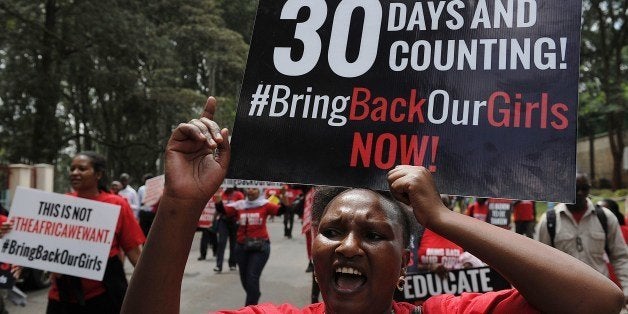 The clock is ticking. One month has passed since 276 teenage girls were kidnapped from a state school in the town of Chibok in Nigeria by armed and uniformed members of the group Boko Haram. These young girls are still being held captive, their condition is unknown, they are at extreme risk of being sexually abused and trafficked and the leaders of Boko Haram have threatened to sell them as slaves and into child marriages.
YWCAs around the globe join with our sister organization, the YWCA of Nigeria and the rest of the world, in calling for an end to this gross violation of human rights and the immediate release and safe return of these girls to their families and communities. Child, early and forced marriage is an unacceptable violation of the rights of children, especially adolescent girls with long-term negative consequences on their health and wellbeing. It denies children their childhood, disrupting their access to education, limiting their ability to participate in economic and social spheres, and jeopardizing their health -- including increasing the risk of dying from complications during pregnancy or childbirth. It renders girls and young women more vulnerable to intimate partner violence, including sexual violence, and can increase the risk of HIV.
Child marriage resulting from physical and/or emotional force is a form of violence itself. In Nigeria, 39 percent of girls are married off before their 18th birthday; 16 percent are married before they turn 15. Child marriage can be prevented and eradicated in a single generation and the YWCA movement joins thousands of women and men around the world in calling upon governments, international organizations and communities to urgently put an end to it.
Why were these girls targeted and abducted in the first place? Simply because they wanted to attend school to get an education! Globally, 123 million youth aged 15 to 24 lack basic reading and writing skills, and 61 percent are young women. Access to education is viewed as a threat to norms because it shifts power dynamics and gender relations in countries. When girls have access to education, they are in a much better position to earn a fair wage and they also have increased opportunities for social, economic and political decision-making.
Inequitable access to education is clearly a form of violence against girls and, according to UNICEF, denying children access to quality education increases their vulnerability to abuse, exploitation and disease. It is important to note that girls, more than boys, are also at greater risk of abuse when they are not in school.
At the YWCA, we believe strongly that girls should have access to education to prepare them for future success and that they deserve to live a life free from violence of any form.
The statistics on violence against women and girls are staggering and pervasive. Gender-based violence is not just a problem in Africa or the United States; it is a global problem of pandemic proportions. According to the United Nations, up to 70 percent of women experience violence in their lifetime, and women between the ages of 15 and 44 were more at risk from rape and domestic violence than from cancer, car accidents, war and malaria combined.
And human trafficking is a modern day form of slavery that impacts millions of women and families in communities both domestically and internationally. According to the United Nations, an estimated 700,000 -- two million women are trafficked across international borders annually. If you take into account rates of trafficking within the United States, that number swells to nearly four million women per year.
Women and girls are not property and gender-based violence is a human rights issue and it must not be tolerated under any circumstances. YWCAs around the globe have a longstanding history of advocating against gender-based violence in all of its forms, which can include physical, sexual, psychological and economic. Violence does not discriminate -- it affects women and girls of all ages, of all economic and social classes, of all races, cultures, religions and traditions. The YWCA sees the impact of such violence every day, as one of the largest providers of domestic violence and sexual assault prevention services and programs in the United States and around the world.
So as the chorus of international outrage grows louder, the leaders of the YWCA are raising our collective voices to strongly advocate for the rights of women, girls and families and we call on the government of Nigeria to protect and "bring back our girls!"
The time to act is now; tomorrow may be too late.
Related
Popular in the Community