Our tour guide on the "Jewel of the Desert" luxury train said we were in for a treat today -- apple pie, Namibian apple pie! So up and early we left our comfy train cabins, boarded a bus and set off across the Namib Desert.
Driving hours on hard, bumpy, and deeply rutted dirt roads, and followed by massive swirls of dust clouds, our van sped on. Soon it was mid morning and the sun had been up for hours, and it was hot. A desert colored in muted browns and light grays stretched for miles on both sides of the road, with an occasional rocky array jutting out of the flat ground. It seemed our journey would never end. We were thirsty and hungry, and in the middle of nowhere.
Just when the group was about to mutiny, our guide pointed to a small cluster of structures in the distance. "That's Solitaire" she said, "our destination." A true oasis for travelers, it was home to a gas station, post office, general store, small overnight lodge, and a bakery.
"Not just any bakery" our guide told us, but a famous bakery -- the "Moose" Macgregor Desert Bakery known far and wide for its sweet goods, and especially for its apple pie. A bakery in Namibia serving one of America's iconic dessert's -- apple pie! This I had to see to believe.
This place had character. Deteriorating vintage American cars were strategically placed around the compound -- as if they were part of a desert movie set. Cool!
Originally built in 1848 by a Mr. van Collier, Solitaire was to be used as a sheep farm. Legend has it that his wife named the town because there were diamonds in the area and the location fit the name (nothing out there!).
But what about the bakery you ask?
More than 20+ years ago a Scottish adventurer moved to the town and opened the bakery. A man bigger than life in all aspects, Percy Cross "Moose" McGregor, was a wonderful baker and started selling a variety of bakery items including a German apple pie (Apfeistrudel), made from an old family recipe. By the way, it's still a mystery to me where the apples came from! Once there, it was clear that his pie and warm, friendly attitude soon became the reason thousands of people -- local and worldwide -- come to Solitaire. We were in Solitaire ourselves specifically to meet "Moose" and eat his pie, and were not disappointed. In fact, Mr. McGregor was right there behind the long wooden counter supervising his staff and talking to people. Next to the counter was an outdoor covered patio where you could sit, and eat, and people watch.
After consuming a piece of apple pie and a piece of cheesecake -- all delicious I must say -- we continued our exploration of the compound and did some shopping in the general store. We purchased a nice cool bottle of water for the next leg of our trip -- the red sand dunes of Sossusvlei. But it was "Moose who stayed with me after we left. A nice man who was friendly and approachable, but a little weary.

I like to cook and published a cookbook last year (Granny Regina's Favorite International Recipes -- Amazon.com). In gathering recipes for a follow-up book, I remembered "Moose", the Namib Desert and his unique apple pie. I started looking for a way to get his recipe. Because I have cooked with locals from all over the world and tried everything put in front of me, I believed his story and apple pie were just what I needed for the new book. To me it's not just the food but the connection and joy of sharing food, which makes it taste even better. Cooking and eating is a form of communication. I felt a connection with "Moose" when I was in his bakery in the middle of nowhere.
When I reached out to his bakery humbly requesting if it was possible to get his recipe, it was with sadness that I learned he had passed away January 2014. He touched so many lives not only with his baking skills but also with his openness and presence. He is, and will be missed.
The "Moose" McGregor Desert Bakery will go on and I encourage anyone visiting Namibia to stop by, eat a piece of pie and tip a fork in memory of "Moose."
Unable to get his recipe -- still a family secret -- I found one that seems similar to what I ate at his bakery, and I hope you will try it. Listed below is a German Apple ((Apfeistrudel) Pie recipe.
"Moose" this one is for you.
Granny Regina Fraser, sending blessings to "Moose in the heavenly bakery in the sky.
Streusel Crumb Topped Apple Pie
Total Time: 55minutes
Prep Time: 15 minutes
Cook Time: 40 minutes
Ingredients:
1 unbaked 9-inch pie shell, frozen, preferably a name brand
3 large granny smith apples, peeled, cored, and thinly sliced
1/2-cup sugar
1/4-teaspoon salt
1/2-teaspoon cinnamon
1/4-teaspoon nutmeg
1-tablespoon flour
Streusel Topping
1-cup flour
1-teaspoon cinnamon
1/2 cup packed light brown sugar
1/2-cup butter, softened
Directions:
•Preheat oven to 375 degrees with a cookie sheet on the center rack. Mix peeled and sliced apples in a large bowl with sugar, salt, cinnamon, nutmeg, and flour.
•Pour apple mixture into frozen piecrust.
•Make the streusel crumb topping by mixing together with a fork in a medium bowl the flour, cinnamon, and light brown sugar. Then mix in the softened butter with a fork, stirring and blending until the mixture resembles crumbs.
•Top the pie with the crumb topping, place on the cookie sheet in the preheated oven and bake for 40 - 45 minutes until the crust is a deep golden brown and the filling bubbles.
•Remove from oven, cool 30 minutes. (The pie I had in Namibia did not have ice cream but, you could serve it that way as we do in the U.S.)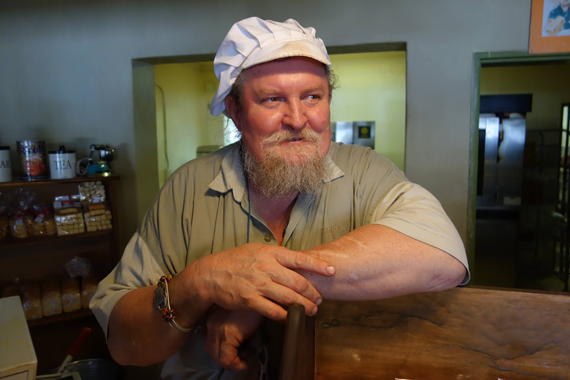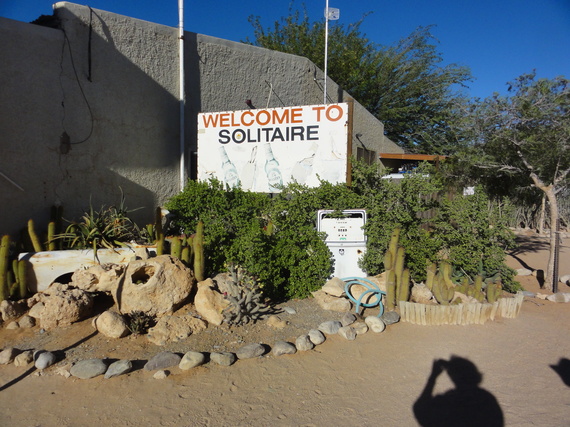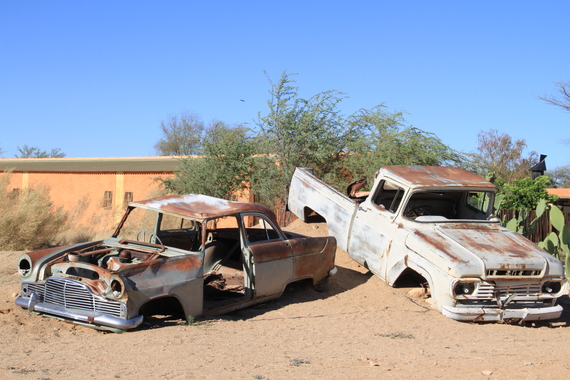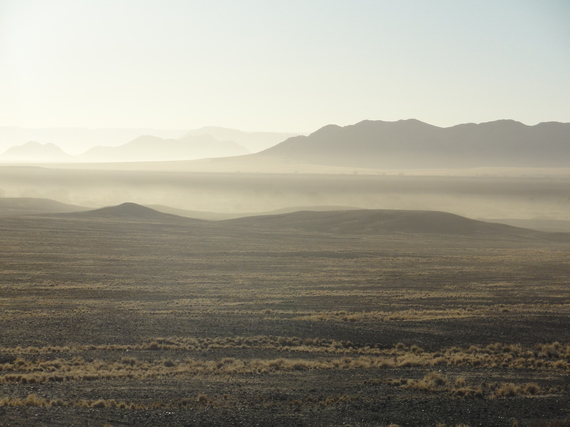 Related